Master of Science in Marine Science
LEARN AND RESEARCH WITH THE BEST MARINE SCIENCE PROFESSIONALS IN THE MIDDLE OF THE PACIFIC
What better place to learn about advanced marine systems than on an island in the middle of the Pacific Ocean? Earn your Master of Science in Marine Science (MSMS) from HPU. You will perform laboratory research at the Oceanic Institute - a research and development facility dedicated to marine aquaculture, biotechnology, and coastal resource management - located near Makapu'u Point and study at HPU's windward Hawaii Loa Campus in Kāne'ohe featuring 135 tropical acres with awe-inspiring views of O'ahu's majestic Ko'olau Mountains. Get your marine science graduate degree at HPU and learn from the best faculty at the ideal location - Hawai'i. 
The Master of Science in Marine Science degree program fosters a broad understanding of marine systems through an interdisciplinary program of study. Choose from two tracks for the program – applied (MSMS-A) and thesis (MSMS-T). 
Thesis Track – 36 credits
The MSMS thesis track is a research-based program that emphasizes a hands-on approach to learning through the completion of an original thesis project under the direct mentorship of an experienced marine science researcher. Click here to learn more.  
Applied Track – 39 credits
The applied track provides students with a broad-based, in-depth knowledge of physical, geological, chemical, and ecological processes in the ocean coupled with the technical skills necessary to contribute to the exploration of the marine environment and the management of its living resources. Click here to learn more.  
Length of program: 21 months, 36 or 39 credits depending on if you choose the applied or thesis option
Entry terms: Fall
Program delivery: on-campus 
Cost of program: $1,450/credit, $52,765 to $57,115 depending on if you choose the applied or thesis option 
PRiority Application Date: January 15
MSMS applications accepted for fall entry only

A baccalaureate degree in the Natural Sciences is required for entry into the MSMS program. Certain course prerequisites may be required before enrolling in graduate MSMS courses, depending on the student's academic preparation and research interests.
For students in the thesis track, the graduate thesis committee will determine whether any deficiencies exist and how these deficiencies will be addressed. Additionally, being paired with a faculty mentor is necessary for acceptance into the MSMS-T track.
Students who successfully complete the Master of Science in Marine Science program will:
Demonstrate an interdisciplinary knowledge of marine systems.

Demonstrate the ability to plan and implement observational, theoretical, and experimental studies.

Interpret and critique professional scientific literature.

Demonstrate an advanced ability to apply and integrate scientific principles and research data to address complex questions in marine systems.

Demonstrate competence in scientific communication through technical and scientific reports, publications and oral presentations.

Demonstrate professionalism and scientific ethics.

Have the competence to gain employment in advanced resource management positions or entrance to a doctoral program in related fields.
HPU Support
HPU offers merit-based Graduate Assistantships (GAs) that provide a 50% or 25% tuition discount for four consecutive semesters.  For more GA details, go to the FAQs above.
External Funding Opportunities
Minority Scholarships / Fellowships
Internship / Other
HERE ARE JUST SOME OF THE PATHS OUR STUDENTS HAVE TAKEN AFTER GRADUATING FROM OUR 
MASTER OF SCIENCE IN MARINE SCIENCE PROGRAM:
General Aquarist at the Waikiki Aquarium, Honolulu, HI

NOAA Marine Debris Technician, Northwestern Hawaiian Islands

Marine Mammal Biologist, U.S. Navy, Kaneohe, HI

Doctoral Candidates in various Science and Medical Programs, U.S. & abroad

Research Technicians at both Hawaii Pacific University and University of Hawaii-Manoa

Operations Manager, NOAA Atlantic fleet

Laboratory Technician, University of Maryland

Adjunct Instructor, Hawaii Pacific University

Kayak Eco Guide, Kailua, HI

High School Science Teachers, various locations

Clinical Research Assistant at East-West Medical Research Institute, Honolulu, HI

Habitat Restoration Coordinator for the non-profit conservation organization Malama Maunalua

Pacific Islands Marine Debris Assistant Regional Coordinator for NOAA, Papahanaumokuakea National Marine Monument

Lecturer, California State University - Monterey Bay

Endangered Species Officer, Marshall Islands Marine Resources Advisory

AmeriCorps VISTA Volunteer, STEAM Outreach Specialist, Bishop Museum, Honolulu, HI

Online instructor for Hawaii Community College, Big Island, HI

Research Associates, Oceanic Institute, Waimanalo, HI

Monitoring and Evaluation Specialist, Alu Like, Inc., a nonprofit organization for native Hawaiians

Whale Watch Naturalists, Kailua-Kona, HI

Wildlife Management Intern, U.S. Fish & Wildlife Service

Lab Technicians for the National Institute of Standards and Technology, Kaneohe, HI

Science Curriculum Specialist, Mālama Honua Public Charter School, Waimanalo, HI

Performing mandatory military service in country of origin

Biologists for multiple federal agencies around the U.S.

NOAA Field Observer, Papahanaumakuakea Marine National Monument, Midway Island

Biological Technicians, Alaska Maritime National Wildlife Refuge

Fishery Policy Analyst, International Programs Staff Office, NOAA Pacific Islands Regional Office

Marine Biologist / NOAA Unit Dive Supervisor, Ecosystems and Oceanography Division, NOAA Pacific Islands Fisheries Science Center

Programs and Operations Coordinator, Hawaiian Islands Humpback Whale National Marine Sanctuary, Maui, HI

Field Research Supervisor, Joint Institute for Marine and Atmospheric Research, University of Hawaii-Manoa/NOAA Pacific Islands Fisheries Science Center

Loko I'a Coordinator for Kua'aina Ulu 'Auamo - a community-based nonprofit for environmental conservation in Hawaii

NOAA Sea Grant Knauss Marine Policy Fellow, Washington, DC

Research Assistant, Pacific Rim Conservation

Fellow, National Marine Sanctuaries' Pacific Island Region and University of Hawai`i Institute of Marine Biology (HIMB), Kaneohe, HI

Fishery Analyst, Western Pacific Fishery Management Council, Honolulu, HI

Marine Turtle Research Associate, Marine Turtle Research Program, NOAA Pacific Islands Fisheries Science Center

Teaching Fellow, KIPP Austin Public Schools

NSF Ocean Acidification Research Technician, California State University - Northridge

Project Researcher, Sustainable Fisheries Group at the School of Environmental Science and Management, University of California - Santa Barbara

Environmental Scientists, Specialists, and Consultants for various governmental and private agencies, U.S.

Terrestrial Fisheries Data Specialist, Joint Institute for Marine and Atmospheric Research, University of Hawaii-Manoa/NOAA Pacific Islands Fisheries Science Center

Hydrologic Scientist, Water Monitoring Division, Minnesota Department of Natural Resources

Chief Engineer, Chemical Oceanography Department, University of Bergen - Norway

Instrument Specialist, The Daniel K. Inouye College of Pharmacy, University of Hawaii at Hilo
Q: Who is eligible for HPU's MSMS program?
A: Students graduating with a Bachelor's degree in the Natural Sciences with a cumulative GPA of 3.0 or higher may apply to the MSMS program at HPU. International students may be required to provide TOEFL scores. Please visit International Requirements for more information about eligibility if applying as an international student.
Q: Besides applying, what else do I need to do to get into your program?
A: To be accepted to the MSMS-T (thesis) track, an MSMS faculty advisor must agree to serve as your mentor throughout the research and thesis process. For this reason, we encourage students to begin making contact as soon as possible with faculty whose research is of interest. The onus is on the applicant to initiate contact with potential mentors.  Acceptance to the MSMS-A (applied) non-thesis track does not require the commitment of a faculty advisor; the MSMS Program Director and MSMS Program Administrator work together as MSMS-A advisors.
Q: How important is my GRE score?
A: THE GRE IS OPTIONAL FOR APPLICATIONS TO AY 2021-2022. Rather than evaluating an applicant on the basis of GRE scores alone, we focus on how students performed relative to the rest of their test group. Our percentile breakdown is as follows: 75th percentile = Desirable, 50th percentile = Qualified, 40th percentile = Satisfactory. Applicants with scores lower than the 40th percentile will only be accepted if the student has very strong transcripts or strong HPU faculty support. Students with scores below the 40th percentile may be required to take courses in the area(s) of weakness or re-challenge the exam.
Q: FOR INTERNATIONAL STUDENTS REQUIRED TO TAKE THE TOEFL EXAM, WHAT ARE THE MINIMUM SCORES NEEDED TO BE ELIGIBLE TO APPLY?
A: TOEFL (IBT) overall score of 80 with a writing score of 25 or IELTS overall score of 6.0 with a writing score of 6.5.
Q: Is there an interview?
A: HPU's Graduate Admissions website shows that an interview is required as part of the selection process, and interviews are required for acceptance to the MSMS- T track. The interview is usually a phone call between a potential faculty advisor and the applicant. Although our applicants initiate first contact with faculty, a faculty member interested in a particular applicant will set up a time to talk with that applicant via phone or Skype. Interviews are not required for the MSMS-A option.
Q: Is funding available?
A: The MSMS program does not offer scholarships, but MSMS-T accepted applicants are automatically considered for a merit-based Graduate Assistantship (GA). MSMS-A applicants are automatically placed on a waitlist for the GA, and may receive this award if funding is available. Beginning Fall 2018, we are able to offer a limited number of Graduate Assistantships which include either a $6250 OR $3125 tuition waiver for four consecutive semesters (not including summer terms) in return for 19 HRS/WK OR 10 HRS/WK (respectively) of service to the Department of Natural Sciences. Students do not need to apply for the GA; all accepted applicants are evaluated for this award
Some faculty may have grant funds available to help support their MSMS-T students; you will need to ask prospective faculty advisors about potential support for their specific research programs.
For a list of external scholarships, internships, and fellowships for graduate students in the marine sciences, see the Funding Opportunities section below. Students may also apply for loans offered through the Financial Aid Office at HPU. Visit the HPU-FAO website directly for more information.
For more information, or for answers to questions not listed above, please contact the MSMS Program Administrator at msms@hpu.edu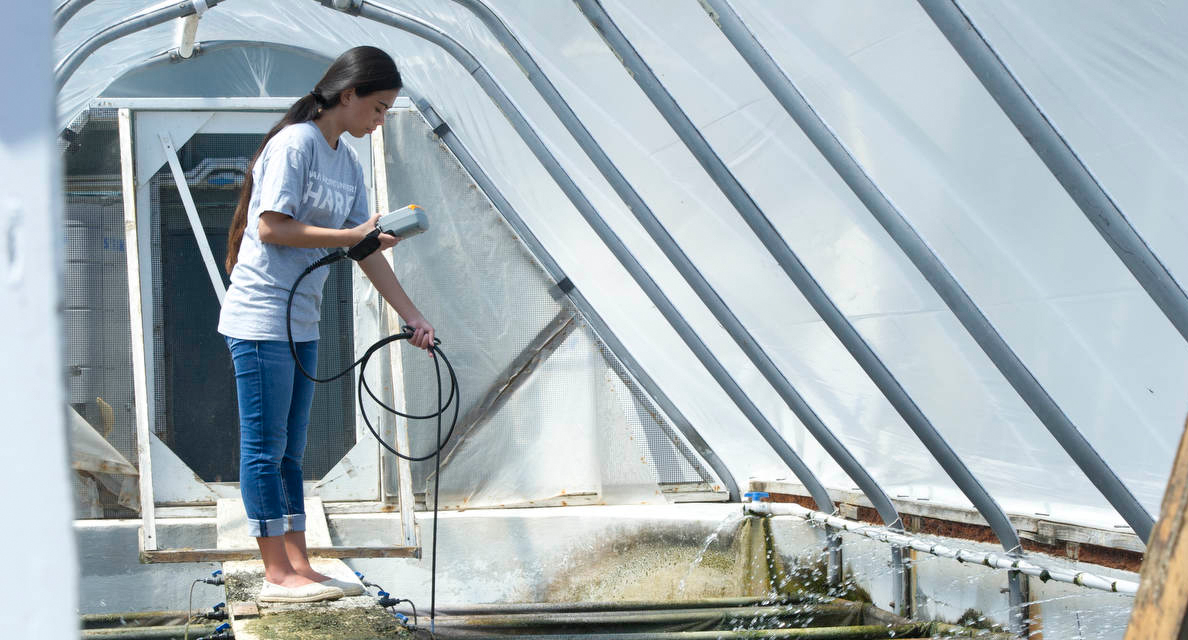 The combination of a perfect location, unique research opportunities, dedicated faculty, and rigorous training propels our students toward exciting and rewarding careers in marine science. For more information about our research instrumentation please visit our Scientific Instrumentation Facilities page; for more information about careers in marine science or our vessel the Kaholo, please visit our Resources for Marine Science page.