K. David Hyrenbach PH.D.
College of Natural and Computational Sciences - Department of Natural Science
Professor of Oceanography
Education:
Ph.D. Oceanography (2001). Scripps Institution of Oceanography
B.S. Ecology, Behavior & Evolution (1993). University of California San Diego
Courses Taught:
BIOL 3010 Hawaiian Natural History
BIOL 3090 Biometry
BIOL 6090 Advanced Biometry
MARS 4040/6040 Seabird Ecology & Conservation
MARS 4400/6400 Marine Conservation Biology
MARS 4910/11 Research Capstone in Marine Biology
MARS 6300 Multivariate Applications in Marine Science
MARS 6910 Current Topic in Marine Science
NSCI 3950 Natural Sciences Practicum
NSCI 4950 Independent Research
NSCI 6900 Master's Research
NSCI 7000 Master's Thesis
Message for Prospective Students
---
Professional Interests:
Marine conservation, ecology and natural history of marine mega-vertebrates, seabirds as bio-indicators
Teaching Interests/Research:
My main research interests are the oceanic habitats of far-ranging pelagic vertebrates (seabirds, turtles, cetaceans, tunas), and the physical mechanisms (upwelling, convergence) that define predictable areas of enhanced biological activity in pelagic systems. My objective is to incorporate an understanding of natural history and oceanography into the design of management and conservation strategies (i.e., gear modifications, area closures, Marine Protected Areas) to protect highly mobile pelagic species and their dynamic habitats.
Personal Interests:
Stand-up paddling, swimming, tennis, gardening, native plants, cappuccinos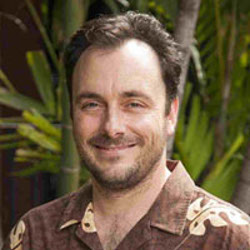 Professor
PH.D.
  Send email
  (808) 236-3563
  OI EMSB