Barbara Quimby PH.D.
College of Natural and Computational Sciences - Department of Natural Science
ASSISTANT PROFESSOR OF MARINE SCIENCE AND POLICY
EDUCATION
Ph.D., Geography, San Diego State University-University of California, Santa Barbara Joint Doctoral Program
M.A., Anthropology, San Diego State University
A.B., Anthropology, Occidental College
COURSES TAUGHT
MARS 4100 - Marine Resource Management: Culture and Sustainability
MARS 3100 - Maritime Law & Ocean Policy
ENVS 1000 - The Sustainability Challenge
ENVS 4030/6032 - Applied GIS
---
TEACHING INTERESTS/RESEARCH
Research:
My research explores the relationships between people and the Earth's oceans, in order to inform policies and practices that are more just, resilient, and sustainable. I am engaged in interdisciplinary research on the social, cultural, and political dimensions of dynamic coastal marine and freshwater systems. I have experience with issues of community-driven natural resource management and coastal fisheries co-management in the Western U.S. and the Pacific. I use qualitative, participatory, and mixed-methods research approaches to explore issues of equity and power in environmental governance and conservation. My work brings together political ecology, adaptive governance theory, and Indigenous knowledge and traditional management.
My current research is focused on climate change adaptation and resilience of human-marine systems in Hawai'i and the Pacific Islands. In particular, I am investigating informal and small-scale fisheries, and traditional and commercial aquaculture practices, for sustainable, local "blue" food security and food sovereignty.
Teaching:
As a teacher, I am committed to helping my students gain the knowledge and professional skills needed to address urgent marine and coastal governance issues, including climate change, environmental justice, community engagement, and sustainability. I focus on student-centered principles of transparency, inclusivity, and experiential learning, approaches that are proven to create more equitable educational outcomes for first-generation students. Inspiring students' curiosity and helping them find hope and clarity about difficult environmental issues is central to my teaching philosophy.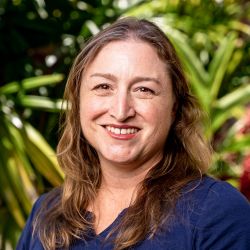 Assistant Professor
PH.D.
  Send email
  (808) 544-0872
  Hawaii Loa Campus, AC 232