Title IX
Sex Discrimination and Sexual Misconduct Policy
Hawaiʻi Pacific University is committed to providing a safe learning, living, and working environment. Students, faculty and staff are empowered to report incidents of sexual harassment, sexual assault, dating violence, domestic violence, stalking, and retaliation to facilitate support services, a remedy or action, and prevention of recurrence. Support services include assistance with interim measures, action options, referrals to counseling and medical providers, and advocacy. Students, faculty, and staff can use the red report button to provide information about an incident, including reporting anonymously, or contact the Interim Title IX Coordinator (808-687-7014). 
TITLE IX COORDINATOR 
Marites McKee
Hawai`i Pacific University, Dean of Students Office
1 Aloha Tower Drive, Ste. 1314
Honolulu, HI 96813
Telephone: (808) 687-7014
E-mail: mmckee@hpu.edu
Any allegation of sex discrimination, sexual harassment, relationship violence, and sexual assault can be made to the Title IX Coordinator, who is responsible for overall compliance of Title IX guidance and procedures for the entire HPU community.
DEPUTY TITLE IX COORDINATORS 
STUDENTS:
Kathryn Conlon
Assistant Dean of Students and Director of Student Conduct
Hawai`i Pacific University
1 Aloha Tower Drive, Ste. 1400
Honolulu, HI 96813
Telephone: (808) 544-1461
E-mail: kconlon@hpu.edu
ATHLETICS:
W. Scott Williams
Associate Director of Athletics - Compliance, Business Administration and Deputy Title IX Coordinator
Hawai`i Pacific University
1188 Fort Street Mall, 2nd Floor Mezzanine
Honolulu, HI 96813
Phone: (808) 356-5278
Email: wswilliams@hpu.edu 
EMPLOYEES:
Susan Gray
Interim Director of Human Resources
Hawai`i Pacific University
500 Ala Moana Blvd. Suite 4-545
Honolulu, HI 96813
Telephone: (808) 544-1186
E-mail: sgray@hpu.edu
Title IX of the Education Amendments of 1972 is a federal law that prohibits sex discrimination in education. It reads:
"No person in the United States shall, on the basis of sex, be excluded from participation in, be denied the benefits of, or be subjected to discrimination under any education program or activity receiving Federal financial assistance."

Title IX of the Education Amendments of 1972; 34 C.F.R. Part 106. Sex discrimination includes sexual harassment and sexual assault.
To access the Sex Discrimination and Sexual Harassment policy, go to www.hpu.edu/studenthandbook. 
Hawaiʻi Pacific University has the responsibility to remedy reports and prevent recurrence. All incident reports and records are private with limited access.
All members of the HPU community who believe that they have been the victim of sexual harassment, sexual assault, dating violence, domestic violence, or stalking, or know  someone who may have been the victim, are encouraged to bring the incident to the attention of the Interim Title IX Coordinator or a Deputy Title IX Coordinator. 
Impacted parties have the right to:
(1) Report an incident to local police and pursue criminal action:
In an emergency or situations requiring immediate attention, please dial 911
Honolulu Police Department 808-529-3111 or honolulupd.org
(2) Report a Title IX incident to the university (use the red report button, or contact the Title IX Coordinator by phone at 808-687-7014, email at mmckee@hpu.edu, in person at ATM 1314, or mail at 1 Aloha Tower Drive, Ste. 1314, Honolulu, HI 96813).
(3) Prosecute criminally.
(4) File a civil case.
Parties may take advantage of remedial assistance without filing an incident report. Support services and resources (e.g., security measures, counseling, tutoring) are available on campus and in the local community. The The Title IX Coordinator will go through the list with involved parties.  
All Hawaiʻi Pacific University faculty and staff are "mandated reporters" who have an obligation to report incidents of sexual harassment and sexual misconduct to the Interim Title IX Coordinator.
To access the Sex Discrimination and Sexual Harassment policy, go to www.hpu.edu/studenthandbook. 
On-Campus Resources:
1. Counseling and Behavioral Health Services (CBHS) primary responsibility is to the student population on campus.
CBHS also provides consultation and referral services to public and private community providers. During normal
business hours, please contact the CBHS department at (808) 687-7076 (main line) or counseling@hpu.edu.
2. Campus Security's general phone numbers: Aloha Tower Marketplace: (808) 544-1400 and Hawaii Loa campus:
(808) 236-3515.
3. SafeWalk program is available 24 hours a day 7 days a week. A security guard will escort you anywhere on campus. Call (808) 544-1400.
4. First Name Change: HPU recognizes that many members of our community use names other than their legal names to identify themselves. To use a preferred first name at HPU, refer to the Preferred First Name Policy (www.hpu.edu/studenthandbook) on how to make a request. .  
5. Gender Inclusive Housing: For more information, go to the Housing and Residence Life Policy (www.hpu.edu/studenthandbook) for details. 
Off-Campus Resources:
1. Sex Abuse Treatment Center: Provides assistance for assault victims, care and assistance, medical exams,
emergency intervention and legal help (office: (808) 535-7600, 8 a.m. - 4:30 p.m.). The 24-hour Hotline (phone:
(808) 524-7273) provides confidential counseling, medical and legal advocacy services for victims of rape and
sexual assault.
2. Hawaii State Coalition Against Domestic Violence: Is a statewide partnership of domestic violence shelters and
programs. Call at (808) 841-9316 or view their list of resources online at http://hscadv.org/resources/
3. Spouse Abuse Shelter: 24-hour Hotline for women: (808) 841-0822. Hotel vouchers possible for abused men.
4. Sexual and Gender Minorities (SGM) Resource Hub (Hawaii Department of Health): Support and resources for the LGBTQ+ community
5. The Lavender Center & Clinic (Honolulu Main Office): https://lavendercenterandclinic.org/
What is Bystander Intervention?
Bystander intervention identifies an approach for taking action when you see an unjust or risky situation. Bystander intervention, or being a HPU up-stander, is a part of our HPU values of pono and kuleana. Make a difference! Stand-up for a situation that isn't right.


Being a HPU up-stander can include:
Speaking out against hurtful, hate, and discriminatory statements or behaviors. 
Preventing situations that could lead to a sexual assault or other harm.
Supporting individuals when they feel pressured, uncomfortable, or victimized.
Helping others respond to problematic situations.
Bystander Intervention action could include any one of the 3-Ds:
DIRECT - directly address the situation or harm.
DISTRACT - distract someone from the situation or harm.
DELEGATE - delegate intervention to the situation or harm to someone else.
Being a HPU up-stander does not mean that you should risk your personal safety. Use the 3-D approach that is comfortable for you.
The HPU up-stander also:
Approaches everyone with aloha.
Avoids using violence as a means of intervention.
Refrains from antagonizing or accusatory actions.
Asks for help from others and knows when to call for assistance (EMTs, HPD, CAs, etc.).
How Does This Make A Difference?
It Can Happen to Anyone; sexual assault, dating violence, and stalking are real issues experienced by many college students, including your friends!  About 1 in 5 women and 1 in 17 men will survive sexual assault during their time at college.
Pay Attention to the warning signs of violence or someone being taken advantage of. 
Don't brush it off; if something or someone makes you uncomfortable, say or do something.
Watch out for each other; if you see someone who looks like they're in trouble, ask if they're ok.
Speak up if you see something offensive or abusive. If you hear victim blaming or jokes that degrade other people, don't laugh. Say you don't think it's funny to hurt others. Encourage respect.
Get involved with the "Don't Be a Shy Shark" Program or a partner student organization.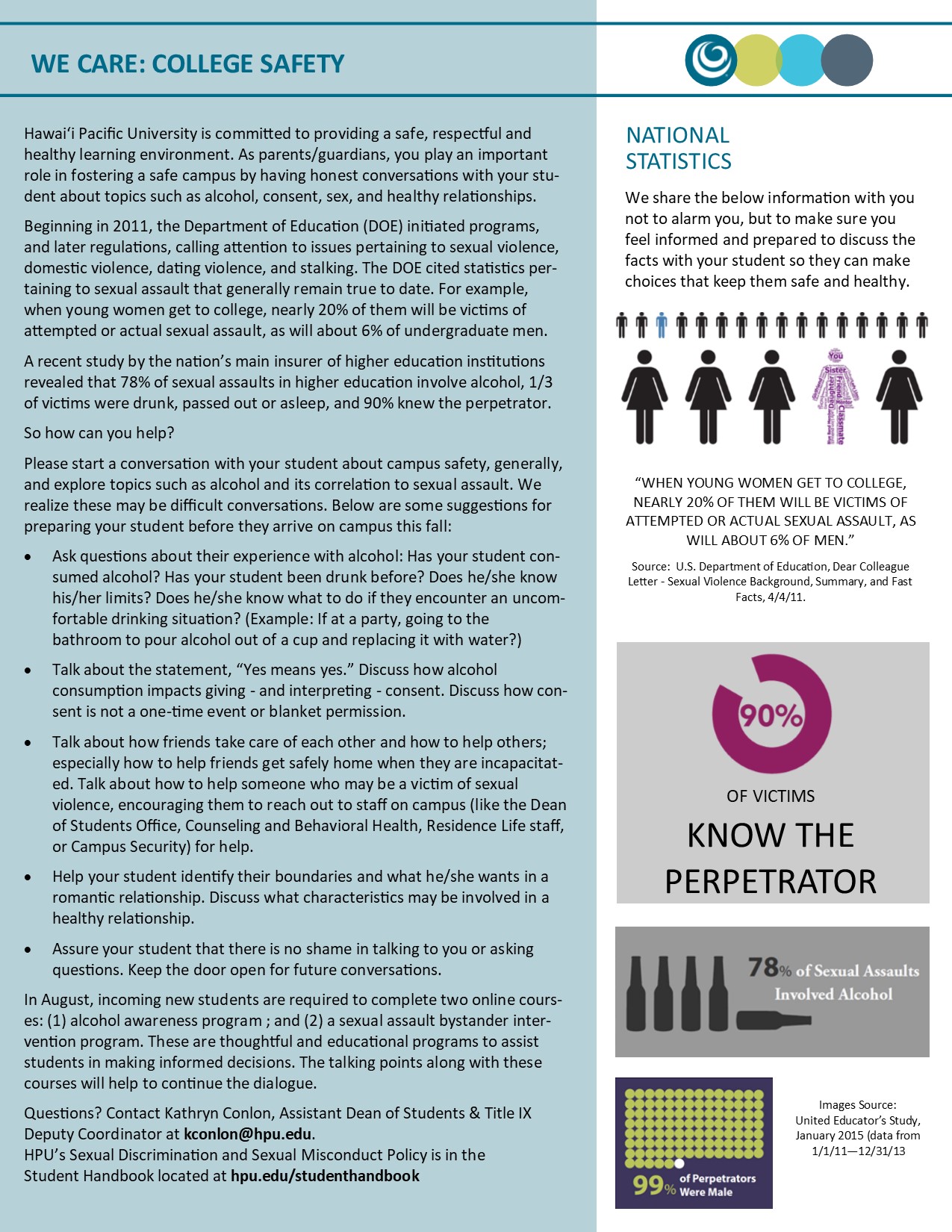 HAWAIʻI PACIFIC UNIVERSITY'S "WE CARE" COLLEGE CAMPUS SAFETY TRAINING
HPU is committeed to educating Hawaii's graduating high school students about campus safety and sexual assault, before students are caught up in the flurry of freshmen onboarding, at a time when parents can guide the conversation. If you are a staff member at a local high school and would like HPU to bring the We Care presentation to your campus, please contact Ms. Jan Boivin Senior Vice President/General Counsel at jboivin@hpu.edu.
Title IX Events
There are currently no upcoming events.