TESOL Working Paper Series
The TESOL Working Paper Series is a refereed, open-access journal that is published annually by the TESOL program in the Department of English and Applied Linguistics at Hawaii Pacific University. It publishes papers related to the field of second or foreign language teaching, particularly the teaching of English to Speakers of Other Languages (TESOL). Papers in this series tend to be small-scale empirical studies, action research, theory-to-practice reflection, or practical teaching ideas (see Aim and Scope in the "Call for Contribution").
Current Issue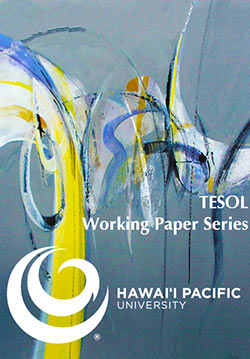 ISSN 2573-1467
VOLUME 15, 2017
EDITOR: Hanh thi Nguyen
ASSISTANT EDITOR: Justin Pannell
History of the English Language and TESOL: A Collection of Essays in Honor of Dr. Edward F. Klein
Oscar Silio, Airen Miraflor, Mary Johnson, Justin Pannell, Vanessa Butterfield
Hawaii Pacific University, USA
English Slogans in German Advertising: Comprehensibility and Perception by Germans
Friederike Partsch
Richard-Hallmann Gemeinschaftsschule Trappenkamp, Germany
An Exploratory Study on Politeness Strategies in Requests by Korean Learners of English and American English Speakers
Milang Shin
Hawaii Pacific University, USA
Issues in the Implementation of Bilingual Education in Vietnam
Do-Na Chi
An Giang University, Vietnam
Assessing the Suitability of the Project 2020 Test for EFL Teachers in Vietnam
Van Hoang Le
University of Queensland, Australia
The Output Hypothesis: From Theory to Practice
Justin Pannell, Friederike Partsch, Nicholas Fuller
Hawaii Pacific University, USA
A Reassessment of Translation in the Second Language Classroom
Zachary Payne, Adam Brod, Reina Horton, Nicholas Fuller
Hawaii Pacific University, USA
Past Issues
All volumes produced PRIOR to Volume 4, Issue 2, Fall 2006 are available only in print. Please contact Dr. Hanh Nguyen at hnguyen@hpu.edu for further information.
CREATIVE COMMONS
The Hawaii Pacific University TESOL Working Paper Series is licensed under the Creative Commons Attribution-Noncommercial-No Derivative Works 3.0 United States License. To view a copy of this license, visit the Creative Commons website or send a letter to:
Creative Commons, 171 Second Street, Suite 300
San Francisco, California, 94105, USA.
COVER IMAGE: "Calligraphy I," watercolor painting by Barbara Kellogg, 2011. Reproduced with permission from the artist.
Contact Us: tesol@hpu.edu