TESOL Working Paper Series
The TESOL Working Paper Series publishes papers related to the field of second language teaching, particularly the teaching of English to Speakers of Other Languages (TESOL). It is published annually by the TESOL programs in the Department of English and Applied Linguistics at Hawaii Pacific University.
Current Issue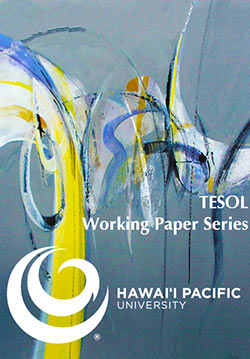 ISSN 2573-1467
VOLUME 14, 2016
EDITOR: Hanh thi Nguyen
ASSISTANT EDITOR: Justin Pannell
Introduction - Hanh thi Nguyen
RESEARCH ARTICLES
How globalism is represented in English textbooks in Japan
Kazu Hanashiro
Awase Special Needs School, Okinawa, Japan

ABSTRACT: This paper explores the portrayal of countries and cultural elements in Japanese EFL high-school textbooks, which may contribute to students' awareness of the varieties of English and understanding of other cultures. Based on Kachru's three-concentric-circle model of English in the world, I examined three textbooks from Japan in order to demonstrate the extent to which English language varieties and cultures are presented to EFL students. The textbooks used were approved by the Ministry of Education, Culture, Sports, Science and Technology (MEXT) in 2013 and have been used in Japanese high schools since April 2014. The findings reveal that these three textbooks are likely to emphasize mostly Inner Circle countries at the expense of Outer Circle countries, and to a lesser extent, Expanding Circle countries. This suggests that certain changes to English textbooks in Japan should be implemented in order to increase students' awareness of the varieties of English spoken in Outer and Expanding Circle countries.
English loanwords and made-in-Japan English in Japanese
Mariko Hatanaka & Justin Pannell
Hawaiʻi Pacific University, USA

ABSTRACT: English-derived words (EDWs), either English loanwords or made-in-Japan English expressions, are ubiquitous throughout the Japanese lexicon. Though educators may exploit them to aid vocabulary learning, their meanings often diverge from their words of origin, and many EDWs are not used in most English-speaking contexts. This study surveyed six native speakers of Japanese (NSJ) and six native speakers of English (NSE) to examine participants' knowledge of the meanings of both English words with Japanese equivalents and made-in-Japan EDWs. These NSJs often assigned English words the meaning of Japanese EDWs and were unaware that many EDWs are not used in most English-speaking contexts. We investigated the attitudes that NSJs maintain towards made-in-Japan EDWs. Reactions were mixed. We proffered several explanations for why this was the case. The pedagogical implications are that English language teachers must be cautious when using EDWs to build vocabulary. We suggested several ways that this learning strategy can be judiciously employed.
What does Pidgin sound like today?
Cheyenne Low
Hawai'i Pacific University, USA

ABSTRACT: The purpose of this paper is to illustrate the features of Hawai'i Creole English (HCE, or "Pidgin" as commonly known in Hawaii) through an interview with a local Pidgin speaker. The paper describes and discusses the phonological, lexical, syntactic, and pragmatic features of the speaker's HCE, exemplified by transcribed excerpts and audio samples from the interview. In addition, the paper analyzes the speaker's attitudes toward HCE and discusses them in the social context of Hawai'i. The paper concludes with implications for language teaching.
Phonological difficulties encountered by Italian learners of English: An error analysis
Anne Wheelock
Hawaiʻi Pacific University, USA

ABSTRACT: This paper provides an error analysis of English pronunciation by a cohort of Italian learners of English with the goal of adding to the body of knowledge concerning the acquisition of English by Italian learners and aiding the design of pronunciation teaching materials for this group of learners. Using data from the Speech Accent Archives, I conducted an error analysis of 27 Italian learners reading aloud an English passage. The most common vowel error was a misformation of /ɑ/ as [ə], which was retained by the seven advanced speakers. Being that /ə/ is the most common reduced vowel in English and /ɑ/ is not an Italian phoneme, this vowel error is explicable. The most common consonant error was a misformation of /z/ as [s], also retained by the advanced speakers. Devoicing of /z/ to [s] also becomes explicable once the speaking passage words were examined for /z/ placement. Pearson's r showed a weak correlation between length of residency and error rate and between the age at which English study began and error rate.
Flipping a content-based ESL course: An action research report
Yukiko Oki
Hawaiʻi Tokai International College, USA

ABSTRACT: This action research study aims to uncover the pedagogical effects of applying the flipped classroom strategy in Content-Based Instruction for English language learners. Students' perceptions and academic performance were measured by adopting a mixed methods approach. Qualitative results from the post-course questionnaire indicated that student participants were in favor of the flipped classroom over traditional instruction; however, quantitative data derived from pre- and post-course questionnaires and academic performance did not reveal statistically significant differences.
Intake in second language acquisition
Do-Na Chi
An Giang University, Vietnam

ABSTRACT: This paper explores the concept of intake and its relation to input in second language acquisition (SLA). While numerous studies explain the concept of intake and its relation to input and SLA, it appears that most researchers use the term intake in a general sense. This usage leaves a void in the literature where a more detailed and comprehensive view of input-intake processing in SLA might be formulated. Meanwhile, some researchers have quite specific views on this issue and categorize intake into preliminary and final intake, both of which are necessary in SLA. This paper is based on the analysis of the views of a wide range of researchers. It takes as its aim a better understanding of the concept of intake and the relationship between input and intake in SLA. The paper also provides pedagogical illustrations of ways to support learners' intake formation based on suggestions of researchers in the field and the writer's teaching experience.
Portfolio assessment in second/foreign language pedagogy
Huy V. Phung
University of Hawaiʻi at Mānoa, USA

ABSTRACT: Portfolio as a collection of artifacts has been employed for a long time in different creative professions as one way to display one's talents, competences, and accomplishments for career advancement and social recognition. In second/foreign language education, portfolio has been enthusiastically received by classroom teachers as an alternative to the traditional testing characterized as formalized, time-restricted, one-shot and unauthentic. This paper provides a critical review of the literature on portfolio assessment and offers an example of how it can be implemented in practice through a project-based English course for college students in an EFL context.

A critical review of Pimsleur language learning programs
Ann Tai Choe
Teachers College, Columbia University, USA

ABSTRACT: As one of the most popular distant language learning programs today, Pimsleur® has received an abundance of reviews from language learners and bloggers online. While these reviews provide a thorough view of the programs from the learner's perspective, reviews of Pimsleur from a second language acquisition (SLA) perspective are rather scarce. In light of addressing this gap, this review investigates some of the major strengths and weaknesses of Pimsleur from an SLA standpoint. Accordingly, several suggestions are made for possible improvements.

VOICES FROM THE FIELD
Learning Catalan in Andorra
Sara Fowler
Singular Acadèmia d'Anglès, Andorra

Learning Yapese in Yap
Jean Kirschenmann
Hawaiʻi Pacific University, USA

Learning Spanish in Spain
Zachary Payne
Hawaiʻi Pacific University, USA

Learning Italian in the United States and Italy
Anne Wheelock
Hawaiʻi Pacific University, USA

Learning English in Vietnam
Minh-Chien Duong & Do-Na Chi
An Giang University, Vietnam

Learning English in Vietnam and the United States
Linh Tran
Phu Quoc High School, Vietnam
Past Issues
All volumes produced PRIOR to Volume 4, Issue 2, Fall 2006 are available only in print. Please contact Dr. Hanh Nguyen at hnguyen@hpu.edu for further information.
CREATIVE COMMONS
The Hawaii Pacific University TESOL Working Paper Series is licensed under the Creative Commons Attribution-Noncommercial-No Derivative Works 3.0 United States License. To view a copy of this license, visit the Creative Commons website or send a letter to:
Creative Commons, 171 Second Street, Suite 300
San Francisco, California, 94105, USA.
COVER IMAGE: "Calligraphy I," watercolor painting by Barbara Kellogg, 2011. Reproduced with permission from the artist.
Contact Us: tesol@hpu.edu