English
There are a number of factors that make the English Program special. Like all HPU programs, we benefit from the diversity of our community, and from small class size, but there are three factors that make us unique:
FACULTY EXPERTISE
Students in HPU's English program learn from experienced faculty who are experts in their fields. Many of the English faculty members are practicing creative writers; each term, a reading showcases their poetry, fiction, creative nonfiction, and drama.
IMAGINATIVE AND DIVERSE APPROACHES TO THE STUDY OF LITERATURE
Students can choose from offerings in literature, writing, or film, and the curriculum includes works by British, American, Asian, local, and post-colonial writers. Recent popular courses include Monsters in Literature and Popular Culture; Sex, Power, & Narrative; Theoretical Perspectives on Video Games, Shakespeare on Screen, and Woman and Madness.
HANDS-ON APPROACH
The English program offers many opportunities for creative writing, editorial experience, and teaching/tutoring students in composition. Students who want to work even more extensively on their writing can also complete the Writing Minor by taking only four additional courses. In addition, HPU provides students the option to move directly into the Master's in Education Program at HPU. Students who choose this option are able to obtain both their BA in English and a Master of Education degree in teaching English in just five years by enrolling in the School of Education's 4 + 1 Program. In 2018, the new MFA in Creative Writing will recruit its first cohort. The program begins in the summer of 2019. 
TOP ENGLISH PROGRAMS AT PRIVATE UNIVERSITIES IN THE COUNTRY
Focusing on the ability of students to graduate and land well-paying jobs, the career placement company, Zippia, selected HPU as the top English program at a private university in the state of Hawaii and 7th in the nation (based on the success of our majors in completing the degree and getting well-paid jobs after they graduate).
Williams College – Massachusetts
Columbia University – New York
Yale University – Connecticut
Middlebury College – Vermont
Brigham Young University – Utah
Kenyon College – Ohio
Hawaii Pacific University – Hawaii
Vanderbilt University – Tennessee
Davidson University – North Carolina
Tulane University – Louisiana
Student Testimonials
"My teachers expanded my world view, and pushed me to write from perspectives that I never considered before. I gained experience through the editing and publishing process. The amazing professors in the English department gave me the assets to pursue my dream as a narrative designer for video games, and they have even motivated me to start my own game project: coming soon to a phone near you!"
Linda Rector, class of 2017
"Studying English requires me to be critical of others, society, and especially myself. Being an English major has not only broadened my understanding of the world, but it has also given me the tools to succeed in any career I choose. No matter how the world progresses, there will always be a need for critical thinking and good writing skills."
Dustin Connis, class of 2018
Publications
STUDENTS WHO MAJOR IN ENGLISH EDIT AND CONTRIBUTE TO SEVERAL ENGLISH PROGRAM PUBLICATIONS: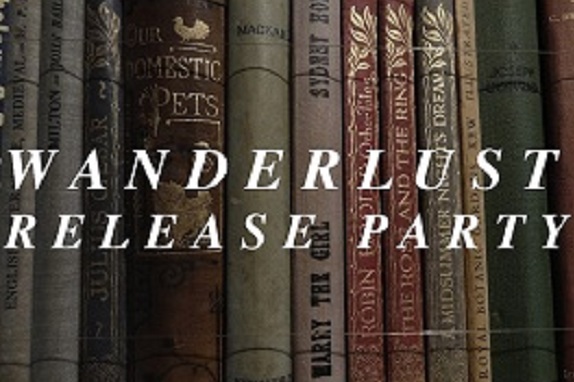 WANDERLUST STUDENT LITERARY MAGAZINE: features short stories, nonfiction essays, and poetry by undergraduates from all over the university. All selections are chosen and edited by students who enroll in WRI 3391—a course offered each fall term. In addition to giving students a venue for publishing their own creative work, the magazine gives students an opportunity to gain editorial experience. Fresh Perspectives: features outstanding essays written for Writing 1050, 1100 and 1200. 

HAWAII PACIFIC REVIEW: The online literary magazine of Hawaii`i Pacific University. It features poetry and prose by authors from Hawaii`i, the mainland, and around the world. The magazine also functions as a practicum course, in which HPU undergraduates can gain valuable editorial experience. Students may serve as Managing Editors (WRI 3953: 3 credits) or as Staff Members (WRI 3951: 1 credit).  
FRESH PERSPECTIVES: features outstanding essays written for Writing 1050, 1100 and 1200.
Contests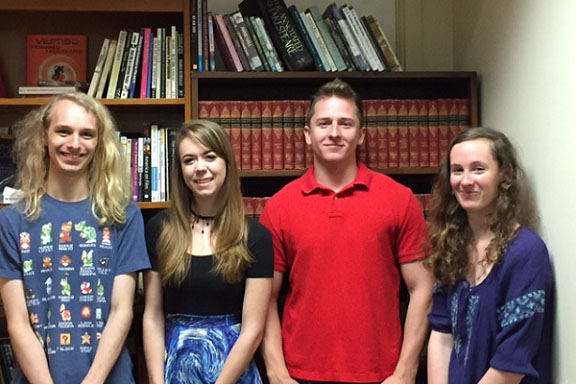 The HPU Short Script Contest, established in 1998 and now supported by the Mark Bauer Fund, awards $600 to the best short screenplays, plays, TV, radio, or video game scripts (5-20 pages) written by HPU students in both original and adapted categories. The deadline is in December after the fall term.  Contact Dr. Mark Tjarks at mtjarks@hpu.edu/808-5662445 for more information or an application. (Picture: Winners of the HPU Short Script Contest: Dustin Connis, Hannah Smith, Liam Reddy, and Meghan Vincent)

The Opitz Award for Excellence in Undergraduate Writing at HPU was established in 2016 in memory of Dr. Andrew Opitz, Assistant Professor of English at HPU, who died in March 2015.  Faculty from all disciplines will be invited to nominate excellent student essays, and an interdisciplinary panel of HPU faculty will read and rank submissions in a blind-review process. Contributions to the Opitz Fund for Excellence in Undergraduate Writing are also welcome, so that this award can be made available for HPU students well into the future.  If you are interested in contributing, please contact HPU's University Relations Office at ur@hpu.edu.

Hawai'i Pacific University's James A. Vaughan Award for Poetry began in 2000 and was established by a generous contribution from Mr. James A. Vaughan, who wished to support poetry at HPU and in the community at large. Adele NeJame, assistant professor and award winning poet, coordinates and judges the contest.  Those submitting must have lived in Hawai'i for at least one year. Submissions are limited to three unpublished poems, up to 60 lines each. The winning poet receives $250, publication in Hawai'i Pacific Review, and an opportunity to give a celebratory reading at the Ko'olau Writers Workshop during spring semester.
Readings, Workshops and Clubs
The Ko`olau Writers Workshop offers instruction and advice to local writers of all levels. Held each spring, KWW features intensive workshop sessions in poetry, fiction, creative nonfiction, and scriptwriting
Near the end of each semester, as part of a tradition established in the late 1990's by former faculty member Dr. Catherine Sustana, creative writing students gather to read their creative work—poetry, fiction, creative nonfiction, dramatic monologues—to an enthusiastic crowd.
Faculty from the English department and across HPU read from their published work or from work-in-progress in fiction, creative non-fiction, poetry, drama at an annual reading open to the campus community.
Sigma Tau Delta is the honors society for recognizing and promoting academic excellence of students majoring in English or minoring in Writing, Film Studies, or English.
The Write Club is the student club for creative writers.
Department News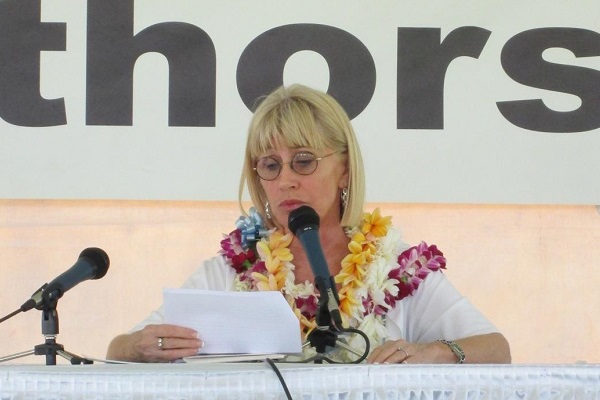 THREE POEMS BY ADELE NEJAME, including two new long narrative poems, will be forthcoming in the Beirut Literary and Art Journal (American University in Beirut) and the second edition of the anthology, Ms Aligned.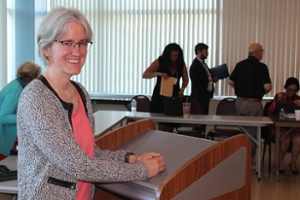 Dr. Laurie Leach, Professor of English, was a featured speaker at "Roots At 40: Reflections and Remembrances,"  an academic conference commemorating the 40th anniversary of the landmark 1977 miniseries, at Goodwin College in East Hartford, CT on October 6.   Her presentation. "'Good Slaveholders' and Questionable Allies: The Moral Ambiguity of the White Characters in Roots," explores the representation of the white characters in the series and draws analogies between Roots and abolitionist literature.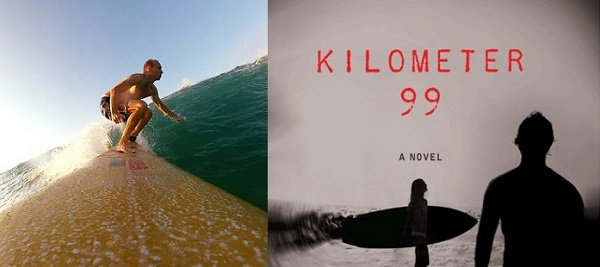 TYLER MCMAHON'S THIRD NOVEL, Dream of Another America, winner of Gival Press's 2016 Novel Award, will be released this fall.  "Dream of Another America is a tautly-spun, dark and stirring migration parable, an ode to the impoverished, powerless, and double-crossed south of the proverbial border, and a sensuous, fast-moving train hop of a read that is every migrant's nightmare, every inhabitant of Eden's duty." —J. Reuben Appelman, author of The Kill Jar: Obsession, Descent, and a Hunt for Detroit—s Most Notorious Serial Killer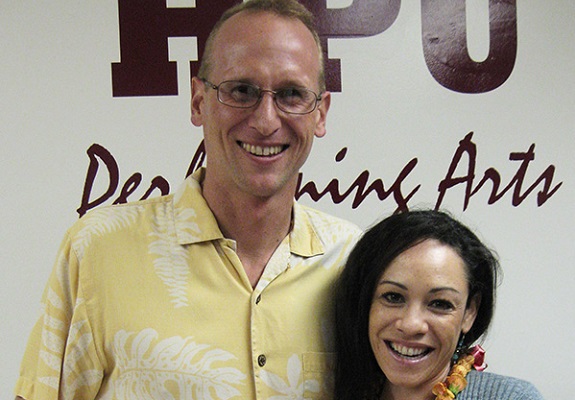 TYLER MCMAHON WITH KAUI HART HEMMINGS at an HPU screening of Descendants, based on her novel.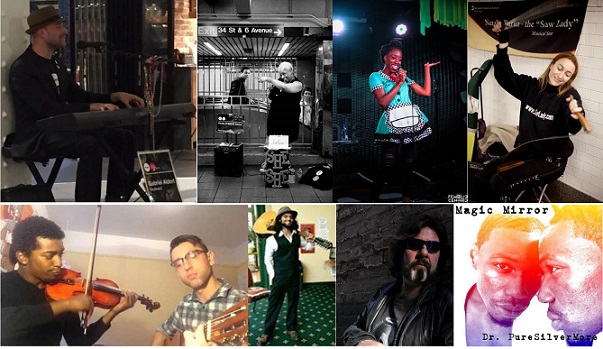 MARK TJARKS' PLAY BUSKERS, THE MUSICAL, opened at the Theater for the New City (TNC) in Manhattan on Sep. 3 and ran through Sep. 9. It was first presented by TNC as a staged reading on May 15 as part of the Theater for the New City's New Blood Reading Series. The play is a mashup of the highly stylized, fantasy-driven Broadway musical with an unvarnished documentary of New York subway musicians, weaving together the stories and performances of actual NY buskers to create a unique experience: a documentary musical: one part American dream, two parts New York grit.