English
There are a number of factors that make the English Program special. Like all HPU programs, we benefit from the diversity of our community, and from small class size, but there are three factors that make us unique:
FACULTY EXPERTISE
Students in HPU's English program learn from experienced faculty who are experts in their fields. Many of the English faculty members are practicing creative writers; each term, a reading showcases their poetry, fiction, creative nonfiction, and drama.
IMAGINATIVE AND DIVERSE APPROACHES TO THE STUDY OF LITERATURE
Students can choose from offerings in literature, writing, or film, and the curriculum includes works by British, American, Asian, local, and post-colonial writers. Recent popular courses include Monsters in Literature and Popular Culture; Sex, Power, & Narrative; Theoretical Perspectives on Video Games, Shakespeare on Screen, and Woman and Madness.
HANDS-ON APPROACH
The English program offers many opportunities for creative writing, editorial experience, and teaching/tutoring students in composition. Students who want to work even more extensively on their writing can also complete the Writing Minor by taking only four additional courses. In addition, HPU provides students the option to move directly into the Master's in Education Program at HPU. Students who choose this option are able to obtain both their BA in English and a Master of Education degree in teaching English in just five years by enrolling in the School of Education's 4 + 1 Program. 
TOP ENGLISH PROGRAMS AT PRIVATE UNIVERSITIES IN THE COUNTRY
Focusing on the ability of students to graduate and land well-paying jobs, the career placement company, Zippia, selected HPU as the top English program at a private university in the state of Hawaii and 7th in the nation (based on the success of our majors in completing the degree and getting well-paid jobs after they graduate).
Williams College – Massachusetts
Columbia University – New York
Yale University – Connecticut
Middlebury College – Vermont
Brigham Young University – Utah
Kenyon College – Ohio
Hawaii Pacific University – Hawaii
Vanderbilt University – Tennessee
Davidson University – North Carolina
Tulane University – Louisiana
Student Testimonials
"My teachers expanded my world view, and pushed me to write from perspectives that I never considered before. I gained experience through the editing and publishing process. The amazing professors in the English department gave me the assets to pursue my dream as a narrative designer for video games, and they have even motivated me to start my own game project: coming soon to a phone near you!"
Linda Rector, class of 2017
"Studying English requires me to be critical of others, society, and especially myself. Being an English major has not only broadened my understanding of the world, but it has also given me the tools to succeed in any career I choose. No matter how the world progresses, there will always be a need for critical thinking and good writing skills."
Dustin Connis, class of 2018
Students who major in English will:
Demonstrate transferable analytical skills such as the ability to summarize, interpret, and evaluate complex texts.
Demonstrate transferable communication skills such as writing clearly and persuasively, revising and editing their own and others' writing, and making effective oral presentations.
Employ appropriate research methods to locate and evaluate information and will effectively present their own arguments with support from primary and secondary texts.
Recognize and analyze various textual forms and strategies in academic and creative genres.
Practice various textual strategies in academic and creative genres.
Employ the ways in which texts shape and/or are shaped by history, culture, and context.
Respond to and analyze diverse texts from various cultures.
Articulate or identify important theoretical concepts and approaches and apply them in interpreting or analyzing texts.
For major requirements go to the Academic Catalog 
ADMISSIONS REQUIREMENTS
Application
Transcripts
Personal Statement
$45 Application Fee
SAT I or ACT Scores (freshman only)
Letter of recommendation
Resume
Publications
STUDENTS WHO MAJOR IN ENGLISH EDIT AND CONTRIBUTE TO SEVERAL ENGLISH PROGRAM PUBLICATIONS: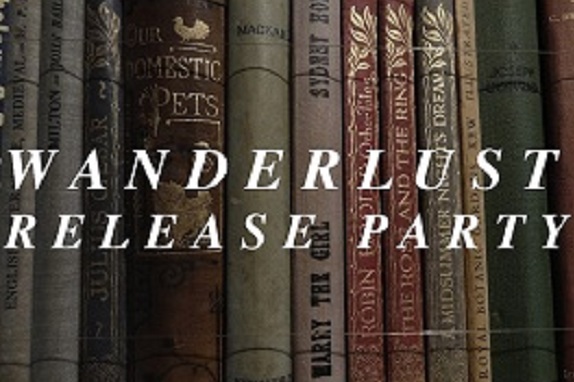 WANDERLUST STUDENT LITERARY MAGAZINE: features short stories, nonfiction essays, and poetry by undergraduates from all over the university. All selections are chosen and edited by students who enroll in WRI 3391—a course offered each fall term. In addition to giving students a venue for publishing their own creative work, the magazine gives students an opportunity to gain editorial experience. Fresh Perspectives: features outstanding essays written for Writing 1050, 1100 and 1200. 

HAWAII PACIFIC REVIEW: The online literary magazine of Hawaii`i Pacific University. It features poetry and prose by authors from Hawaii`i, the mainland, and around the world. The magazine also functions as a practicum course, in which HPU undergraduates can gain valuable editorial experience. Students may serve as Managing Editors (WRI 3953: 3 credits) or as Staff Members (WRI 3951: 1 credit).  
FRESH PERSPECTIVES: features outstanding essays written for Writing 1050, 1100 and 1200.
Contests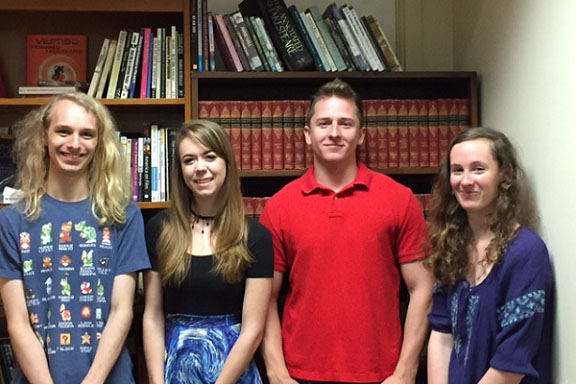 The HPU Short Script Contest, established in 1998 and now supported by the Mark Bauer Fund, awards $600 to the best short screenplays, plays, TV, radio, or video game scripts (5-20 pages) written by HPU students in both original and adapted categories. The deadline is in December after the fall term.  Contact Dr. Mark Tjarks at mtjarks@hpu.edu/808-5662445 for more information or an application. (Picture: Winners of the HPU Short Script Contest: Dustin Connis, Hannah Smith, Liam Reddy, and Meghan Vincent)

The GREAT 808 STuDENT WRITING CONTESTS!
The English program holds writing contests in fiction, nonfiction, and poetry open to all HPU undergraduates. Students submit an original poem, essay, or short story under 808 words. Finalists are selected by contest organizers; the winners are chosen by a special guest judge.
Students are awarded $808 in scholarships, funded by generous donations to the English Program.
The James A. Vaughan Award for Poetry began in 2000 and was established by a generous contribution from Mr. James A. Vaughan, who wished to support poetry at HPU and in the community at large. After many years of funding an award for a Hawai'i poet who would give a reading at HPU, the endowment now sponsors the student poetry contest.
The Mark David Bauer Award for Fiction was established to honor Mark Bauer who was an English professor at HPU from 1986-2000. The fund for the Mark David Bauer Award for Writing endowment supports the writing awards for fiction and scriptwriting.
The Andrew Opitz Award for Nonfiction was established to honor our late colleague Andy Opitz, whose work conveyed humor and joy in the process of cultural critique. Originally awarded for scholarly essays, the fund now sponsors the nonfiction writing award and is supported by generous donations by the Opitz family and friends. If you are interested in contributing, please contact HPU's University Relations Office at ur@hpu.edu.
Readings, Workshops and Clubs
The Ko`olau Writers Workshop offers instruction and advice to local writers of all levels. Held each spring, KWW features intensive workshop sessions in poetry, fiction, creative nonfiction, and scriptwriting
Near the end of each semester, as part of a tradition established in the late 1990's by former faculty member Dr. Catherine Sustana, creative writing students gather to read their creative work—poetry, fiction, creative nonfiction, dramatic monologues—to an enthusiastic crowd.
Faculty from the English department and across HPU read from their published work or from work-in-progress in fiction, creative non-fiction, poetry, drama at an annual reading open to the campus community.
Sigma Tau Delta is the honors society for recognizing and promoting academic excellence of students majoring in English or minoring in Writing, Film Studies, or English.
The Write Club is the student club for creative writers.
Department News
OPENING DOORS WITH A DEGREE IN ENGLISH
HPU English alumna and recent graduate of the Harvard Graduate School of Education, Jovi Nazareno shares how HPU's English program prepared her for success:
When Jovi Nazareno graduated from Mililani High School on Oahu, she knew that she wanted to study in Hawai'i for college. She wanted to attend a university that offered small class sizes, personable and knowledgeable professors, scholarships, and a strong campus community. HPU was the perfect fit.
"HPU provided me with a firm foundation," said Nazareno. "It was a great experience, from the classes to the professors, it was fantastic. I loved it. The scholarships that HPU offered were a huge factor for me. It was also nice to stay with family and not be on my own."
HPU was the first private institution that Nazareno attended. She knew early on that she was interested in double-majoring in English and psychology. The courses at HPU inspired her to begin connecting psychology, English, and education – specifically how psychological factors could help or hinder the development of writing skills.
Read the full article here.
HPU LAUNCHES NEW MINOR IN EDITING AND PUBLISHING
HPU announced its new minor in the College of Liberal Arts. The minor in editing and publishing provides students with a focused curriculum that emphasizes practical experience in the editing and publishing fields. The minor was designed as a classroom-to-career pathway for students interested in editing and publishing.
"The editing and publishing minor is the only one if its kind in Hawai'i," said Associate Professor Christy Williams, Ph.D., Chair of the Department of English and Applied Linguistics. "HPU's English program is unique because undergraduate students have the opportunity to work on a variety of publications for course credit. Other universities in Hawai'i have literary publications, and some give course credit for a single publishing class, but HPU is the only place where students can gain experience working on different kinds of publications while earning credit toward their degrees." 
Read the full article here. 
A complete list of courses in the editing and publishing minor can be found here.