Marketing Concentration
Students pursuing a marketing concentration will gain an understanding of consumer behavior, marketing research, planning and analysis, integrated communications, and e-commerce. Problems, issues, and alternative solutions involving product strategy, pricing, distribution, promotion, and marketing research will be discussed, both from a national and international perspective. In general, marketing principles will be applied to multinational and international business practices, including managing a global supply chain.
Marketing students are encouraged to focus their electives in Communications by considering the following courses:
Social Media (MC 3300)
Audience Behavior (MC 3720)
New Media Strategies & Sales (MC 3730)
Special Topics (E-Commerce, MC 3910)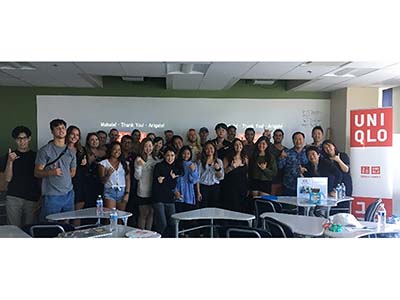 Managers of UNIQLO came to HPU's Waterfront Plaza location on Tuesday, Jan. 28, 2020 providing a presentation to students of the Market Research course and students of the Marketing Strategy course taught by Joseph Ha, Ph.D. The UNIQLO team shared with the marketing students how the corporation embeds the core concept of sustainability in its business operations. Additionally, the students learned about the UNIQLO Global Management Program (GMP), a five-day intensive business study program, which will be held in Tokyo. 
Hawaii'i Pacific University senior marketing major Patrick C. Wilk gained career experience through a summer internship at the world headquarters of AAR CORP. in Wood Dale, Illinois. AAR CORP., which was founded in 1951, is an aviationsupport company providing a broad range of products and services to the aerospace and government/defense industries. In 2014, the company was named by Forbes a "Most Trustworthy Company." Wilk reports to the global director of communications and reputation.
 Read more here