College of Business
Creating and Connecting Tomorrow's Global Leaders



The College of Business is comprised of the Department of Finance Economics and Information Systems, and the Department of Management and Marketing. We are committed to maximizing our location in Honolulu's global crossroads through partnerships, real-world projects, faculty with strong professional and academic backgrounds, and a student population that is one of the most diverse in any university, representing more than 100 countries and cultures.
Nearly 50 years of connecting students to the theories, concepts, processes, and models of global business have given the HPU College of Business a unique place in the world of international commerce. Ranked by U.S. News and World Report among the top tier of business schools, HPU's College of Business offers students a one-of-a-kind learning opportunity on the path to global leadership. HPU business alumni are leaders in finance, marketing, technology, international business, among other disciplines. They represent the Big Four, Fortune 500 companies, entrepreneurial biotechnology firms, among many, many others.
The College of Business - Future-forward Thinking
You are making the right choice by studying at the College of Business. The HPU College of Business is dedicated to providing you with the knowledge, skills, and tools to level-up your career. We combine cutting edge business information with real-world experiences to prepare and enhance profession-ready global leaders.
The College of Business has been recognized with national distinguished honors thanks to the efforts of our faculty, staff, and alumni. HPU has been ranked #1 in the nation for diversity and the College of Business has been nationally ranked top 18th among the best online MBA programs in International Business.
We prepare our graduates in a challenging environment for a future-forward career. Fast Company magazine calls it "generation flux," where the rules change daily, where creativity and innovation are a must, and where the ability to think globally and strategically is expected. Graduates of the College of Business are prepared to for this business environment.
Beyond our students, our alums mentor and connect. Our business partners in the surrounding Honolulu business community work with students on projects and assignments. And the unique diversity of our campus is stimulating and insightful. Both the student population and professors come from Japan, Mainland China, Vietnam, and other points east to the far reaches of Saudi Arabia and other Middle Eastern locales, South America and Europe.
Think, connect, and get profession-ready. It's time to move forward as a modern professional.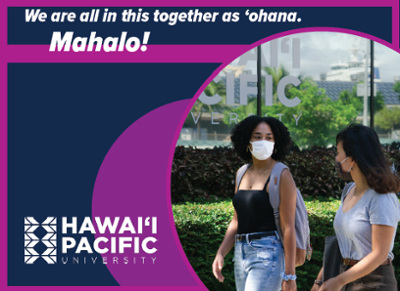 HPU's Health and Safety measures for covid

The well-being of the Hawai'i Pacific University community of students, faculty, and staff is our university's highest priority. To that end, we have assessed COVID-19 data from the Centers for Disease Control and Prevention to implement policies, procedures, as we develop plans to keep our university community members healthy and safe. We continue to monitor government directives regarding COVID-19 and are in consultation with government and accrediting bodies.
Check out HPU's dedicated COVID-19 page for ongoing updates and the latest information.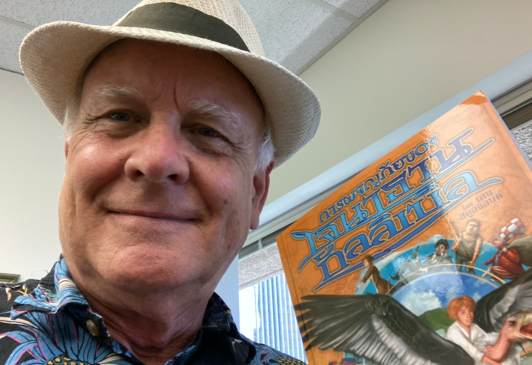 New Edition of Economics faculty book for youth

Economics faculty Ken Schoolland recently published a full color Thai edition of The Adventures of Jonathan Gullible, with the Freidrich Naumann Foundation in Bangkok this past August, 2020.  More than 80 international editions of Schoolland's economics book for youth has been published in 55 languages.  The book has also won several awards for excellence in economics education and has served as the basis for theatrical productions touring Africa and Eastern Europe.  It was also performed as a musical production in Kazakhstan (Kazakh) and the Commonwealth of Independent States (Russian).  New editions are planned for Brazil, Morocco, and Nepal.  Schoolland, Associate Professor of Economics also serves as HPU's Entrepreneurship Club faculty advisor.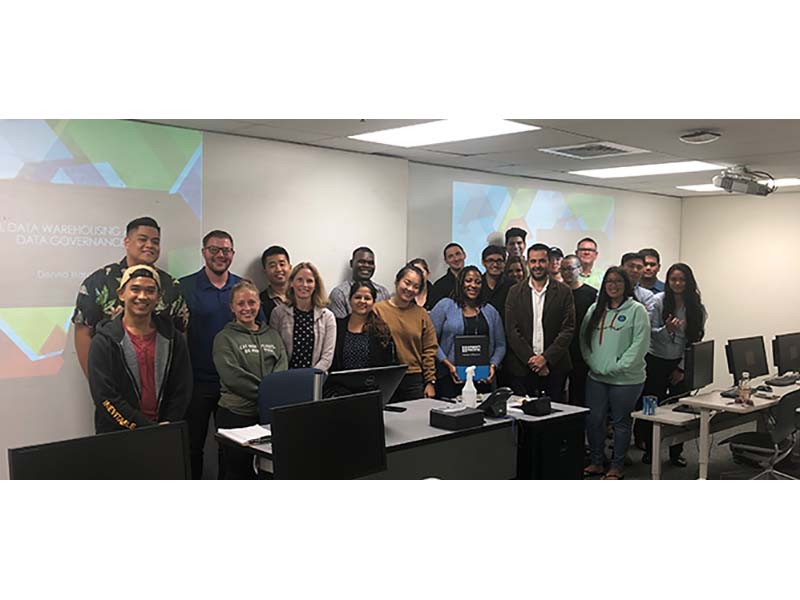 Hsma Corporate data management expert speaks to information systems'  students

In early February 2020, HMSA data management expert, Donna Hargrett spoke to students in the Business Analytics for Big Data Revolution course of Ghazwan Hassna, Ph.D.  In support of the HPU College of Business mission to produce globally prepared and market-ready business graduates through a strong interface with the community, business, and professional organizations, Hargrett spoke to Hassna's IS6041 class and presented several interesting use cases, demonstrating how data is being used to support business reporting and decision making.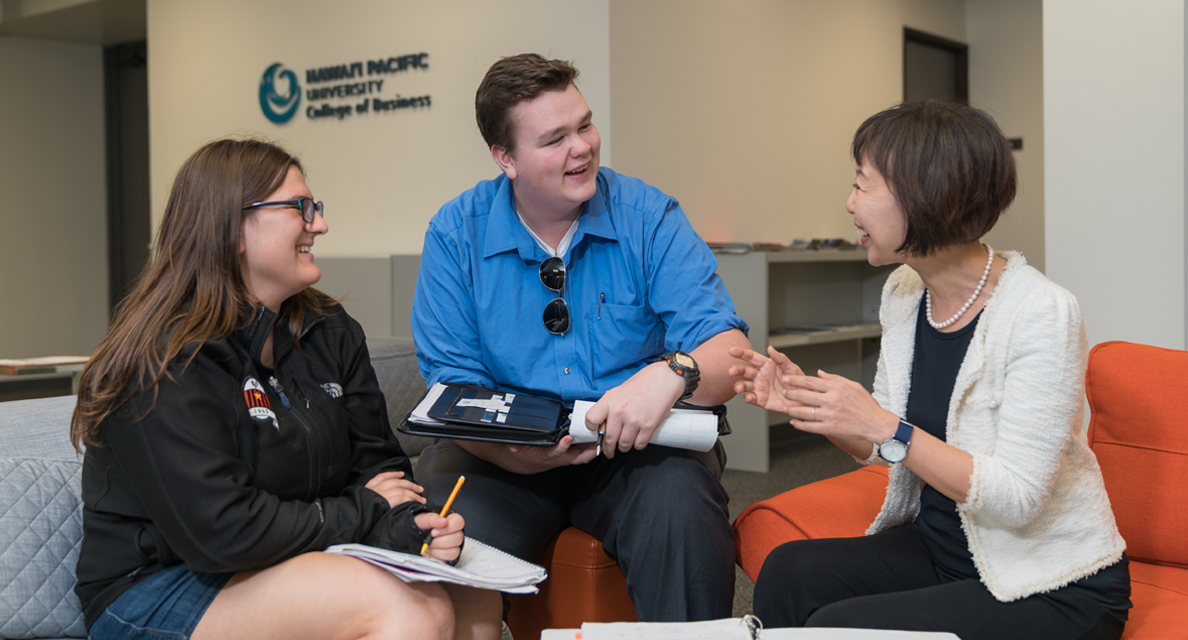 Project Based Learning
A central component of the College of Business strategic plan is to provide project-based learning opportunities to students. Associate Professor of Hospitality & Tourism Management Wendy Lam, Ph.D., embraces the benefits of project-based learning. Through Lam's Special Events Management undergraduate course, HTM 3220, students worked with the nonprofit ClimbHI as the event planner of its April 2018 O'ahu Leadership, Exploration and Inspiration Career Fair. The objective of the event is to inspire Hawaii'i's youth to select careers in the visitor industry.
"The career fair was attended by over 600 high school students and 66 businesses. My students did above and beyond what is required from the class and made a positive difference in our community."
The HPU students focused on theory learned in the classroom and the practice of management skills. They developed a comprehensive event plan and followed a systematic method of planning, organizing, monitoring, adjusting, and evaluating activities to achieve the objectives of the event.  
Programs of Study
Undergraduate Degree Programs:
GMAT Fee Waiver
Hawaii Pacific University's graduate business programs participate in the Graduate Management Admission Council's GMAT Fee Waiver Program.  The Program is intended to help economically disadvantaged students access graduate business education. If approved, the student will receive a fee waiver that can be used for one test administration (valued at $250). The number of waivers available is very limited and will be awarded on a first-come, first-served basis. Students are not eligible for multiple fee waiver awards.     
Students must have applied for admission to a HPU College of Business graduate program, have paid the application fee, and have official transcripts on file with Hawaii Pacific University to be considered for a GMAT fee waiver award. If interested please contact Jasmine Kauhane at jkauhane@hpu.edu.