Hawai'i Spotlight
Pali Lookout team celebrating the removal of invasive plants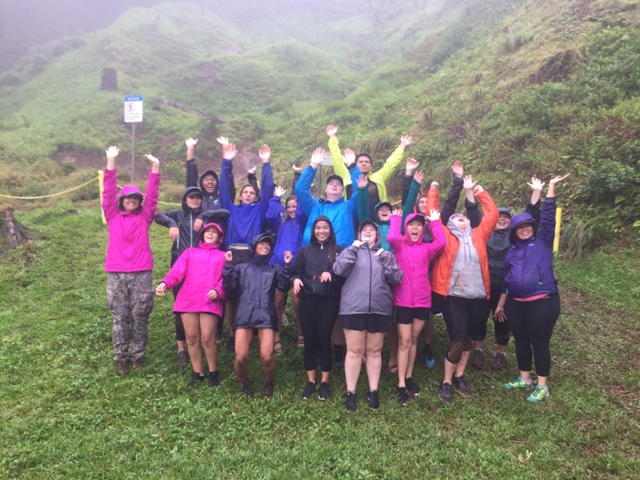 Assisting the Hawai'i Nature Center to clear a walkway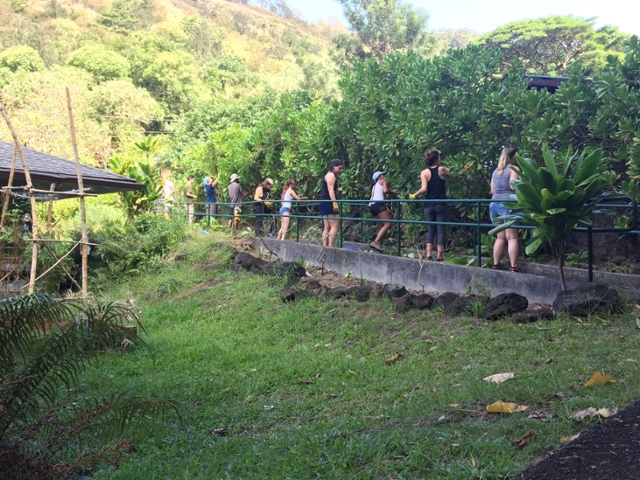 Student Leaders taking a break in the lo'i (taro field)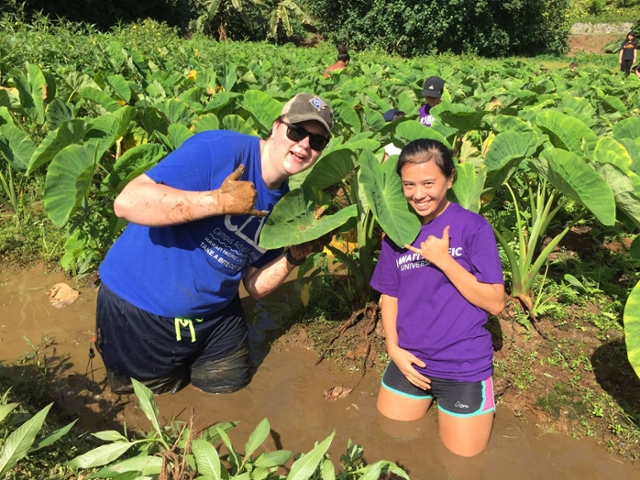 Overlooking Kamananui Valley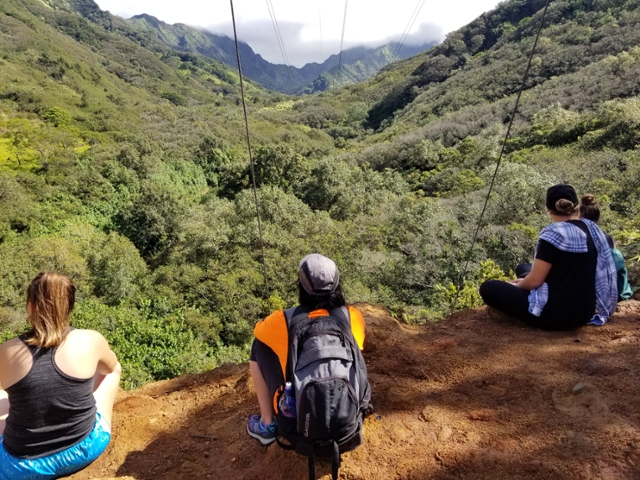 Students working to restore Ulupō Heiau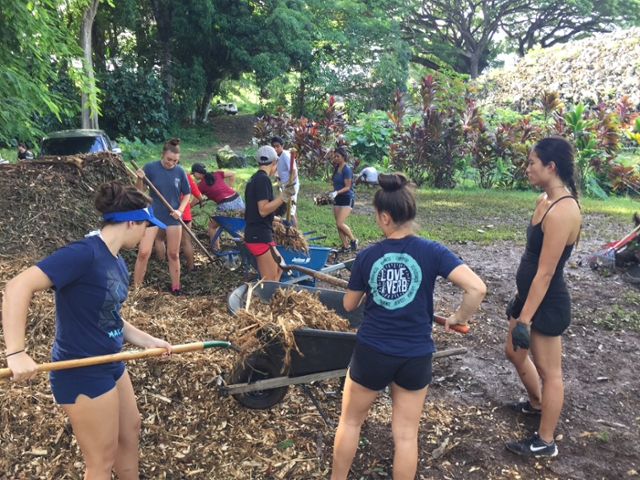 The Hawai'i Spotlight program provides opportunities for students to explore different parts of the island and learn about the Hawaiian culture and the community we live in. It focuses on the core values of the University: Aloha, Kuleana and Pono. Students will explore what each value means and identify ways to exemplify these values in their daily lives. These events are scheduled once per month.  
Fall 2019 EVENTS
Pali Lookout COMING SOON!
Saturday, September 14th, 2019; 8:30am-12:00pm
Stand where one of the great leaders of Hawaiian history once stood. King Kamehameha defeated Kalanikupule at the Battle of Nu'uanu, now known as the Pali Lookout. Help us and Ko'olau Mountains Watershed Partnership (KMWP) to restore the space and learn more about what the surrounding area looked like in old Hawai'i.    
KMWP works to protect and sustain the forests, waters and people of the Ko'olau Mountains.  The forests of the Ko'olau Mountains are the primary source of fresh water for residents and visitors on O'ahu. KMWP works to perpetuate our island's water supply by maintaining the health of our remaining native forests.
Lunch will be served at Pali Lookout.
What to Bring:
Work clothes to get dirty (long sleeve shirts and pants are highly recommended)
Light rain jacket
Water bottle
Sun Screen/Bug Repellent 
Allergy medication (if you are allergic to pollen, bees, or grass/hay) 
Closed toe shoes (required)
Bring a sense of adventure!   

Bus transportation is provided:
Pick up at Hawaii Loa Campus at 7:30am
Pick up at Aloha Tower Marketplace at 8:00am
Please arrive at least 10 minutes prior to departure time.
Registration will open in late August
KŪKANILOKO
Saturday, October 12th, 2019; 8:00am-12:00pm
Kūkaniloko, otherwise known as the Birthing Stones, is a scared place for Native Hawaiians. It has seen ali'i (high-ranking) children born there and was used as a school for navigation and astronomy purposes.
Join us to kokua (help) Kūkaniloko. Learn more about the location from the Lenchanko 'Ohana (family) who have guarded and cared for the stones for over 45 years. Participants will have an exclusive opportunity to enter where the na pōhaku (stones) are. This area is closed to the public and can only be accessed thru the Lenchanko 'Ohana.
Registration will open in late September.

'IOLANI PALACE TOUR
Saturday, November 16, 2019
See where Hawaiian Kings and Queens lived and governed the islands on your very own personalized tour form HPU's very own Dr. Douglas Askman. Take a journey with Dr. Askman of the Hawai'i monarchy starting with the Kamehameha Dynasty until the last reigning monarch, Queen Liliu'okalani.
'Iolani Palace is a living restoration of a proud Hawaiian national identity, registered National Historic Landmark and the only official royal palace in the United States.
This guided tour will only take 15 students. Do not miss this incredible opportunity.
Registration will open in early November.
Past Hawai'i Spotlight event include:
Medicine Walk in Kamananui Valley
Participants met with Roddy Kamawaelualani Kawehi Akau the kahu (guardian) of Kamananui Valley. As a cultural practitioner, Kahu Akau's knowledge of the mo'olelo (story), history and cultural sites of the valley is unparalleled and students heard firsthand about the legends of the valley. As a la'au lapa'au (healer/spiritual healer) Roddy will shared his knowledge on the plants in Kamananui Valley and how he uses them in his practice.
Jam Sesh with Kekoa Kane
Kekoa Kane taught participants a mele Hawaiʻi (Hawaiian song). He also share mana'o (information) about Hawaiian music and its history.
Kekoa Kane is an award-winning Hawaiian falsetto singer and ukulele player. He has been performing since he was 4 years old, has won multiple competitions, and is the recipient of multiple Na Hoku Hanohano awards. As a member of the Mana Maoli Collective. Mana Maoli is the nonprofit that started Oahu's first charter school and continues to support 14 schools across the islands with its Mana Mele Project, which teaches students Academics, Business, and Culture (ABCs) though music and multimedia, via yearlong classes, short to long term mentorship on and off campus, and a solar mobile studio. Kekoa is not only exceptionally talented; he is also a strong supporter of spreading the message of Hawaiian music.
Ulupō Lo'i
Participants learned firsthand how Native Hawaiians cultivated kalo (taro) in the moku of Ko'olaupoko (a land division).  It provided a unique opportunity to work in the mud and learn about the significance of this ancient staple.  
 
To view past events please 
click here
 to visit the HPU Student Activities Facebook page.