HPU Fin Week
Annual event filled with a variety of student activities!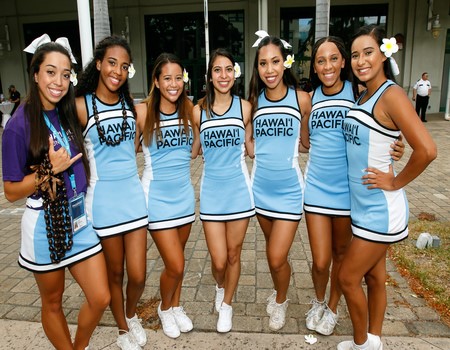 Collect the limited edition Spirit Week pin every year!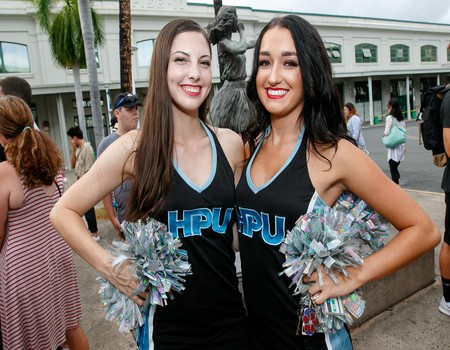 We've got spirit, yes we do, we've got spirit, how 'bout you?!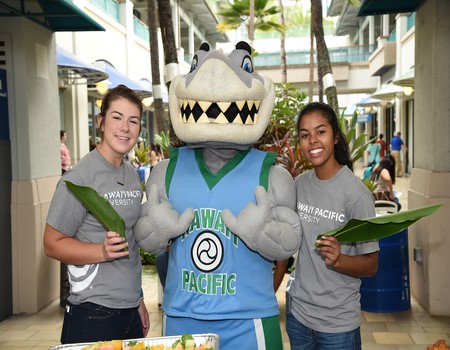 Ride the Wave! Go Sharks!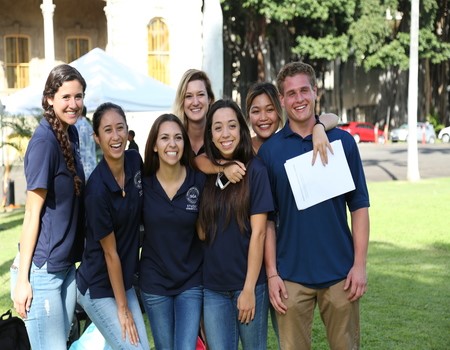 Theme dress up days, giveaways, and chances to win prizes all week!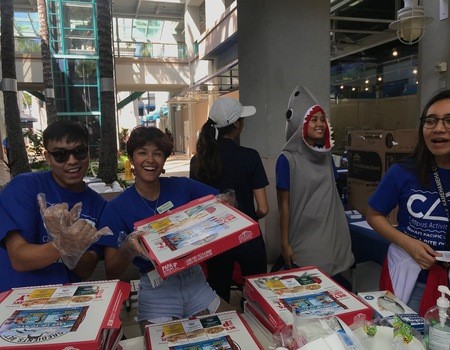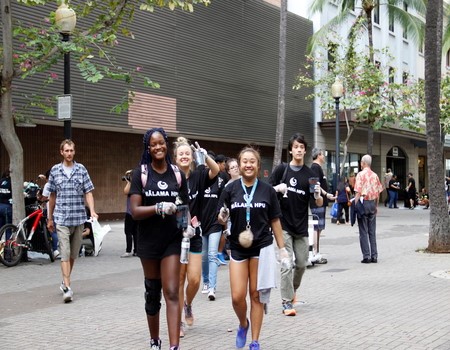 Spirit Week
Show your Sharks Pride and participate in a variety of events and activities during HPU Fin Week (aka Spirit Week)! Show your spirit at athletic games, participate in the eSports tournament, come out to Shark Fest and jump around on an inflatable, or dunk your favorite Shark at the dunk tank! Students have chances to win prizes throughout the week! Also, be sure to grab the LIMITED EDITION and COLLECTIBE Fin Week pin and t-shirt at designated events! Click here for photos from our last Shark Fest!
Monday, February 24
2/25 - 2/29 get 25% off all Tees & Sweats at the Bookstore
11am-12pm SGA Candidate Meet and Greet in the Learning Commons – Who will you vote for to represent YOUR voice next year? Join SGA and meet the candidates for the executive and legislative branches for the 2020-2021 school year. Students who attend this event may enjoy a FREE boba tea drink!
11am-1pm Game Day with Armchair Adventures in Learning Commons – From competitive to cooperative games, the Learning Commons is hosting Armchair Adventurer! They will provide a variety of board games (such as 7 Wonders, Cash n Guns, and Mysterium), and small, fast games (Hanabi, Love Letter, and Werewolf). In addition, there will be physical games including giant Jenga, Ladder Toss, Bean Bag Toss, and badminton.  Don't miss this chance to get in on the fun and showcase your skills!
Shark Wars – Scavenger Hunt BEGINS, must be registered by 5pm on February 19th.
2-3:30pm eSports tournament in eSports Arena at ATM – Put your skills to the test against your follow peers and enter in our Super Smash Bros Ultimate competition! Controller will be provided or you can bring your own. For any questions or concerns, please contact us at esports@hpu.edu

. Hope to see you there sharks!
Tuesday, February 25
2/25 - 2/29 get 25% off all Tees & Sweats at the Bookstore
11am-1pm Shark Wars – Corn Hole in ATM Center Atrium (pre-registration required)
3:15-4:15pm Take the Lead Seminar featuring alumna guest speaker, Celina Barrios in ATM MPR 4, refreshments provided. Click here to reserve your spot.
5:30pm WBB and 7:30pm MBB vs Chaminade University at CUH – Grab your HPU Fin Week 2020 collectible t-shirt and pin from SGA upon bus pick up from HLC or ATM! SGA will provide transportation to/from the game and sponsor the admission fee for the first 25 students. Check out @HPU_SGA on IG for more details! Be sure to wear WHITE for this white-out game!
Wednesday, February 26
2/25 - 2/29 get 25% off all Tees & Sweats at the Bookstore. Wear your HPU Fin Week 2020 White-Out t-shirt to the bookstore and get a free Sharks phone wallet (while supplies last)!
11:45am-12:15pm Waterfront Wednesday at Waterfront Plaza Courtyard – Grab your lunch and enjoy this free music performance by HPU students.
6:30-8:30pm Shark Wars – Trivia Night at WP6-324 (pre-registration required)
Thursday, February 27
2/25 - 2/29 get 25% off all Tees & Sweats at the Bookstore. Wear your HPU Fin Week 2020 White-Out t-shirt to the bookstore and get a free Sharks phone wallet (while supplies last)!
11:30am -12:30pm Got Grindz and SGA Candidate Meet and Greet in ATM Center Atrium – Join the Office of Student Activities for a pop up food demo and samplings while mingling with the 2020-2021 SGA candidates. Who will you vote for to represent YOUR voice next year?
1pm and 3pm Softball vs Concordia Irvine at HLC
6:30pm Baseball vs Azusa Pacific at Hans L'Orange Park in Waipahu
Friday, February 28
2/25 - 2/29 get 25% off all Tees & Sweats at the Bookstore. Wear your HPU Fin Week 2020 White-Out t-shirt to the bookstore and get a free Sharks phone wallet (while supplies last)!
1pm and 3pm Softball vs Concordia Irvine at HLC
5-8pm CAB's Shark Fest at ATM Pier 9 Stage and Promenade – Join CAB for FREE food, fun, and giveaways at this year's Shark Fest! Jump on an inflatable, dunk your favorite Shark in the dunk tank, support your favorite student-athlete at the pep rally, see the HPU cheerleaders and dancers perform, and enjoy the live concert by an up and coming local artist! Follow @cabhpu on IG for more details!
6:30pm Baseball vs Azusa Pacific at Hans L'Orange Park in Waipahu
Saturday, February 29
2/25 - 2/29 get 25% off all Tees & Sweats at the Bookstore
SENIOR DAY 1pm WBB and 3pm MBB vs UH-Hilo at Shark Tank – Come out and support your basketball student-athletes on SENIOR DAY! Join CAB at their tailgate event with FREE food and pre-game activities! Transportation provided from HLC and ATM. Follow @cabhpu on IG for more details!
1pm and 4pm Baseball vs Azusa Pacific at Hans L'Orange Park in Waipahu