Pep/Jazz Band and Hawaiian Ensemble
Scholarships and Auditions
The Hawaii'i`i Pacific University Band is comprised of instrumentalists from Hawaii and abroad, all of whom must audition for entry. Providing the musical spirit at HPU women's and men's basketball games, the Pep Band knows how to motivate fans and athletes with their rousing renditions of Pep Band tunes.
A select Jazz Ensemble is taken from the larger group. These students must pass secondary performance criteria and be willing to put in extra rehearsal time. They prepare more difficult and challenging music for distinguished audiences and in official capacities as musical representatives of the University.
The Hawaiian Ensemble is a flexible group, open to musicians who play ukulele, guitar, bass, keyboard, and/or singers.  Traditional and modern Hawaiian music is performed in a variety of venues.   
Scholarships are available for qualified students.  
Director of Bands, David Gonzalez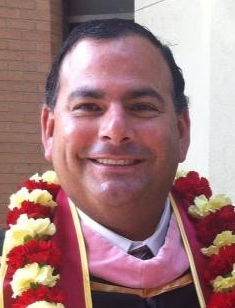 Born and raised in Southern California, David F. Gonzalez received his bachelor's degree in Music Education from the University of Southern California. During this time, he performed at Disneyland with multiple ensembles. In 1999 he moved to Honolulu where he began teaching band in both the private and public school sectors.
Mr. Gonzalez taught seven years at Holy Family Catholic Academy. At HFCA his ensembles participated in numerous concert band and jazz band festivals, consistently earning "Superior" ratings. He founded the Hawaii Catholic Schools Band, performing concerts with the prestigious Royal Hawaiian Band as well as the Kaneohe Marine Corps Band.
His expertise includes teaching at the Punahou Academy, 'Iolani School and Mililani Middle School. Mr. Gonzalez has played professionally with local bands; the rock reggae band Thick Tubes and won the Na Hoku Honohono album of the year with the Hawaiian music group Pali.
In 2009 Mr. Gonzalez returned to USC for his master's degree in Music Education. During that time he was assistant director for the USC Trojan Marching Band and was the band director at Junipero Serra High School in Gardena, California. After graduation in 2013, he returned to the island and became bandmaster at Kamehameha School in Kapalama. 
Mr. Gonzalez is owner and operator of Precision Percussion, Hawaii Music Rentals, and, most recently, Big Wave Dave's Quesadillas. In his spare time, he enjoys the beach, cooking and reaching out to help others in need.
For more information regarding the HPU Pep/Jazz Band scholarship and the audition process, please email: 

Arts at HPU - Events
There are currently no upcoming events.