Art Gallery
Hawai'i Pacific University recognizes that exposure to art in various media enriches the lives of its community of students, faculty, and staff. Also, the University is a longtime supporter of the arts in the public community.
The primary focus of the gallery is the showing of art in a variety of media produced by artists who live and work in Hawaii. The gallery provides 2,000 square feet of open exhibition space allowing for wall-mounted and free-standing displays. 
HPU Gallery Curator, Sanit Khewhok, noted, "Our gallery program continues to draw the attention of artists and audiences alike.  Annually we review far more portfolios of work than we can possibly accommodate.  For this reason, we are scheduled to have paired artist exhibits this year.  Our selection includes an exciting diversity of media and styles."
The Hawai'i Pacific University Art Gallery is pleased to announce its
2022-2023 Gallery Schedule
August 21 - October 2  Karen Baker 
October 9 - November 18 Laura Smith
November 27 - January 6 Donna Zarbin Bryne
January 15 - February 24 Linda Kane
March 5 - April 14 Treasures of Hawaii Pacific University
April 23 - June 2 Yvonne Manipon 
---
HPU ART Gallery presents:
"SUN MOON LIGHT"
(April 23, 2023 - june 2, 2023)
plein air paintings by:
Yvonne manipon
Artist Statement:
Each time I go out to paint, it's a mediation; a deep observation of the world around me.  My paintings reflect a sense of emotion and spirit that can only be felt while immersing myself in the present moment.
I first look for what inspires me, a focal area, the way the light is cast on a tree, the ocean or land. Rather than workshopping formulaic approaches, I rely on direct observations following my intuition and inspirations. While painting begins to flow, I navigate issues of space, relationships of objects, composition, layout, atomospheric perspective, color, light, pattern, rhythms, and the list goes on. Thought I've been paninting for a long time, I feel that I am still developing my voice in plein air painting, and I love it when it all comes together.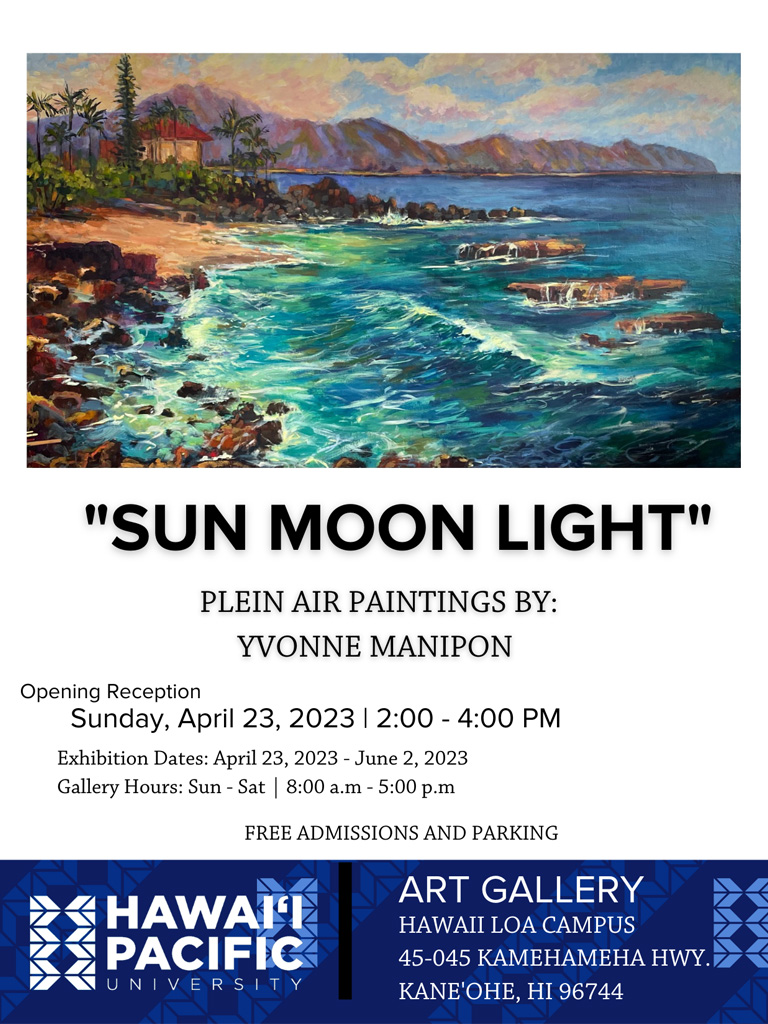 ---
HPU students, faculty, and staff are encouraged to take advantage of viewing and enjoying the year round gallery exhibitions. The public is invited at any time during the gallery's hours of operation to view the exhibitions. Visitors to Hawaii and Hawai'i Pacific University's Hawai'i Loa campus may wish to include a gallery visit as a stop on their around-the-island trip. The panoramic view of the Koolau mountains from the front grand lanai of the Cooke Academic Center provides a memorable photo opportunity of your visit to Hawaii and Hawai'i Pacific University.
---
The Hawai'i Pacific University Art Gallery:
HPU's Windward Hawai'i Loa Campus
Address:
45-045 Kamehameha Highway
Kaneohe, HI 96744
Gallery hours:
Sunday - Saturday 8AM - 5PM 
*Admission is free and the public is invited. For more information call 544-9340.
Arts at HPU - Events
There are currently no upcoming events.