Art Gallery
Hawai'i Pacific University recognizes that exposure to art in various media enriches the lives of its community of students, faculty, and staff. Also, the University is a longtime supporter of the arts in the public community.
The primary focus of the gallery is the showing of art in a variety of media produced by artists who live and work in Hawaii. The gallery provides 2,000 square feet of open exhibition space allowing for wall-mounted and free-standing displays. 
HPU Gallery Curator, Sanit Khewhok, noted, "Our gallery program continues to draw the attention of artists and audiences alike.  Annually we review far more portfolios of work than we can possibly accommodate.  For this reason, we are scheduled to have paired artist exhibits this year.  Our selection includes an exciting diversity of media and styles."
The Hawai'i Pacific University Art Gallery is pleased to announce its
2022-2023 Gallery Schedule
August 21 - October 2  Karen Baker 
October 9 - November 18 Laura Smith
November 27 - January 6 Donna Zarbin Bryne
January 15 - February 24 Linda Kane
March 5 - April 14 Treasures of Hawaii Pacific University
April 23 - June 2 Yvonne Manipon 
---
HPU ART Gallery presents:
"Painting with Fire"
(January 15, 2023 - february 24, 2023)
An Exhibition of works by
Linda Kane
Artist Statement:
The encaustic paintings in this exhibition represent my visual diary during the last 2.5 years when the world was consumed in upheaval, isolation and uncertainty. Working in my studio, I chose to focus on the stunning beauty of our islands, which are alive with color, texture and the promise of hope. Juxtaposed against these vibrant images and memories of peaceful island life was a dark undercurrent of world events that infiltrated into my studio practice: global pandemic, death, climate change, floods, droughts, women's rights, WAR! Each painting was created independently as a daily record of my journey, then I arranged them into visual narratives that I leave for your interpretation.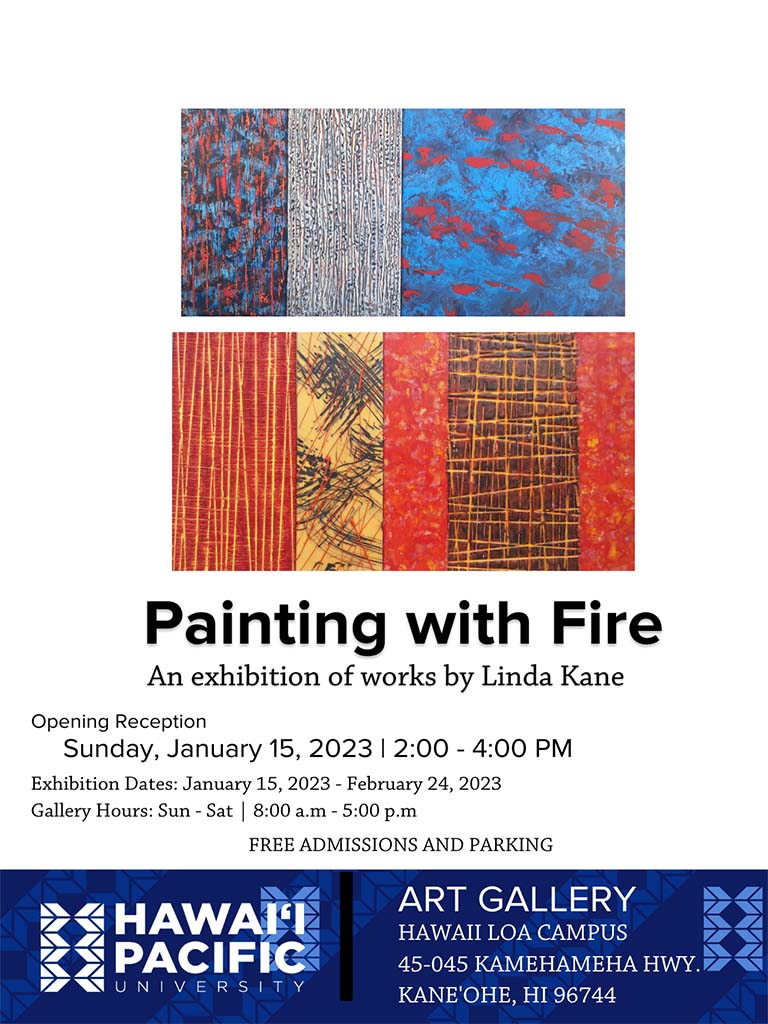 ---
HPU students, faculty, and staff are encouraged to take advantage of viewing and enjoying the year round gallery exhibitions. The public is invited at any time during the gallery's hours of operation to view the exhibitions. Visitors to Hawaii and Hawai'i Pacific University's Hawai'i Loa campus may wish to include a gallery visit as a stop on their around-the-island trip. The panoramic view of the Koolau mountains from the front grand lanai of the Cooke Academic Center provides a memorable photo opportunity of your visit to Hawaii and Hawai'i Pacific University.
---
The Hawai'i Pacific University Art Gallery:
HPU's Windward Hawai'i Loa Campus
Address:
45-045 Kamehameha Highway
Kaneohe, HI 96744
Gallery hours:
Sunday - Saturday 8AM - 5PM 
*Admission is free and the public is invited. For more information call 544-9340.