Graduate Events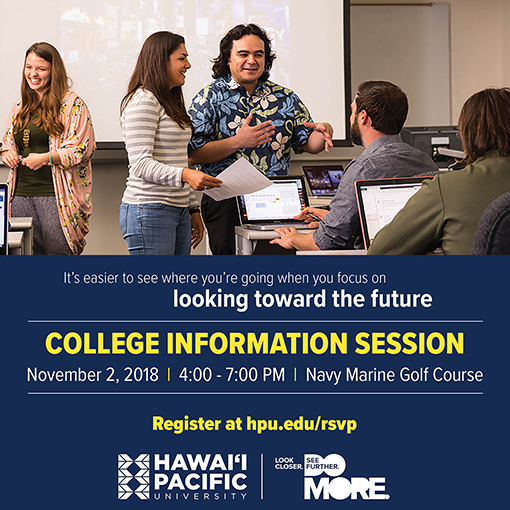 What's Happening
Visit us in person! This is an opportunity for you to come and learn more about HPU's Graduate programs. You will get to meet program faculty and admissions counselors in a casual setting. Validated parking and refreshments included!
November 29, 2018

Aloha Tower Marketplace - MPR 3

6PM to 8PM
November 2, 2018

College Information Session

Navy/Marine Golf Course

943 Valkenburgh St, Honolulu, HI 96818

4PM to 7PM
Thursday, October 11th
2-3PM
MBA
Discover HPU's Master of Business Administration
Hear from the College of Business on how to become a top leader in the global business community.
Monday, October 15th
1-2PM
MSMS
Discover HPU's Master of Science in Marine Science
Learn more about the program and the difference between the MSMS-A applied and MSMS-T thesis tracks.
Tuesday, October 16,
1-2PM
MATESOL
Receive a Master of Arts in TESOL
Learn how this program can teach you about language learners' various needs and how to facilitate their successes.
Thursday, October 18th
2-3PM
MPH
Earn a Master's Degree in Public Health
Learn more about one of the most versatile fields of study that will make you an expert in public health issues and listen to how it can be completed fully online or in hybrid (classroom and online).
Monday, October 29th
2-3PM
MSIS
Master of Science in Information Systems: All you need to know
Information systems professionals build a critically important bridge between the technical and management functions of any organization across all industries.
Previously Recorded Webinars
Earn a master of arts in global leadership & Sustainable development
This program is designed to prepare students to lead change initiatives in a globalizing world in the field of sustainability. Listen to learn more!
View
Discover HPU's Master in Public Administration
This new program is offered in accelerated 8-week terms online and in the classroom. Learn more about how to Earn an MPA in 1-year!
View
Marketable graduate programs from the college of business
Listen to learn more about the differences and similarities between the MBA and MAODC programs.
View
Graduate Nursing Programs: All you need to know
Learn more about HPU's MSN tracks & 2-year part-time Doctorate program
View
Earn your Master's degree from HPU's School of Education: M.Ed.
Hear from the School of Education about the benefits of earning your teaching credentials with HPU.
View
Discover HPU's Master of Social Work
Listen to learn what it takes to advance your career in social work.
View