Dual-credit Programs
Through partnerships with Hawai'i high schools, Hawai'i Pacific University offers dual-credit programs, providing students the opportunity to earn college course credit while in high school. The HPU dual-credit programs represent the University's commitment to developing innovative models for higher education. The participating students benefit through: 
Shortening the time to earn a degree;     

 

Reducing school loan debt;

 
Accessing professional opportunities and career resources; 

 

Entering the workforce or completing graduate school sooner. 

 
Approximately 20 years ago, HPU began offering dual-credit courses to students at two local high schools. In the Fall of 2016, the University formally launched its dual-credit partnership programs. HPU is engaged in partnerships with the following schools:  
Hanalani Schools

 

Island Pacific Academy
Kamehameha Schools
   - Kapālama Campus
   - Hawai'i Campus
   -

Maui Campus

La Pietra School for Girls 
At HPU, the faculty, administration, and staff are committed to fostering a student-centered learning community. We encourage our students to pursue the subjects they are passionate about, providing support and mentorship every step of the way on their educational journey. We see the incredible potential of our students – our society's future leaders – to gain the necessary education, including the development of critical thinking skills, to advance in their careers and make a positive impact in their communities.        
High schools interested in discussing dual-credit program partnership options with HPU should contact the office of Outreach Programs in the College of Professional Studies, outreach@hpu.edu, 808-356-5292.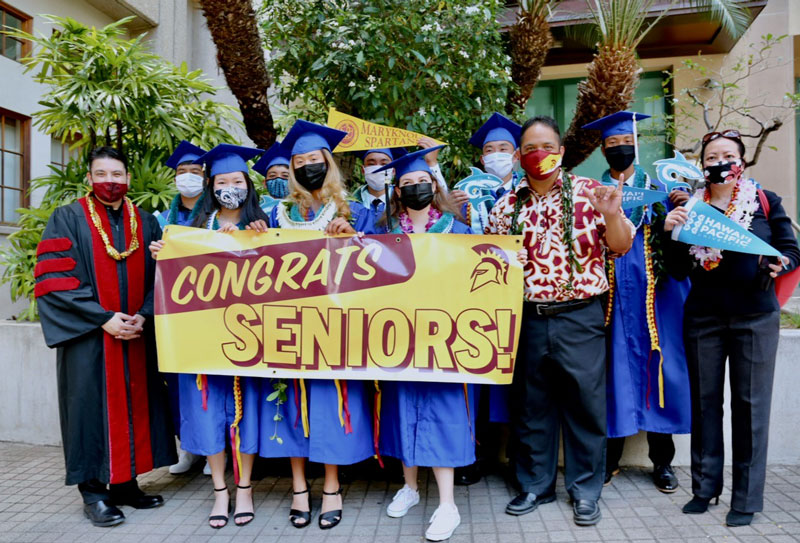 Eleven Maryknoll School students earned their Associate of Arts degrees in Spring 2021 from Hawai'i Pacific University; Maryknoll-HPU graduates pictured with: far left, HPU Dean of the College of Professional Studies Mani Sehgal, right of the banner, Director of College Guidance Larry Kekaulike, and far right, HPU Assistant Dean of the College of Professional Studies Yvonne Vance.