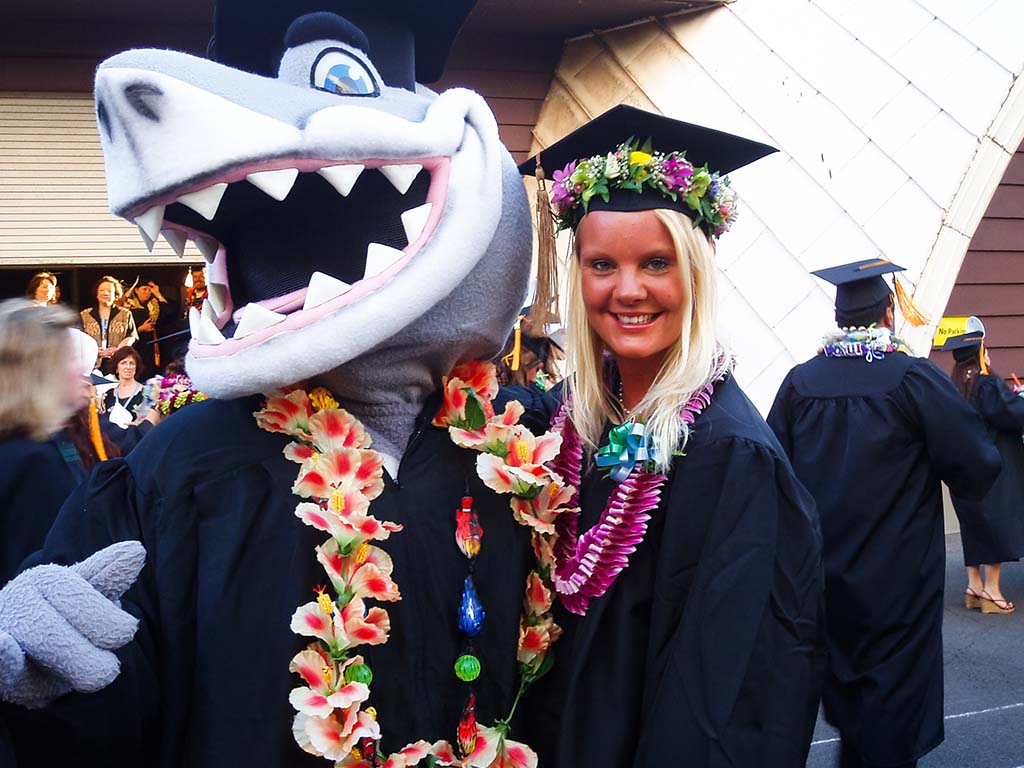 Katrine Rasmussen with Sharky..
The Danish countryside begins at sunrise with rolling hills and windmills and farms as far as the eye can see. Farmhouses built along rivers and streams and winding roads meander beside trees and lawns that lead to town or to the sea. It is a place that warms in summer and cools in winter. All seasons are keenly felt with each passing day. HPU alumna Katrine Rasmussen was born and raised here, in a small Danish town where she cared for her horses and rode through the countryside. She knew early in life that she wanted to travel and study abroad, experiencing other cultures and traditions. She just did not know how far that dream would take her.
"I remember in high school, I applied for a school program that would take me abroad, but it didn't work out," said Rasmussen. "So, I took two gap years and I worked in Turkey as a tour guide, and then I lived in Atlanta, Georgia as an au pair. Spending all that time abroad made me realize that I wanted to continue and attend college abroad."
Rasmussen researched HPU and soon she was on her way to applying as an international business student. The global setting of HPU was very appealing to Rasmussen. The ability to meet people from all over the world was a definitive factor in her decision to move to Hawai'i and study for her Bachelor of Science in Business Administration (BSBA). 
"Attending HPU expanded my horizons almost immediately," said Rasmussen. "The university helped me become the world citizen that I am today."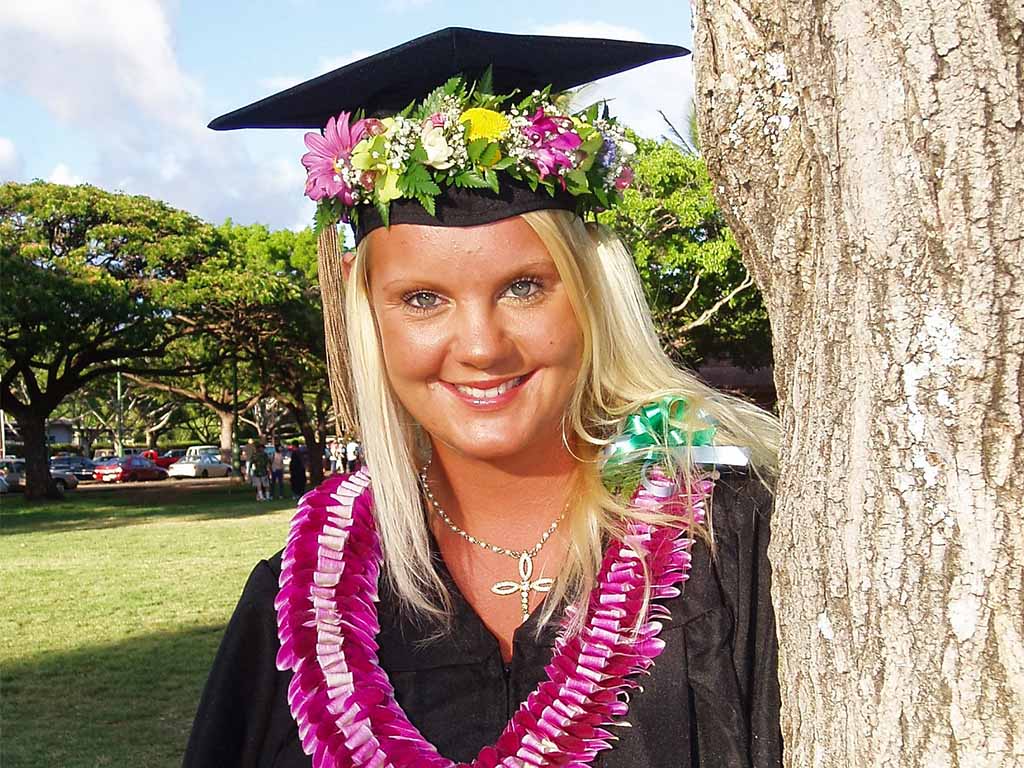 Katrine Rasmussen on graduation day..
Rasmussen graduated from HPU with her BSBA in 2006 and later returned to the university to earn her MBA in 2010. The business classes were small and intimate, and she had many opportunities to interact with classmates and professors. The global college experience at HPU helped Rasmussen prepare for her future work in an international environment.
While studying for her MBA, Rasmussen went to Waikiki one night to have dinner with friends. She noticed a young man in the restaurant and soon they began to talk. He was from Sweden and was on a study abroad program at HPU. "I met my future husband that night," said Rasmussen. "We hung out in the same social circles, but I had never met him until that night in Waikiki." 
"If you want to surround yourself with people from different cultures and backgrounds, HPU is the place to be. It's a relatively small, close-knit school and it never felt overwhelming. The diverse clubs and organizations made it easy to make friends outside the classroom. Also, you will never regret spending time in Hawai'i. Culturally and naturally, it's a beautiful place to be."
After earning her MBA from HPU in 2010, Rasmussen worked abroad in Sweden and China for a combined four years, then returned to Denmark in 2014, working as a senior digital media strategist with DigitasLBi and Head of Marketing for Billy Regnskabsprogram.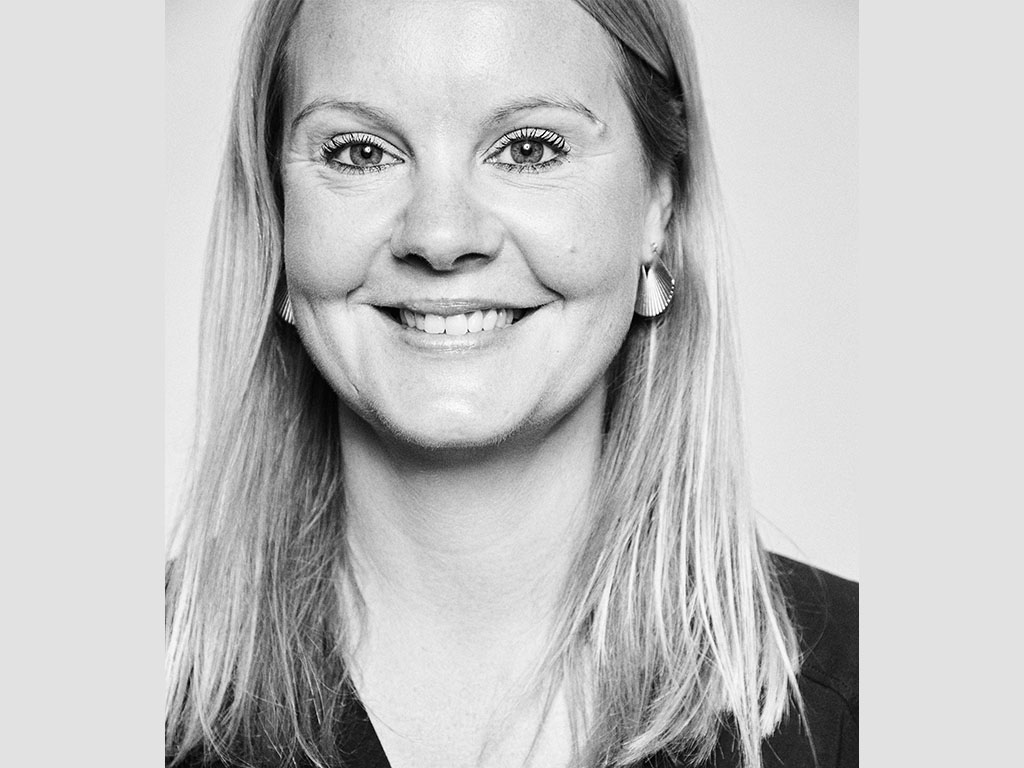 Pixelz Chief Marketing Officer Katrine Rasmussen..
Rasmussen is currently the chief marketing officer (CMO) at Pixelz, a Danish software company that empowers ecommerce photo studio professionals with reliable AI image retouching at scale. Founded in 2011, Pixelz was known as "remove the background," a premise for e-commerce companies to create stunning product images. Today, Pixelz is an industry powerhouse, working with companies like Lowe's, Asics, Fossil Group, True Religion, and Hershel. Rasmussen has been CMO at Pixelz since 2020.   
"We have offices in Asia, Europe, and the United States," said Rasmussen. "I enjoy managing a distributed team across time zones and cultures. And when possible, I enjoy traveling around the world to attend events, or spending time with colleagues in our offices. I'm lucky that we have offices in cities like San Diego, Mallorca, Berlin, Copenhagen, Danang, and Hanoi.
"The experience of being a student at HPU expanded my horizons. Every day, I work with people from different countries and cultures, and I manage a team of eight from various nationalities. I am sure that the inspiration and love for diversity and culture came from my time at HPU."
When Rasmussen is not in the office, she enjoys spending time outside in nature. She thinks back on her time as a student in Hawai'i often, waking up in a beach house on the North Shore, going for a long run on the beach, watching turtles at Pupukea, snorkeling at Shark's Cove, eating dinner at Giovanni's Shrimp Truck in Laie.  
"To me, that is perfect happiness. To watch the sunset after a day spent in nature, just relaxing and having the time of your life."
To learn more about the College of Business and HPU and the undergraduate and graduate programs available at the university click here.