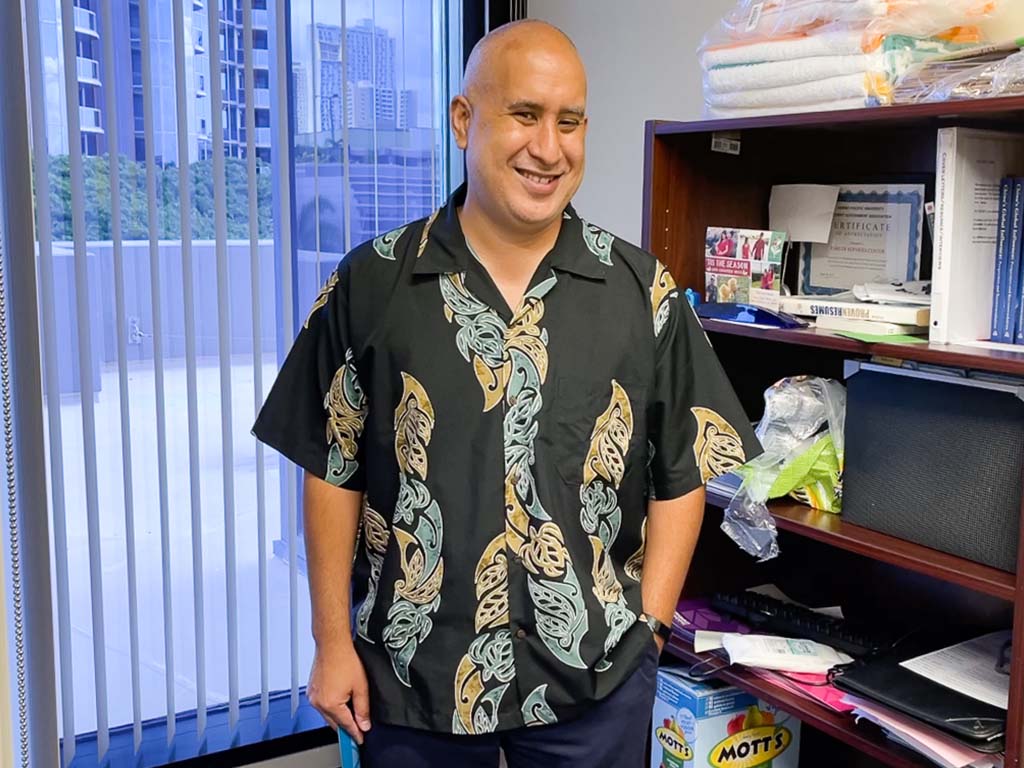 Ryan Tin Loy.
The HPU Career Development Center provides resources for all students, alumni, and faculty. It's where resume building, interview skills, job placement, internships, and federal work study (FWS) opportunities are available for alumni, and students at any level of their education. Whether you're a freshman, senior, or HPU graduate the doors are always open for advice, support, and career assistance. 
"HPU students are encouraged to make an appointment early on in their education so we can work on your resume building and interview skills," said HPU Senior Career Development Advisor Ryan Tin Loy, M.A., CWDP. "If you want a part-time job off-campus, or maybe you're interested in a FWS job on-campus, we can help you get that job. That internship. It's all possible." 
"About 50% of students who are qualified for FWS do not know they are eligible for this program," said Tin Loy. "These are paid part-time jobs. This is money you earn and do not need to pay back! Check your financial aid award letters." 
Eligibility for FWS is based on the financial need of domestic students. It is a part of broader system of federal financial assistance that often includes, but is not limited to, grants and loans. Eligibility requirements include meeting certain income guidelines in addition to meeting citizenship requirements (U.S. Citizen). While those who fall outside these guidelines are not eligible for FWS, there may be limited opportunities for non-FWS, on-campus employment. 
The Career Development Center has FWS partnerships with off-campus, non-profit organizations in Hawai'i that students can work with to earn an income and gain experience. These organizations include Hongwangi Mission School, YMCA, Hawai'i Diabetes Association, and the Boys and Girls Club. 
Students who take advantage of FWS positions make more than the minimum wage, and often they earn a good deal more if they have specialized skills. On-campus jobs include the HPU eSports Arena, Learning Commons, and many departments at Hawaii Loa campus, Pioneer Plaza, Makapu'u campus, Aloha Tower Marketplace, and Waterfront Plaza.  
"There's a wide variety of FWS jobs at HPU," said Tin Loy. "Students should contact us today to see what's available and what best matches their interests and skillsets." 
Tin Loy recommends students stop by during their freshman year so they can start the process of developing their careers and earning income.  
"My strategy is to focus on students who want to alleviate their costs," said Tin Loy. "Let's get you a part-time job, a paid internship. I want you to graduate with little-to-no-debt with the skills and work experience to start your career when you graduate." 
Students who are employed meet new people, make new friends, and become a larger part of the community. Students also tend to  have good work-life balance in the process.  
"Volunteer, exercise, join a club, be engaged," said Tin Loy. "The busier you are in college the better the chance to make new friends and stay out of trouble. When you're isolated and not engaged you may feel homesick. The best way to avoid that is to meet people through work or internships." 
HPU alumni are welcome to stop by the Career Development Center anytime to get help mastering the interview, building a resume, or participating in mock-interviews to enhance verbal and non-verbal communication skills.  
"My advice to anyone looking to ace that interview is tell your individual story," said Tin Loy. "Do not compare yourself to anyone else. Tell your story, why you want to work at that company. Have knowledge of the company. Try not to rush when answering questions; don't shoot from the hip. Take your time when responding to a question. It's OK to pause. Silence is a good thing sometimes."  
There are also pointers on what not to do in an interview. "Do not leave your phone on, do not dress inappropriately, do not arrive too early, or a minute late," said Tin Loy. "Arrive 10-15 minutes early. If you're running late, contact the interviewer, tell them what happened. Do some research on how to get to the location. Research the organization, their mission, values. Always be prepared."  
The Career Development Center is located in Waterfront Plaza, Building 6, Suite 440. Click here or email cdc@hpu.edu to make an appointment, or to get additional information on the center and their myriad career resources.