Autoclaves, Furnaces, and Oven
M9 ULTRACLAVE™ STEAM STERILIZER
The M9 Ultraclave, produced by Midmark, is a steam sterilizer. It sterilizes solids by killing off bacteria, spores, and germs. The instrument fills with water, while increasing the temperature to generate steam and kill off bacteria. It's accessorized with a tray rack that can hold two small and two large trays, all of which can be removed and cleaned. Safety features include: a doorstop to prevent the door from fully opening if pressure is left over, a door closed switch to signal that the sterilizer door is closed, a water low indicator that indicates when water levels are too low, a chamber temperature monitor to prevent overheating, and a pressure relief valve to provide backup protection to reduce chamber pressure. CMDR uses this autoclave to clean and sterilize lab materials that are biologically contaminated.
Reference: https://www.boothmed.com/content/docs/manuals/m9001019.pdf
RITTER M9 ULTRACLAVE AUTOCLAVE
THERMO SCIENTIFIC™ THERMOLYNE ™ F30400 BOX MUFFLE FURNACE
This is one of Thermo's largest tabletop muffle furnaces that heats from the top, bottom, and sides for temperature uniformity throughout the chamber. The temperature range for this model is 100°C to 1093°C, with an interior dimension of 36 x 36 x 36 cm and a capacity of 45 L. It features an advanced LED digital display on the front to monitor the temperature, modify the settings, and set programs. This furnace also has open thermocouple protection and built in vents to remove undesirable contaminants and moisture. The inside chamber has five removable shelf positions suitable for a variety of different sizes of glassware. CMDR uses this muffle furnace for the cleaning process of glassware and other lab equipment as part of the NIST protocol for organic contaminant analysis.
Reference: https://assets.thermofisher.com/TFS-Assets/LED/brochures/LED-FurnacesBrochure-BRFURNACE0316-EN.pdf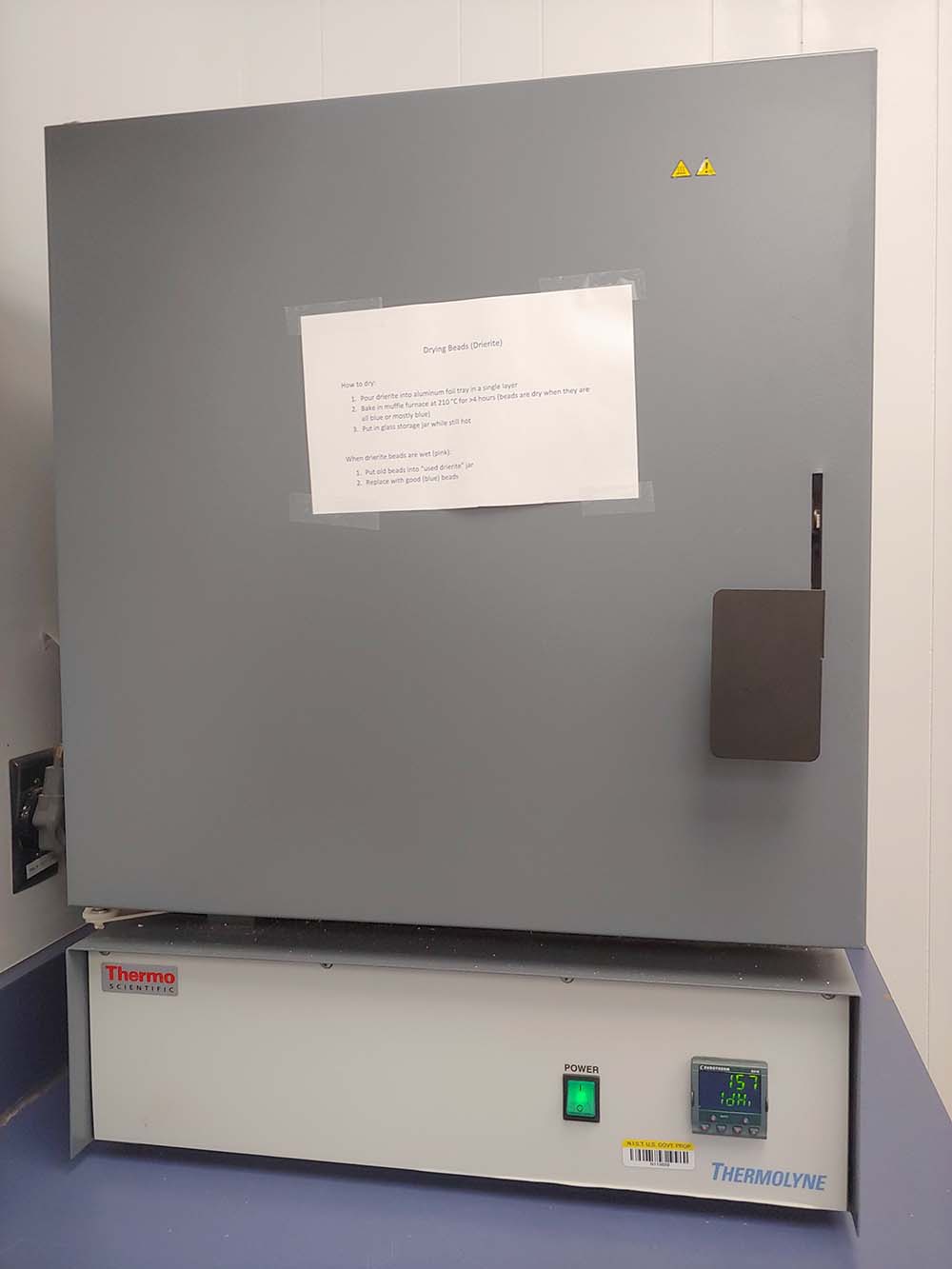 THERMO SCIENTIFIC™ 

MUFFLE FURNACE
VWR® FORCED AIR OVEN
This drying oven has a capacity of 2 cubic feet, with interior dimensions of 17 x 10 x 17 in and exterior dimensions of 18 x 22 x 24 in. The temperature ranges from 5 °C to 200 °C, warms to 100 °C in 22 minutes, and has a 6-minute recovery time after opening. Temperatures are retained inside the unit through wrap-around insulation, which also prevents the exterior from overheating. This oven also has a secondary thermostat that limits the rise of temperature to 10 °C above the setpoint to protect samples. CMDR uses this oven to dry marine debris and other samples prior to analysis.
Reference: https://www.thelabworldgroup.com/vwr-1321f-forced-air-oven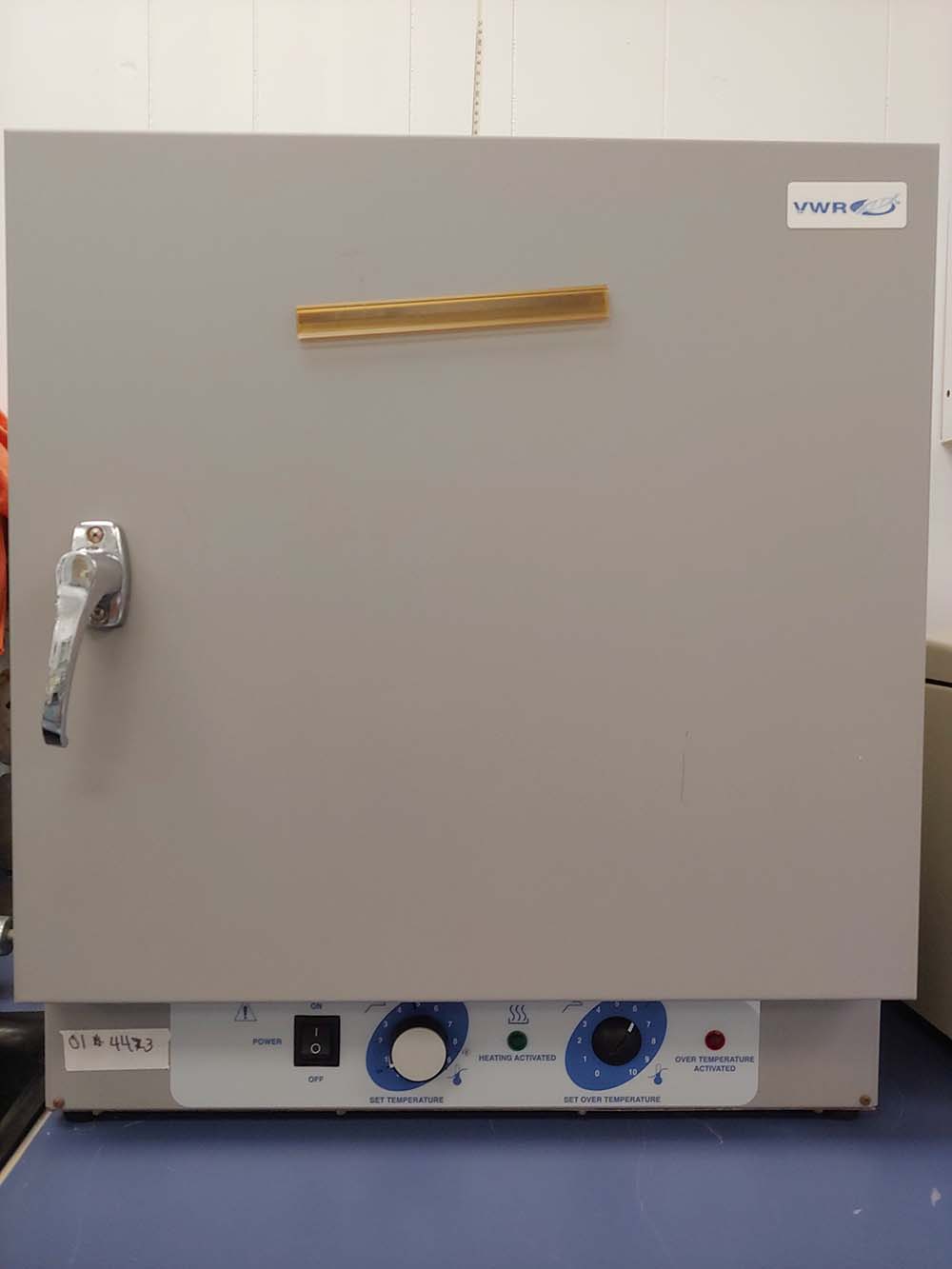 VWR 1321F FORCED AIR OVEN