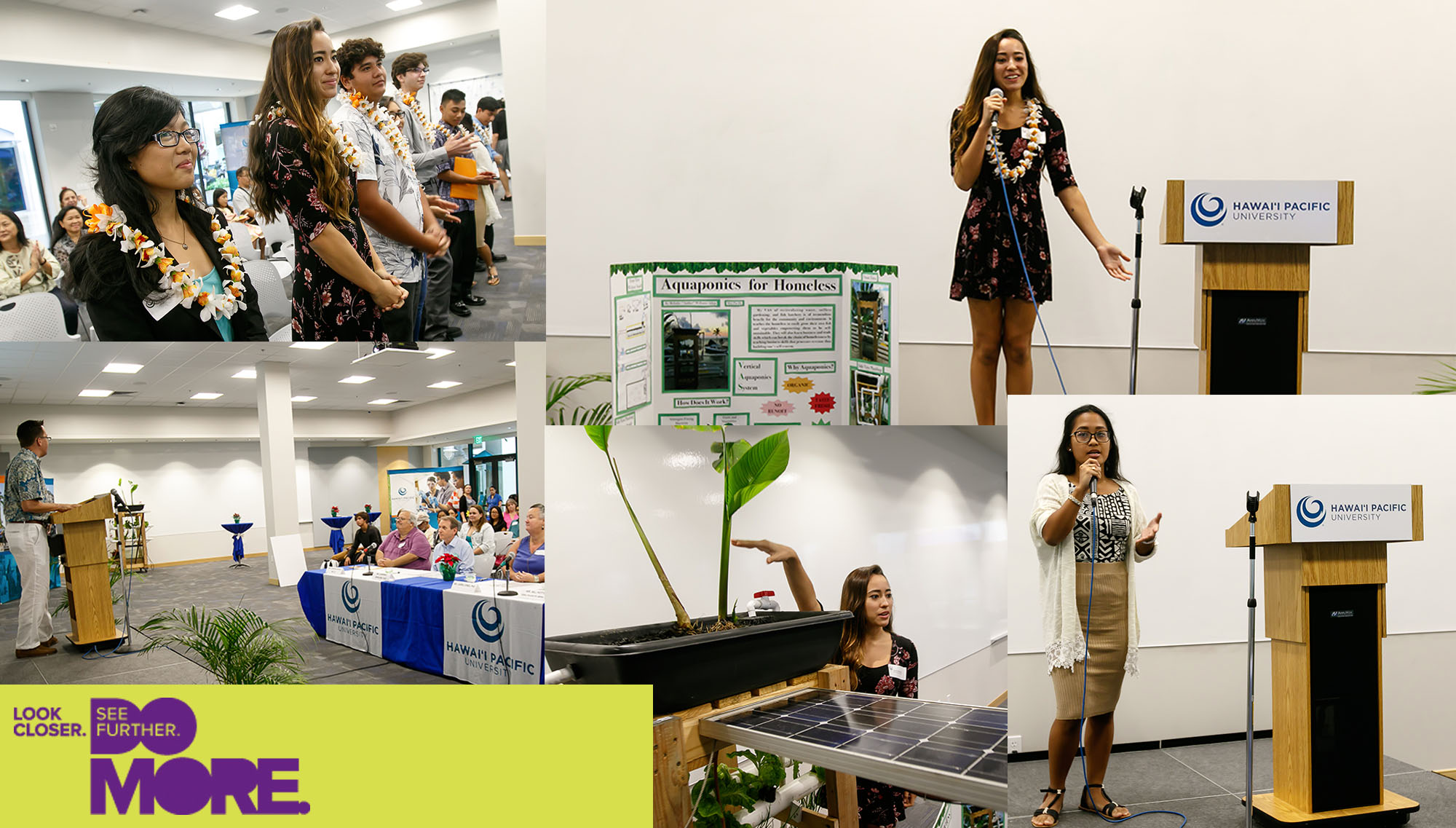 About HPU4HAWAII
HPU4HAWAII Scholarship Challenge is a program designed to encourage Hawaiʻi's youth to find creative solutions that positively impact the state and the world. This informative workshop helps you learn the steps to submit your idea for the HPU4HAWAII scholarship competition.  We will share with you tips and helpful hints from past winners, and suggest techniques to validate and pitch your idea.  Whether you want to explore a bold new concept or make an impact with a social innovation, this is your opportunity to take your idea and move it forward to positively impact Hawai'i. 
What you can learn
By the end of this workshop, you will have ideas to:
Develop your communication skills to share your idea
Design and develop a creative presentation
Create a compelling pitch of your concept
| | | |
| --- | --- | --- |
| Date | Location | Time |
| Thursday, October 19, 2017 | Kamehameha Community learning Center - Maili | 6:30-8:00PM |
| Tuesday, October 24, 2017 | Maui Beach Hotel - Kahului, Maui | 6:30-8:00PM |
| Wednesday, October 25, 2017 | Waipahu High School Library | 6:30-8:00PM |
| Friday, October 27, 2017 | Kaua'i Community College Library - Lihue, Kaua'i | 6:30-8:00PM |
| Friday, October 27, 2017 | Kanu o ka Aina - Waimea, Hawai'i | 6:30-8:00PM |
| Tuesday, November 7, 2017 | Hampton Inn - Kapolei | 6:30-8:00PM |
| Thursday, November 16, 2017 | Leilehua High School Library | 6:30-8:00PM |
| Wednesday, December 6, 2017 | Waimanalo Public Library | 6:30-8:00PM |
| Saturday, December 16, 2017 | Aloha Tower Marketplace | 10:30-12:00PM |
| Saturday, January 6, 2018 | Aloha Tower Marketplace | 8:30- 10:00AM |
| Thursday, January 18, 2018 | HPU.EDU (online webinar) | 6:30-8:00PM |
| Saturday, January 27, 2018 | Hawaii Loa Campus | 9:30-11:00AM |
| Tuesday, February 6, 2018 | HPU.EDU (online webinar) | 6:30-8:00PM |
| Sunday, February 11, 2018 | DEADLINE FOR SUBMISSIONS | |
Rules
Hawai'i Pacific University recognizes academic performance of Hawai'i's high school students by offering these merit-based tuition scholarships to first-year students who, in addition to winning the HPU4HAWAII competition, have strong scholastic records. Students are considered for these awards based on a variety of factors, including: academic preparation and performance (high school GPA), co-curricular involvement, contributions to school and community, and recommendation letters. These full tuition scholarships are renewable for up to eight semesters of undergraduate study in any major provided the student maintains a minimum of a 2.0 cumulative HPU GPA. Recipients of the scholarships must begin attending HPU in the Fall 2018 semester.
Please visit the HPU Admissions webpage for a full listing of materials needed for filling out the application for admission to the University.
Academic Requirements
To be eligible to compete for the scholarship student must at a minimum meet the following criteria:
Meets the academic criteria for admission to Hawai'i Pacific University
Is a senior at a high school in the State of Hawai'i
Will be graduating from high school in Spring 2018
Has not enrolled as a degree-seeking student at a college or university (excluding Running Start or dual credit courses)
Competition Rules
To be eligible to compete for the Scholarship Challenge, students must complete the following:
Submit your Competition Materials and Admission Application by February 11, 2018.


Admission Application available online at www.hpu.edu/apply.
HPU4HAWAII Competition Application available online by clicking here.
Competition Materials include:

A 2-3 minute pitch video about your proposal. Upload your video to YouTube and include the video URL in the application.
A typed 3-4 page, 12 pt font, double-spaced written summary of your proposal. Documents should be in PDF or Word format and cannot exceed 10MB. Upload your summary in the application.

If you are selected as a finalist, you must attend and present, in person, your idea at the competition on March 3, 2018.