Graduation Ceremony
| | |
| --- | --- |
| Date: | Thursday, December 13, 2018 |
| Location: | Aloha Tower Marketplace, 1 Aloha Tower Drive, Honolulu |
| Graduating Student Check-In: | 3:30 PM at Pier 11 Terminal (must check-in no later than 4:15 PM) |
| Doors Open for ADA Guests: | 3:45 PM at General Admission Entrance off Aloha Tower Drive |
| Ceremony: | 5:00 PM |
Each graduate will receive (5) general admission tickets for their guests to attend the commencement ceremony. Tickets may be picked up at the following times/locations:
Grad Fest – 11/29/18 – 10:00 AM - 12:00 PM – Aloha Tower Marketplace

HPU Bookstore – 11/30/18 through 12/12/18 – anytime during normal business hours – Aloha Tower Marketplace
All tickets must be picked up from the Bookstore by the graduate prior to 6:00 PM on 12/12/13. Any tickets not picked up by then become available to graduates looking for extra tickets. The allotment of extra tickets will be available on a first come, first served basis at the Will Call booth located between Old Spaghetti Factory & the HPU Bookstore on commencement day starting at 3:00 PM.

If you are unable to make it to Aloha Tower Marketplace prior to commencement day to pick up your tickets due to class or work obligations, please email commencement@hpu.edu and we will gladly hold your tickets. An email stating your request is required for this special arrangement.
Pier 9 Promenade will open to ADA guests at 3:45 PM and general admission guests at 4:00 PM. Those guests holding a general admission ticket should enter the venue from Aloha Tower Drive between Pier 10 and Old Spaghetti Factory. Guests holding a VIP ticket should enter the venue from the corridor adjacent to Multi-Purpose Room 2. For anyone that made a special reservation for an ADA accessible seat, there will a specific lane at the general admission entrance for you. Please enter there and someone from HPU Security will escort you to your seat.
For security reasons, the following will not be allowed in the venue. Please plan to leave the following in your vehicles or at home for after the ceremony. And arrive early as screening at all entrances will be increased. Each guest's bags will be searched for the following prohibited items.
Sticks or rods
Balloons
Tripods
Laser pointers
Outside food or beverage including alcohol
Noisemakers or air horns
Silly string, confetti or confetti cannons
Strollers
Ceremonial mats
Drones

Balls including beach balls

Inflatables

Selfie sticks

Weapons of any kind

Fireworks

Smoking paraphernalia

Wrapped gifts
Guests with any prohibited items are encouraged to leave them in their cars or check them in at the Bag Check Room located at the Welcome Center adjacent to the HPU Bookstore. The Bag Check Room will be open from 3:00 PM – 8:00 PM. After 8:00 PM, any unclaimed items can be found at the Security Office adjacent to the Aloha Tower.
The ceremony is anticipated to take up to 2.5 hours. The ceremony is not complete until the recessional has ended. We ask that all graduating students stay for the entire ceremony and recessional.
We are working to secure as many parking options in and around Aloha Tower Marketplace for commencement guests. Please check back frequently for updated information.
Piers 5 & 6 at Aloha Tower Marketplace – 1 Aloha Tower Drive. – Self-parking for $7 flat rate
Piers 10 & 11 at Aloha Tower Marketplace – 1 Aloha Tower Drive. – Valet parking for $15 flat rate
Ala Moana Mini Lot at Aloha Tower Marketplace – 1 Aloha Tower Drive – Valet parking for $15 flat rate
Irwin Park Lot at Aloha Tower Marketplace – 1 Aloha Tower Drive. – Self-parking for $7 flat rate
Harbor Court – 55 Merchant Street – Self-parking $3 for 2 hours (6AM-5PM) and $1.50 for every 30 minutes thereafter; $0.50 for every 30 minutes (5PM-6AM the following day), not to exceed $3 maximum
Pacific Guardian Center – 733 Bishop Street – Self-parking for $4 flat rate after 4 PM on weekdays.
TOPA Financial Center – 700 Bishop Street - $3.25 per ½ hour, Monday – Friday, before 5 P.M., $5.00 flat fee after 5:00 PM
The Cab and ride-share companies such as Uber & Lyft will have their own designated loading and unloading spots on Aloha Tower Drive. Please look for the corresponding signage as you enter the marketplace.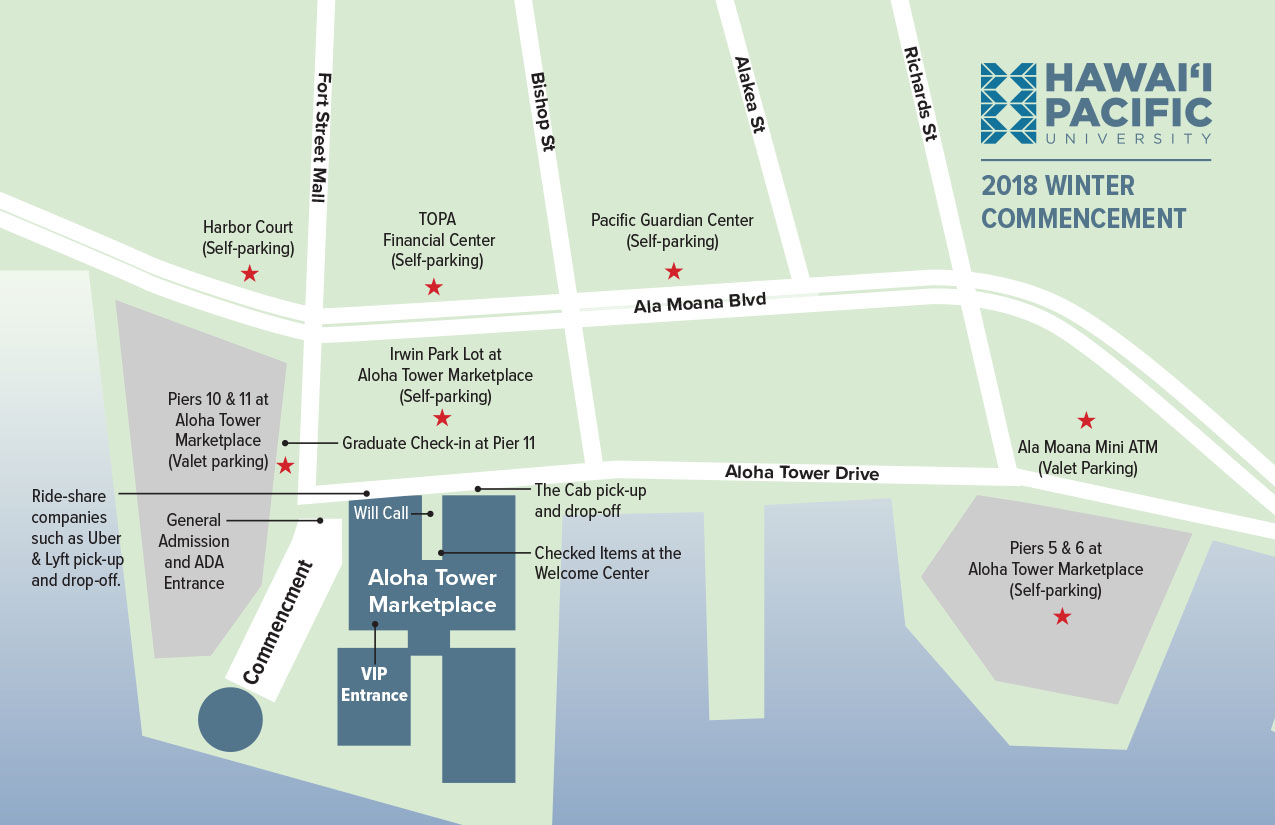 General Admission seating will be handled on a first come, first served basis. The Pier 9 Promenade will open to guests at 4:00 PM on event day. Please be mindful of signs indicating seats being held for graduates, faculty, and University leadership.
Should you need an ADA seat reserved for you, please email your request to commencement@hpu.edu by 12/10/18. Seats will be reserved for you and you may enter the seating area starting at 3:45 PM. Please follow signs to the ADA chute at the General Admission Entrance off Aloha Tower Drive.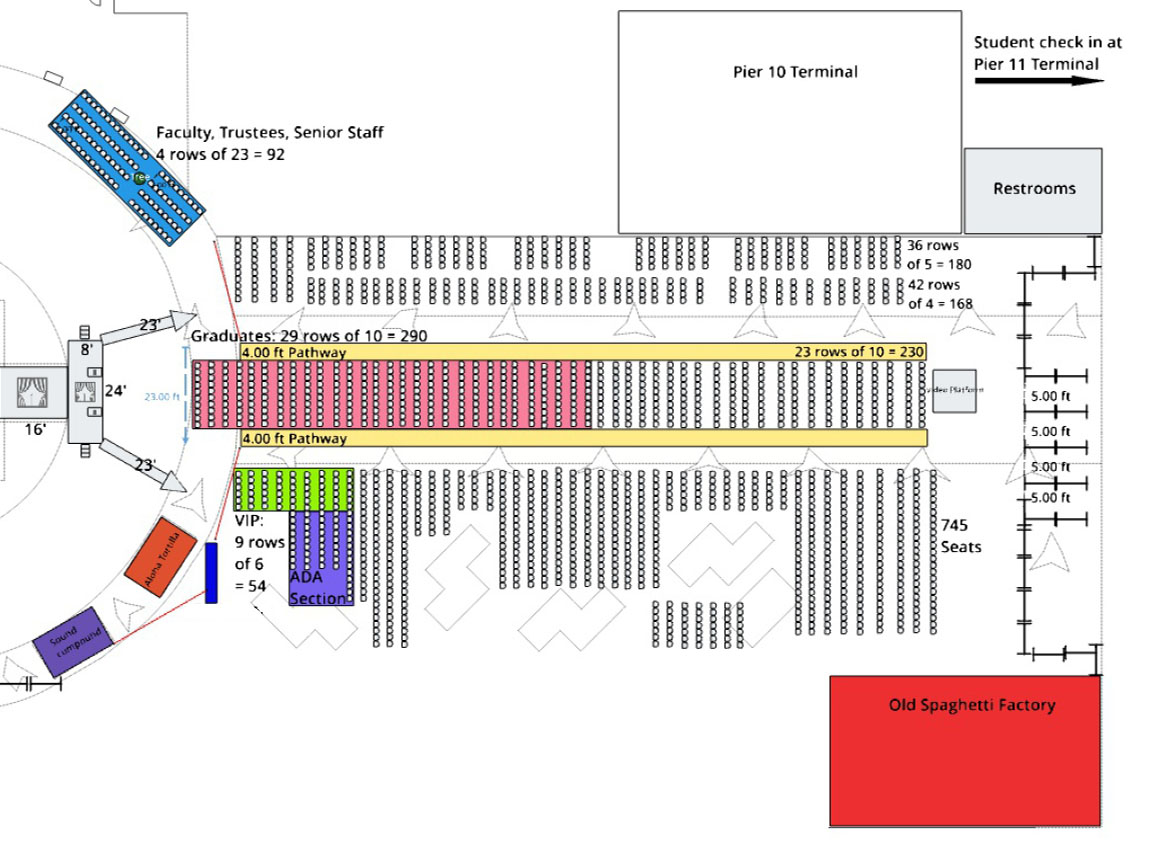 Following the ceremony, meet your graduate on the makai-side (ocean-side) of Aloha Tower for lei greeting and photographs under the stars. For those guests wishing to only attend the lei greeting portion of the event, the venue will open to those without event tickets at the conclusion of the graduate recessional. At that point, barricades will be removed and everyone is welcome to locate their graduates behind the tower.
The ceremony will be webcast live at hpu.edu/stream. HPU does not guarantee the quality of webcast.
GradImages is the official photographer of Hawai'i Pacific University commencement. Each walking graduate will have (3) individual portraits taken by GradImages when accepting their diplomas. Photos will be available online at gradimages.com approximately (1) week following commencement. Each walking graduate is entitled to receive a complimentary 5"x7" printed copy of their "handshake" photo with President Gotanda. To receive this complimentary print, please email your request to commencement@hpu.edu by 1/7/19.
Old Spaghetti Factory (OSF) wants to make sure nobody goes hungry or thirsty while celebrating their graduates. The OSF Patio will be open for commencement guests only from 4:00-7:30 PM on event day. Once you get through the turnstiles and have secured your event seats in front of the beautiful Aloha Tower, head to the patio to purchase any of the following. You may enjoy your treats on the patio or take them back to your seat. Please do not try to enter the patio through the OSF main dining room. Security will instruct you to enter the Pier 9 Promenade through the General Admission entrance off Aloha Tower Drive. All food & beverage purchased will be at the sole expense of the commencement guest.
Food
Potato chips with aioli dipping sauce – $3.00
Garlic fries - $6.99
Toasted Cheese Ravioli - $8.75
Fried Calamari - $9.99
Cookies – $5.00 for 4
Beverages (only non-alcoholic drinks available for purchase during ceremony hours)
Canned soft drinks – $1.50
Bottled water – $1.50
Italian cream soda - $4.99
Large signs, balloons, inflatable toys, noisemakers, and camera tripods are not allowed. Guests may not bring any items that may infringe upon the view of other guests. Guests who do not comply may be denied entry by ushers.