Graduation Ceremony
| | |
| --- | --- |
| Date: | Saturday, December 14, 2019 |
| Location: | Aloha Tower Marketplace |
| Graduating Student Check-In: | 8:30AM |
| Doors Open for ADA Guests: | 9:00AM |
| Doors Open for All Guests: | 9:15AM |
| Ceremony: | 10:00AM |
Each graduate will receive (5) general admission tickets for their guests to attend the commencement ceremony. Tickets may be picked up at the following times/locations:
Grad Fest – November 19, 3:00-5:00PM – Aloha Tower Marketplace, Center Atrium
HPU Bookstore – Immediately following Grad Fest through 4:00PM December 13, 2019 – anytime during normal business hours – Aloha Tower Marketplace
All tickets must be picked up by the graduate prior to 4:00PM on December 13, 2019. Any tickets not picked up by then become available to graduates looking for extra tickets. Extra tickets will be available on a first come, first served basis at will-call at the information tent on commencement day. 
IMPORTANT: if you are unable to make it to Aloha Tower Marketplace prior to commencement day to pick up your tickets due to class or work obligations, please email commencement@hpu.edu and we will gladly hold your tickets. An email stating your request is required for this special arrangement.
Doors will open to ADA guests at 9:00AM and general admission guests at 9:15AM. ADA guests may request seats be held for them by emailing commencement@hpu.edu. For anyone that makes a special reservation for an ADA accessible seat, please follow signage at the entrance on event day. Someone from HPU Security will escort you to your seat.

For security reasons, the following will not be allowed in the venue. Please plan to leave the following prohibited items in your vehicles or at home and arrive early as screening at all entrances will be increased. Each guest's bags will be searched for the following prohibited items:
Sticks or rods
Balloons
Tripods
Laser pointers
Outside food or beverage including alcohol
Noisemakers or air horns
Silly string, confetti, or confetti cannons
Strollers
Ceremonial mats
Drones
Balls including beach balls
Inflatables
Selfie sticks
Weapons of any kind
Fireworks
Smoking paraphernalia
Wrapped gifts
Guests with any prohibited items are encouraged to leave them in their cars or check them in at the Bag Check Room located in the Welcome Center at Aloha Tower Marketplace.
The ceremony is anticipated to take up to 2.5 hours. The ceremony is not complete until the recessional has ended. We ask that all graduating students stay for the entire ceremony and recessional.
Below is a listing of parking options on Commencement Day (12/14/19) at and around Aloha Tower Marketplace. Pre-payment at validated rate for all self-parked vehicles at Piers 5 & 6, Irwin Park and TOPA Financial Center can be handled at the Elite Parking Tent on the Pier 9 Promenade (same location as commencement guest seating). You must present your parking ticket at the Elite Parking Tent to receive validation so please don't leave your ticket in your vehicle. Self-parking and valet parking payments are cash only. There are ATMs located in the Center Atrium of Aloha Tower Marketplace should you find yourself on property without cash.  
Piers 5 & 6 at Aloha Tower Marketplace – 1 Aloha Tower Drive – Self-parking for $7 flat rate with validation
Irwin Park at Aloha Tower Marketplace – 1 Aloha Tower Drive – Self-parking for $7 flat rate with validation
Valet parking at Aloha Tower Marketplace – Drop-off/pick-up vehicle on Aloha Tower Drive in front of the marketplace, overflow valet parking drop-off/pick-up at Ala Moana Mini Park – $10 flat rate
TOPA Financial Center – 700 Bishop Street – $10 flat rate no validation required
If you decide not to drive, please consider taking TheCAB, Hawaii's largest taxi dispatch company. TheCAB services hotels all over the island and has a taxi stand in the front of Aloha Tower Marketplace on Aloha Tower Drive for easy drop-off and pick-ups. Make your reservation today by (808) 422-2222.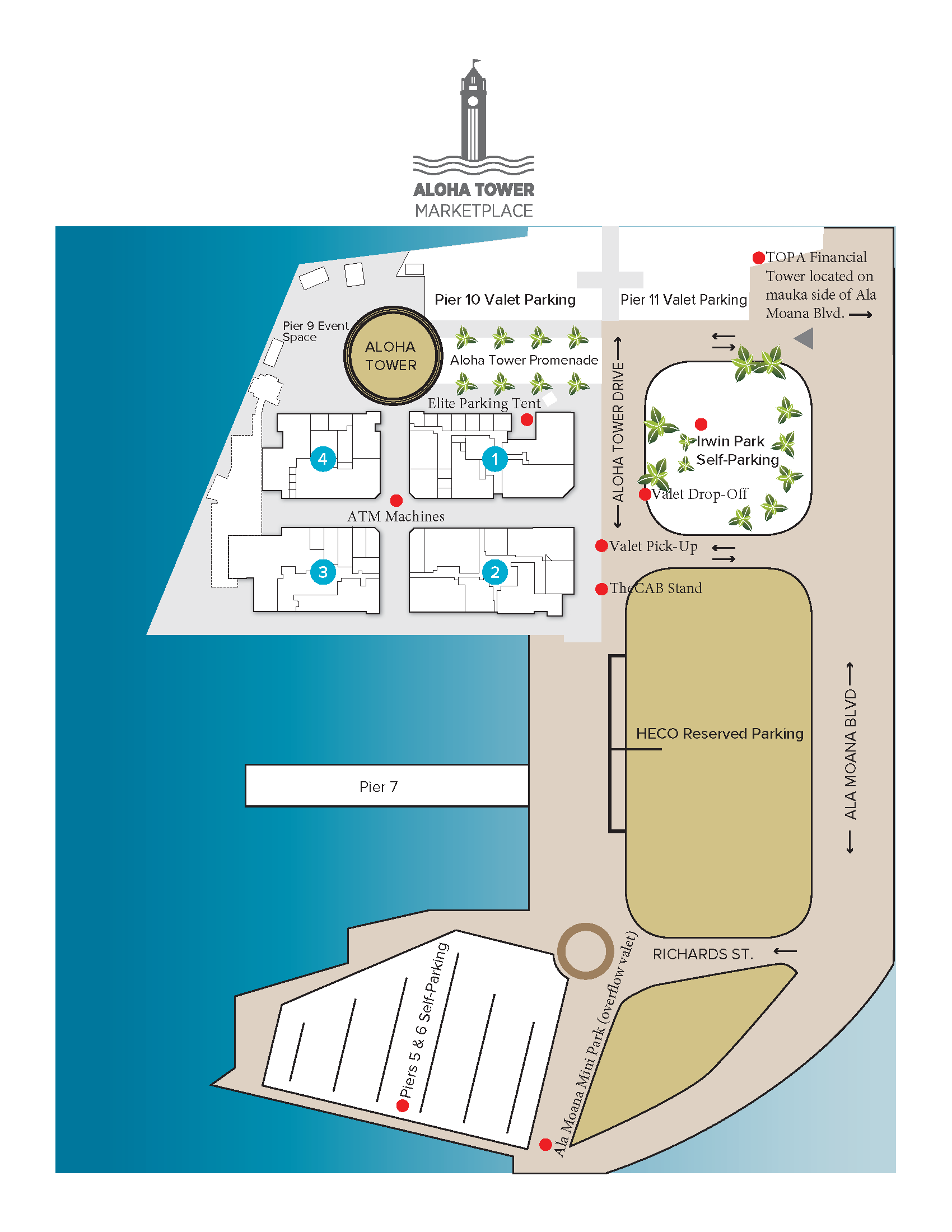 General Admission seating will be handled on a first come, first served basis. The doors will open to guests at 9:15AM on event day. Please be mindful of signs indicating seats being held for graduates, faculty, and University leadership.

Should you need an ADA seat reserved for you, please email your request to commencement@hpu.edu by December 5, 2019. Seats will be reserved for you and you may enter the seating area starting at 9:00AM. For anyone that makes a special reservation for an ADA accessible seat, please follow signage at the entrance on event day. Someone from HPU Security will escort you to your seat.
Following the ceremony, meet your graduate behind the tower for lei greeting and photographs. For those guests wishing to only attend the lei greeting portion of the event, the venue will open to those without event tickets at the conclusion of the graduate recessional. You can locate your graduate under the sign of the first letter of their last name.
The ceremony will be webcast live at hpu.edu/stream. HPU does not guarantee the quality of webcast.
GradImages is the official photographer of Hawai'i Pacific University commencement. Each walking graduate will have (3) individual portraits taken by GradImages when accepting their diplomas on stage. Photos will be available online at gradimages.com approximately (1) week following commencement.

To view your photos, visit https://www.gradimages.com/ and enter your last name, enter Hawaii Pacific University as 'school,' and enter 2019 as 'year'. Your photos should then populate. If you need any assistance, please contact GradImages' Customer Service Department at (800) 261-2576, online at www.gradimages.com, or via email at giservice@gradimages.net.
GradImages will be emailing a coupon for a free 5"x7" matte print to each graduate who is photographed. You can use the coupon on whichever photo you prefer--it does not have to be the "handshake" photo. Shipping and handling is not included.
Large signs, balloons, inflatable toys, noisemakers, and camera tripods are not allowed. Guests may not bring any items that may infringe upon the view of other guests. Guests who do not comply may be denied entry by ushers.