Graduation Ceremony
| | |
| --- | --- |
| Date: | Thursday, May 10, 2018 |
| Location: | Neal Blaisdell Center, 777 Ward Avenue, Honolulu |
| Graduating Student Check-In: | 3:30 p.m., Blaisdell Exhibition Hall |
| Doors Open for Guests: | 4:15 p.m., Blaisdell Arena |
| Graduate Line-Up:  | 4:30 p.m., Blaisdell Exhibition Hall |
| Ceremony: | 5:00 p.m., Blaisdell Arena |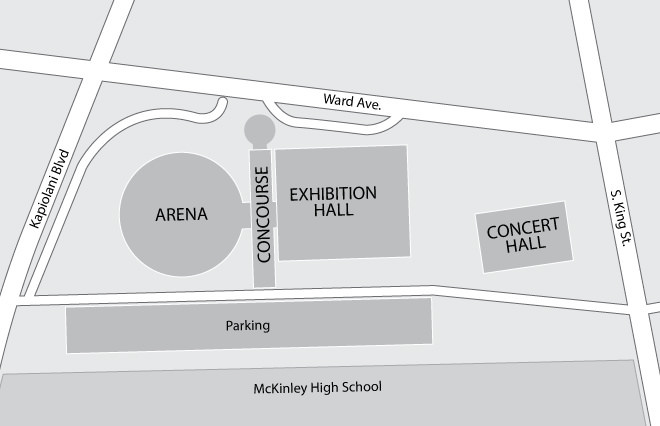 There are 10 seating tickets per graduating student. Everyone, children included, will need a ticket for entry into the Blaisdell Arena.

Tickets will be available for pickup at the Grad Fest event at Aloha Tower Marketplace. Please bring a picture ID to pick up your items.
Any tickets not picked up at Grad Fest, can be picked up at Barnes & Noble Bookstore at Aloha Tower Marketplace through May 9 at 3pm. or will be made available on May 10, 2018 starting at 3:00PM at the Information table at the Neal Blaisdell Center.
If you would like additional tickets, please contact commencement@hpu.edu or see the Information table on May 10, 2018 starting at 3:00PM.. 
Arena doors will open at 4:15 p.m. Guests requiring accessible seating may be seated at 4:00 p.m. Guests not seated by 4:50 p.m. will be held at the door to be seated after the conclusion of the processional.
Graduating student check-in: 3:30PM, Blaisdell Exhibition Hall. Family and friends will not be able to enter the Exhibition Hall during graduate check-in, but will be allowed in after 5:30pm.
The ceremony is anticipated to take up to 2.5 hours. The ceremony is not complete until the recessional has ended. We ask that all graduating students stay for the entire ceremony and recessional.
Parking is available for $6 at the Neal Blaisdell Center if entering before 5 p.m. Parking after 5 p.m. is $7. Handicapped parking is available. Limited free or metered parking is available on city streets near the Blaisdell Center.
Limited accessible seating is available at the venue. Persons requiring accessible seating may be accompanied by up to two (2) able-bodied guests. To request accessible seating, please contact commencement@hpu.edu.
Following the graduate recessional, the Exhibition Hall will be open to your guests for a meet-and-greet event. Graduates may meet faculty, friends and family near signs designated with the first letter of your last name. The event will conclude at 9 p.m. Those who do not wish to participate in the meet-and-greet may leave the Exhibition Hall at the conclusion of the recessional.
The ceremony will be webcast live at www.hpu.edu/livegrad. HPU does not guarantee the quality of webcast.
Photographers and videographers are not allowed in the graduate seating section, near the stage, in aisles, or in handicapped seating sections. Security and ushers reserve the right to remove photographers and videographers from restricted areas. The ceremony will be professionally photographed.
No outside food or coolers are allowed at the Neal Blaisdell Center. Concession areas are open in the Arena concourse. Alcohol is not allowed at the ceremony. Do not come to the ceremony under the influence of alcohol or illegal drugs. If your behavior is unacceptable or unsafe to you or others, HPU reserves the right to prohibit you from participating in the ceremony.
Large signs, balloons, inflatable toys, noisemakers, and camera tripods are not allowed inside the Blaisdell Arena or Exhibition Hall. Guests may not bring any items that may infringe upon the view of other guests. Guests who do not comply may be denied entry by Arena ushers.