HPU Cinémathèque French Film Festival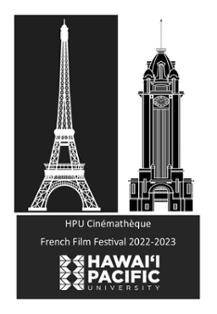 The Department of Arts, Humanities, and Languages of the College of Liberal Arts, with a grant from the FACE Foundation, is pleased to present their third French Film Festival.  Albertine Cinémathèque is a program of the FACE Foundation, which brings French cinema to American college and university campuses.  This year's program will be in person. After a special initial screening co-sponsored by the Hawaii Theatre Center this fall, the remaining five films will be introduced and then screened on  the downtown campus on Thursday evenings in Spring 2023.   
THE 400 Blows                   November 16, 6 P.M.            Hawaii ThEATRe CENTER   (1130 Bethel Street)
A young Parisian boy, Antoine Doinel, neglected by his derelict parents, skips school, sneaks into movies, runs away from home, steals things, and tries (disastrously) to return them. Like most kids, he gets into more trouble for things he thinks are right than for his actual trespasses. Unlike most kids, he gets whacked with the big stick. He inhabits a Paris of dingy flats, seedy arcades, abandoned factories, and workaday streets, a city that seems big and full of possibilities only to a child's eye.
FRANCE                                          FEBRUARY 2, 4 P.M.                         Location WP 6-323 TBA
Bruno Dumont's unexpected, unsettling new film starts out as a satire of the contemporary news media before steadily spiraling out into something richer and darker. Dumont (The Life of Jesus, NYFF35) casts Seydoux as France de Meurs, a seemingly unflappable superstar TV journalist whose career, homelife, and psychological stability are shaken after she carelessly drives into a young delivery man on a busy Paris street. This accident triggers a series of self-reckonings, as well as a strange romance that proves impossible to shake.
Happening                                 FEBRUARY 9, 4 P.M.                                     Location WP6-323    
France, 1963. Anne is a bright young student with a promising future ahead of her. But when she falls pregnant, she sees the opportunity to finish her studies and escape the constraints of her social background disappearing. With her final exams fast approaching and her belly growing, Anne resolves to act, even if she has to confront shame and pain, even if she must risk prison to do so.
Lost Illusions                                FEBRARY 16, 4 p.m.                                  Location WP6-323
Lucien is a young unknown poet in 19th-century France. He has great expectations and wants to forge a destiny. He leaves the family printing business in his native province to try his luck in Paris, on the arm of his protector. Soon left to his own devices in the fabulous city, the young man will discover the backstage of a world dedicated to the law of profit and pretense. A human comedy where everything is bought and sold, literature as well as the press, politics as well as feelings, reputations as well as souls. He will love, he will suffer, and survive his illusions.
LAST Year at MarienBad                             FEBRUARY 23, 4 P.m.                       Location WP6-323
At a social gathering at a château or baroque hotel, a man approaches a woman. He claims they met the year before at Marienbad and is convinced that she is waiting there for him. The woman insists they have never met. A second man, who may be the woman's husband, repeatedly asserts his dominance over the first man, including beating him several times at a mathematical game (a version of Nim). Through ambiguous flashbacks and disorientating shifts of time and location, the film explores the relationships among the characters. Conversations and events are repeated in several places in the château and grounds, and there are numerous tracking shots of the château's corridors, with ambiguous voiceovers.
benedetta                                                        MARCH 2, 6 P.M.                                  Location WP6-323
In the late 17th century, with plague ravaging the land, Benedetta Carlini joins the convent in Pescia, Tuscany, as a novice. Capable from an early age of performing miracles, Benedetta's impact on life in the community is immediate and momentous.
The HPU Cinémathèque Film Festival is made possible by Albertine Cinémathèque, a program of FACE Foundation and Villa Albertine, with support from the CNC / Centre National du Cinema, and SACEM / Fonds Culturel Franco-Américain.
Contact  Dr. Chadia Chambers-Samadi for more information