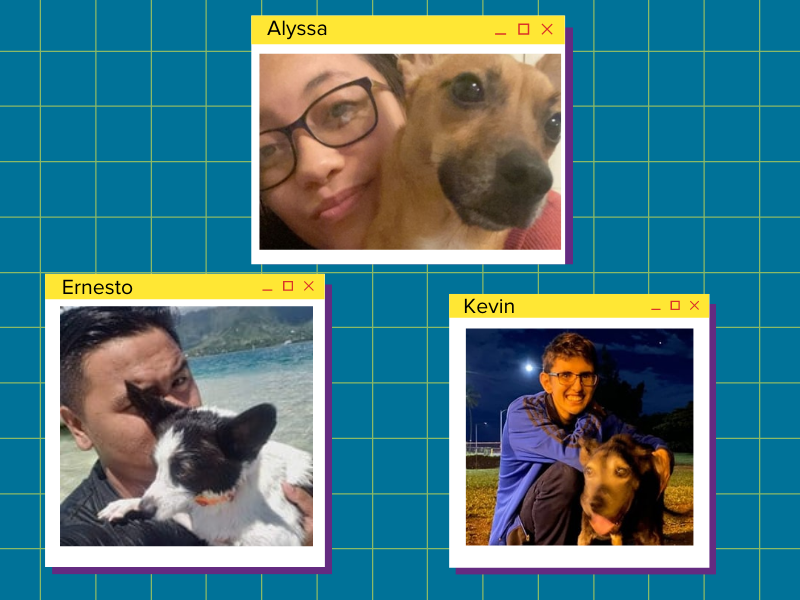 Paw Tracker Developers.
HPU engineering students Alyssa Lawton and Ernesto Arizala, and HPU computer science alumnus Kevin Chevalier collaborated to create a web-based application that reunites pet owners with their pets in quarantine when en route to Hawai'i. The application is called Paw Trackers and it prepares owners for their pet's arrival by providing document uploading, monitoring of pet status, and helping owners communicate directly with animal quarantine staff.
The team entered the Hawai'i Annual Code Challenge 2021 and placed third. There was a total of 35 projects from 178 contestants in this year's challenge. The HACC began in 2015 and its mission is to encourage civic engagement with the local technology community to modernize state functions and services, creating a more effective and open government.  
"The Department of Agriculture's (DOA) pet quarantine is located in the Daniel K. Inouye International Airport," said Lawton, who is the project captain and recruited Arizala and Chevalier on the team. "The DOA needed a tracking system to monitor the flow of passengers coming in to Hawai'i. We were tasked to monitor the passengers and create a chat system that would help employees easily communicate with pet owners after the quarantine was complete." 
Traveling to Hawai'i with a pet can be a complex process and Paw Trackers was developed to streamline the process, making it convenient to upload the required paperwork to the website and track the step-by-step process of ensuring that a pet moves through the quarantine process as quickly as possible.  
Lawton believes that the website has a great deal of potential, mainly because many teams in the competition went without coding solutions, while Paw Trackers is more customizable. 
"When creating the website, we decided to connect flight data," says Chevalier, "so when you sign up for Paw Trackers it automatically synchronizes with your flight data. It makes it easier to manage which animals arrive at different times." 
Lawton was responsible for the visual components of the website, specifically the html and CSS. She is a double major in computer science and electrical engineering at HPU. Lawton was born and raised in Hawai'i and attended Kailua High School. She expects to graduate from HPU in 2023 and plans to work in artificial intelligence.  
Arizala was responsible for developing the presentation of the website. He is an electrical engineering major at HPU and expects to graduate in summer 2022. He is planning to work with Naval Information Warfare Systems Command (NAVWAR) after graduation.  
"I enrolled at HPU after my sister graduated from HPU in nursing," said Arizala, who graduated from Waipahu High School. "I heard about the new electrical engineering program and I, along with Alyssa, were selected for a scholarship to attend the university." 
Chevalier was responsible for the design implementation of the front and back end of the website. He graduated from HPU with a double major in computer science and biology, with a pre-med concentration. Chevalier was born in Brazil and moved to Hawai'i at an early age. He attended Kaiser High School and plans to apply to medical school in the near future.
"This project is memorable because of the great team that I was able to work with," said Chevalier. "My team had the ambition and motivation to go beyond what was expected of us, while balancing our school and work commitments. It has been a great experience developing a tool for our local 'ohana and our incoming visitors to make their travel plans easier and less stressful for their pets."