Alcohol & Drug Information
The purpose of this website is to educate our community about alcohol so students can make informed decisions during their college years and beyond.
Below you will find
Resources
Facts and Myths
Amnesty and Samaritan Policies
Blood Alcohol Content Information
Resources
Statistics
The statistics are scary: 
Roughly 20 percent of college students meet the criteria for having an alcohol use disorder
A little less than 2,000 college students ranging from 18 to 24 years old die from unintentional, alcohol-related injuries each year.
The good news, is that help is available!
biennial review
Per the Federal Drug-Free Schools and Campuses Regulations, Hawaii Pacific University conducts a biennial review of our alcohol and other drugs events, programs, resources, and policies.  For more information, please review the Student Handbook or contact the Office of Student Conduct.
LOCAL RESOURCES
Alcoholics Anonymous - 808.946.1438
Coalition for a Tobacco Free Hawaii - 800.QUIT.NOW
Ho'omau Ke Ola - 808.696.4266
Marijuana Detox and Treatments - 808.304.2219
Mothers Against Drunk Driving (MADD) - 808.532.6232
Narcotics Anonymous - 808.734.4357
Facts and Myths
TRUTH: While regular alcohol consumption does affect how the brain works, impairing the functioning and communication of neurons, it does not kill brain cells.
TRUTH: It's the amount of alcohol you consume that influences your blood alcohol level, not the type of alcohol you drink.
TRUTH: We all process alcohol at different speeds; however, chances are, the "one drink per hour rule" doesn't work. For most people, if you drink one drink an hour, you're going to become more and more impaired each hour.
TRUTH: High protein foods may slow the absorption rate so the alcohol will not hit your system at once but it does not limit the amount of alcohol absorbed.
TRUTH: The cold water will force your blood to circulate faster, making you feel more alert, but the only thing that can reduce your blood-alcohol content is time.
TRUTH: Because alcohol is a depressant and caffeine is a stimulant, the two drugs will compete and tax your system. The only thing can reduce your blood-alcohol content is time.
Blood Alcohol Content Information
Knowing your blood alcohol content will help you learn your limits and consume responsibly. The charts are different for men and women.
Males and females have different enzymes in their liver, causing them to have different metabolic rates. This means that if a man and woman of the same body weight drink the same amount of alcohol, the female will end up having a higher blood alcohol content than the male. This makes it dangerous for a female to go "shot for shot" with a male. Additional contributing factors are that males have 10% more water in their bodies and females have a higher proportion of body fat than males, exacerbating the blood-alcohol content differential between the sexes.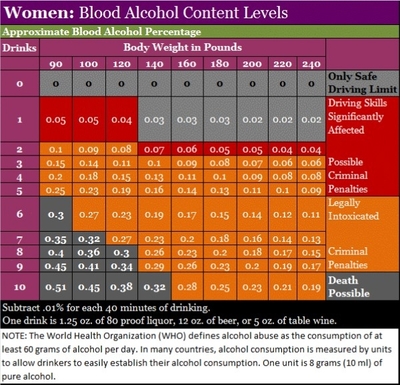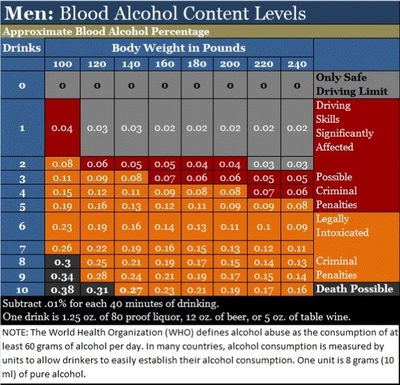 Amnesty and Samaritan Policies
The Good Samaritan Statement allows the elimination of disciplinary consequences for students who may be under the influence of alcohol or drugs and who make(s) a good-faith call for medical help on behalf of a fellow student. This statement applies to violations that occur on and off campus and will require documentation by HPU Security, law enforcement, and/or emergency personnel. The Good Samaritan Statement is not limited to alcohol-related incidents and also encourages witnesses of assault, vandalism or other violations of the Code of Student Conduct to report such events. 
Similarly, Hawai'i Pacific University understands the potential for disciplinary action may discourage students from seeking medical assistance for themselves as a result of excessive alcohol or drug consumption, alcohol poisoning or other drug-related emergencies. In these instances, the university's primary concern is the safety and well-being of HPU students and strongly encourages community members to offer help and assistance (e.g. call 9-1-1, remain on site until emergency personnel arrives, contact HPU Security) to others in need. 
Additional information regarding these policies may be found in the Student Handbook.