Edward R. Souza M.S.I.S.
College of Professional Studies - Department of Cybersecurity
Career Instructional Faculty, Information Technology and Cybersecurity
Biography
EDUCATION:
M.S. in Information Systems, Hawaii Pacific University, 1991
TEACHING INTERESTS:
Programming, Database Management, Software Engineering, Web Development
RESEARCH INTERESTS:
Programming languages, distributed applications, human computer interaction, knowledge discovery in databases, data visualization, security, privacy.
PROFESSIONAL ORGANIZATIONS:
Member of the IEEE Computer Society, ACM, and AITP
Started teaching at Hawaii Pacific University in 1992.  Worked as a Systems Analyst, Network Support Engineer, and Project Manager for companies such as Unisys Corporation and Bank of Hawaii.  Currently works as an IT consultant, web developer, and trainer in addition to being an affiliate instructor at HPU.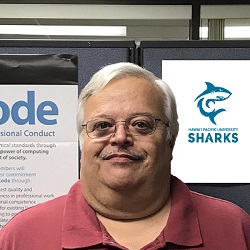 Instructor
M.S.I.S.
  Send email
  (808) 544-1467
  900 Fort Street Mall, PL 10-3