Cort Chambers Ph.D.
College of Professional Studies - Department of Cybersecurity
Cort M. Chambers holds a Ph.D. in Public Policy and Administration, a Master of Arts in Intelligence Studies, and a Bachelor of Arts in Homeland Security. He also holds multiple information technology industry certifications, including CompTIA A+, Network+, Security+, and CompTIA Secure Infrastructure Specialist (CSIS).
Cort retired from the City and County of Honolulu Emergency Services Department in 2014. During his 21 years of service, he was a Paramedic with Honolulu's Emergency Medical Services, the Program Manager of Honolulu's Metropolitan Medical Response System, and an Intelligence Analyst with Hawaii's State Fusion Center.
In 2014, he was selected as a Presidential Management Fellow (PMF) and served two years at the U.S. Office of the National Coordinator for Health Information Technology (ONC), in Washington, DC. He was a member of the ONC team that developed the Nationwide Interoperability Roadmap.
Cort was an Intelligence Analyst at the Hawaii State Fusion Center for approximately ten years. He was also an Adjunct Instructor at the University of Hawaii, Pacific Center for Advanced Technology Training (PCATT) for approximately eight years.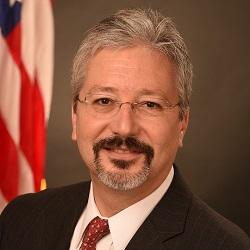 Assistant Professor
Department Chair
Ph.D.
  Send email
  (808) 236-5833
  900 Fort Street Mall PL 200