Cheryl Crozier-Garcia PH.D., SPHR, GPHR, SHRM-SCP
College of Business - Department of Business
Professor of Human Resource Management, and Program Chair, MAHRM Program
Education:
Waipahu High School, B.A., Antioch College; MBA, Hawaii Pacific College; Ph.D., Applied Management and Decision Sciences, Walden University
Biography:
Since 1996, Cheryl Crozier Garcia, Ph.D., SPHR, GPHR, SHRM-SCP has been a full-time faculty member
in the College of Business Administration at Hawaii Pacific University. She currently holds
the rank of professor and serves as program chair of the master's program in Human
Resource Management. Her research interests include workplace ethics, spirituality in the
workplace, gender and leadership, and personal development. She is a Studium Scholar at
St. Benedict's Monastery, St. Joseph, Minnesota, and a popular speaker and presenter at
national and international conferences. From 2008-2010, Dr. Crozier Garcia was a member
of the Board of Directors of the Human Resources Certification Institute (HRCI), which
administers and validates the Professional in Human Resources (PHR), Senior Professional
in Human Resources (SPHR), and Global Professional in Human Resources (GPHR) certifications.
Dr. Crozier Garcia is the only GPHR-certified HR professional in the State of
Hawaii.  Since leaving the HRCI Board, Dr. Crozier Garcia has been an item writer for the PHR and SPHR certification examinations.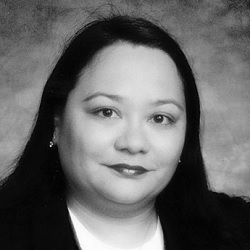 Professor
PH.D., SPHR, GPHR, SHRM-SCP
  Send email
  (808) 544-1174
  Downtown Campus, PL 10