Suketu Naik Ph.D.
College of Natural and Computational Sciences - Department of Computer Science and Engineering
ASSOCIATE PROFESSOR OF ENGINEERING
EDUCATION:
Ph.D., Electrical Engineering, Kyoto University, Japan
M.S., Electrical Engineering, University of Utah
M.S., Electrical Engineering, Utah State University
COURSES TAUGHT:
Hawaii Pacific University (Honolulu, HI)
ENGE 2000 Linear Circuits and Systems
ENGE 2001 Linear Circuits and Systems Lab
Weber State University (Ogden, Utah)
ECE 1000: Introduction to Electrical Engineering
ECE 1270: Introduction to Electric Circuits
ECE 2260: Fundamentals of Electric Circuits
ECE 3000: Engineering Seminar
ECE 3090: Project Management
ECE 3110: Microelectronics I
ECE 3120: Microelectronics II
ECE 3610: Digital Systems
ECE 4900 (Senior/M.S. Elective): Fundamentals of Sensor Design
ECE 6420 (Senior/M.S. Elective): Digital Communications
ECE 4010/40120: Senior Projects
ECE 6010: M.S. Projects
---
RESEARCH AND PROFESSIONAL INTERESTS:
Dr. Naik's research is concentrated on the applications of Nonlinear Dynamics using Analog Integrated Circuits (IC), RFIC, and Micro Electro Mechanical System (MEMS) devices. The research is multi-disciplinary and is primarily based on dynamics of Coupled Systems. Dr. Naik's research interests include Biomedical Systems, Inertial Sensors, and Energy Harvesting-all based on Coupled Systems where you group multiple nonlinear elements/devices/circuit components together to obtain specific behavior. His latest research is focused on non-invasive neuromodulation using coupled Ultrasonic transducers to develop novel neuroprosthetics. The ultimate goal is to integrate the above research into other topics related to personalized healthcare and Internet of Health Things (IoHT).
PERSONAL INTERESTS/BIOGRAPHY:
Gardening, swimming, hiking, playing esoteric musical instruments, and meditation.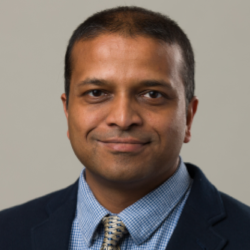 Associate Professor
Ph.D.
  Send email
  808-236-7903
  500 Ala Moana Blvd. WP 4-200-I