Michael L. Canute M.S.
College of Natural and Computational Sciences - Department of Natural Science
Instructor of Biology
Education:
Ph.D. candidate, Molecular Biosciences & Bioengineering, University of Hawaii at Manoa
M.S., Biomedical Science (Human Physiology), University of Hawaii at Manoa, August 1995
B.S., Food Science and Human Nutrition (Nutritional Science), University of Hawaii at Manoa, May 1989
A.A., Liberal Arts, Kauai Community College, May 1986
Courses Taught:
BIOL 2030 Anatomy and Physiology I
BIOL 2031 Anatomy and Physiology I Lab
BIOL 2032 Anatomy and Physiology II
BIOL 2033 Anatomy and Physiology II Lab
BIOL 4050 Developmental Biology
Professional Interests:
Undergraduate Courses in Anatomy and Physiology as well as upper division course(s) in Physiology (General and specialized areas, especially Neuroendocrinology), Anatomy, Histology, & Neuroscience (the latter three are yet to be developed).
Teaching Interests/Research:
Characterization of a novel transmembrane protein, TMEM16E (also known as GDD1) that has been previously described in causing a debilitating bone disease, gnathodiaphyseal dysplasia, due to a single point mutation resulting in a missense translation of C356R and C356G.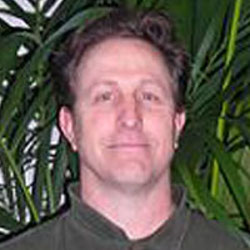 Instructor
M.S.
  Send email
  (808) 236-5859
  Hawaii Loa Campus, AC 250