F. David Horgen PH.D.
College of Natural and Computational Sciences - Department of Natural Science
PROFESSOR OF CHEMISTRY
HEAD, SHARED INSTRUMENTATION FACILITY
PROGRAM CHAIR, CHEMISTRY/BIOCHEMISTRY
Education:
Post-doctoral Fellowship, Marine Natural Products Chemistry, Department of Chemistry, University of Hawaii at Manoa
Ph.D., Pharmacognosy, Department of Medicinal Chemistry and Pharmacognosy, University of Illinois at Chicago
B.S., Biology, Florida International University
Courses Taught:
CHEM 3030 Organic Chemistry I
CHEM 3031 Organic Chemistry I Lab
CHEM 3032 Organic Chemistry II
CHEM 3033 Organic Chemistry II Lab
CHEM 6310 Marine Natural Products Chemistry
CHEM 2052 General Chemistry II
CHEM 4030 Biochemistry I
CHEM 4031 Biochemistry I Laboratory
Awards:
2017 HPU Teacher of the Year, 2014 HPU Golden Apple Award for Scholarship, 2011 Visiting Professor (honorary), Tongji Medical College, Huazhong University of Science and Technology; 2011 Weinman Innovator Award for Translational Research, Weinman Foundation/ University of Hawaii Cancer Center (Co-investigator; funded by the Weinman Foundation fund to support the development of cutting-edge cancer research); 2009 Jack L. Beal Award, American Chemical Society/American Society of Pharmacognosy (Best paper of 2008 in the Journal of Natural Products among early-career investigators); 2004 Presidents Award for Outstanding Service by a Faculty Member, Hawaii Pacific University; 2002 AFPE Fellow, American Foundation for Pharmaceutical Education, Rockville, MD; 1996 Van Dorens Scholars Scholarship, University of Illinois at Chicago; 1993-1997 Graduate College University Fellowship, University of Illinois at Chicago; 1993-1996 Graduate Fellowship, American Foundation for Pharmaceutical Education, Rockville, MD; 1992 Graduate Fellowship, Honorable Mention, National Science Foundation, Arlington, VA.
Professional Interests:
Marine natural products chemistry, bioanalytical chemistry, biological screening, and chemical ecology
Personal Interests/Biography:
Fishing, spearfishing, hunting, hiking, scuba diving
---
Teaching Interests/Research:
Dr. Horgen's major research interest is marine natural products chemistry. This field focuses on molecules that are produced by plants, animals and microbes in the marine environment and the manner in which these substances affect other organisms. For example, these compounds (known as marine natural products) are produced by organisms to protect them from being eaten, to kill or immobilize their prey, to defend their territories, or to communicate. At the same time, marine natural products have high structural diversity and possess chemical properties that allow them to act as drugs in the human body, which makes them a valuable resource for finding new therapies for a wide range of diseases, especially cancer. The focus in Dr. Horgen's lab is the discovery of marine natural products that can interact with proteins involved in human diseases and switch these proteins on and off as needed to prevent or stop the progress of disease.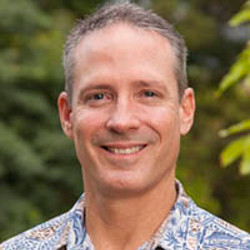 Professor
PH.D.
  Send email
  (808) 236-5864
  Hawaii Loa Campus, AC 103