Elsa van Hall M.S.
College of Natural and Computational Sciences - Department of Natural Science
LECTURER OF BIOLOGY
EDUCATION:
M.S., Marine Science, Hawai`i Pacific University
B.A., Biology emphasis Marine, Occidental College
COURSES TAUGHT:
AQUA 1200 Global Aquaculture
MARS 1020 Introduction to Oceanographic Field Techniques
MARS 3001 General Oceanography I Laboratory
MARS 3003 Biology Laboratory
PROFESSIONAL INTERESTS:
Climate Change Impacts on Fish
PERSONAL INTERESTS:
Backcountry Camping, Hiking, Painting, Scuba Diving, Snorkeling, and Traveling.
TEACHING INTERESTS:
My goal as a teacher is to cultivate a thought-provoking and respectful student centered environment in which every student's ideas are valuable as all students bring a unique perspective to my classroom. My courses provide students ample opportunities to work in various field habitats (e.g., on the Research Vessel Kaholo, sandy intertidal, snorkeling coral reefs in Kāne`ohe Bay, etc.) as I believe hands-on learning is integral to have a multi-dimensional comprehension of lecture material, especially when students are engaged and excited to learn. I aim to teach courses in which my students are able to develop and refine applicable real-world critical thinking skills that they can utilize in the classroom and at their current internships and future jobs. I apply a hands-on learning approach as often as possible so that my students leave my course with confidence in their scientific knowledge and field work abilities. I aim to inspire curiosity and enhance my students' personal interests and passions as they explore the marine science field.
RESEARCH INTERESTS:
I am interested in researching how climate change (e.g., sea surface temperature, ocean acidification, etc.) affects endemic fish species in Hawai`i. Specifically, my research focused on how rising sea surface temperatures affects aerobic scope and temperature preference of Zebrasoma flavescens (yellow tang) acclimated to a current sea surface temperature and a future predicted elevated sea surface temperature.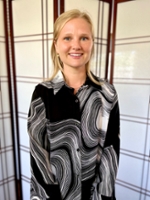 Lecturer
M.S.
  Send email
  (808) 544-0858
  Hawaii Loa Campus, AC 215