Carolyn Jones PH.D.
College of Natural and Computational Sciences - Department of Natural Science
Associate Dean, College of Natural and Computational Sciences
Associate Professor of Biology
Education:
Ph.D., Biological Oceanography, Georgia Institute of Technology
B.S., double major: Biology and Environmental Science, DePaul University
Courses Taught:
BIOL 2051 General Biology I Laboratory
BIOL 2053 General Biology II Laboratory
BIOL 3040 General Microbiology
BIOL 4040 Environmental Microbiology
BIOL 4041 Environmental Microbiology Laboratory
HON 1100 Hawaii and the Pacific
MARS 2110 Ocean Environments of the Pacific Islands
Professional Interests:
Marine microbiology in both oligotrophic and eutrophic environments; Microbial nitrogen and carbon cycling in aquaculture; Stable isotopes; Microbial ecology
Personal Interests/Biography:
Outrigger canoe paddling, swimming, hiking, traveling, reading.
---
Teaching Interests/Research:
Dr. Jones uses the naturally-occurring stable isotopes of Nitrogen and Carbon to explore microbial N and C cycle pathways.  Her work has spanned oligotrophic open ocean environments, eutrophic coastal environments, and high density recirculating aquaculture systems.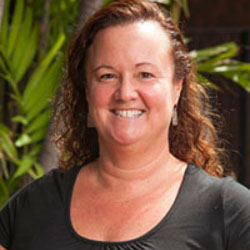 Associate Dean
Associate Professor
PH.D.
  Send email
  (808) 236-5839
  Hawaii Loa Campus, AC 206B