William Kennelly M.P.S.
College of Liberal Arts - Department of Communication
PROGRAM CHAIR ANIMATION AND MULTIMEDIA DESIGN and ASSISTANT PROFESSOR
Graduate Education:
M.P.S.
Web Page, Digital/Multimedia, and Information Resources Design
New York University
Undergraduate Education:
B.F.A.
Fine Arts Glass
University of Hawaii at Manoa
William Erwin Quest Kennelly earned his undergraduate degree in fine arts from the University of Hawaii at Manoa.  Specializing in glass sculpture he also created artworks in wood, metal, ceramic, and mixed media.  Following graduation from UH Manoa in 2000 Quest worked as a gallerist in Los Angeles specializing in primitive artworks and contemporary painting.  Moving back to Oahu in 2003 he worked in two 3D animation and VRX studio startups before becoming a partner at Blue Water Multimedia LLC; which he currently owns and operates.   
In 2012 Quest taught his first motion graphics class at HPU.  He would return to teach two classes per semester until 2015 when he applied and was accepted into the Interactive Telecommunications Program at the Tisch School at New York University.  During his time at ITP NYU Quest researched and developed a wide variety of interactive digital multimedia projects.  His thesis project leveraged Oculus virtual reality hardware and the Unity game engine to create an interactive exhibition of current and speculative space launch systems.  While in New York he screened an extra-large format 3D animated short at the Big Screens event at IAC and the EXPANDED CINEMA, VOL. 2 exhibition at Made in NY Media Center by IFP.
Quest's research interests are centered around 3D modeling, 3D animation, scientific visualization, digital fabrication, virtual reality, and augmented reality.  Quest is a world traveler, hiker, and scuba diver.
Publications: 
Foundational Digital Multimedia 
Second Edition
William Erwin Quest Kennelly
Kendall Hunt 2021
ISBN 9781792457708
Courses Commonly Taught:
Undergraduate: Foundations in Multimedia, Point Shoot Edit, Graphic Design Studio, Animation Production Design, Design Systems and Portfolio, Web Interface Design, Motion Graphics, and Compositing, Advanced Web Design, Advanced Motion Graphics, Non-linear Audio/Visual Editing, 3D Animation Studio, Animation Storytelling, Seminar in Multimedia
Graduate: Digital Graphic Design, Web Design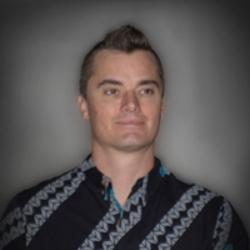 Assistant Professor
M.P.S.
  Send email
  +1 808 543 8039
  500 Ala Moana Blvd. WP 5-360-G