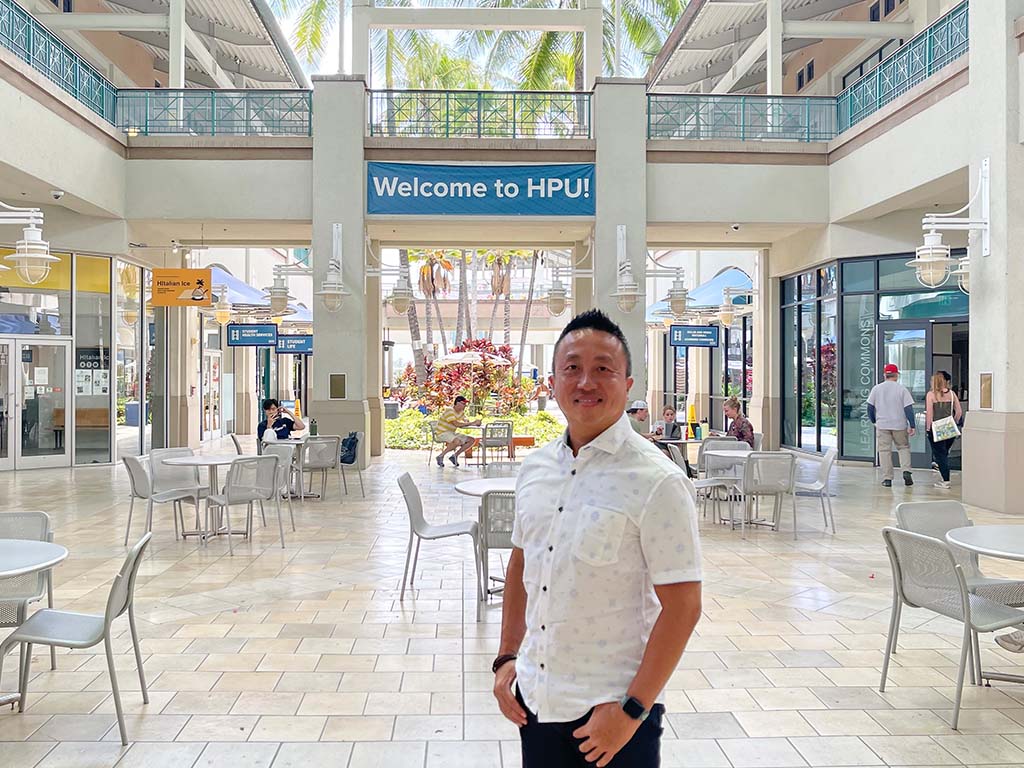 Warren Woon at Aloha Tower Marketplace..
Students who attend HPU have countless options to engage in experiential-learning opportunities while studying at the university. Recently, HPU and Spain-based Telanto partnered to offer students opportunities in worldwide experiential learning. HPU alumnus Warren Woon graduated with a BScBA in travel industry management and an MBA. He is the co-founder and CEO of Xctuality, a virtual-experiential tech start-up based in Singapore.
"HPU helped me tremendously," said Woon. "At HPU, I learned how to plan and gather the resources needed to run an operation and business. I learned how to put in the hard work to get tasks started and the critical communication required to motivate team members every step of the way."
Woon was born and raised in Singapore. He attended Tampines Junior College and served in the Singapore Armed Forces for two-and-a-half years. His parents are both accountants, and his younger sister is a classical musician in Singapore. Woon grew up in an environment where education is vital for a successful career. Singapore is regularly ranked as having one of the best public educational systems in the world, where students are taught at least two foreign languages (including English, the official language), and over 50 percent of the population goes on to earn a post-secondary degree.
"My parents were both fair, strict, and understanding," said Woon. "They gave me the opportunity to study overseas in Hawai'i. They supported me every step of the way while I chased my dreams. My dad suggested that I study travel industry management, especially since tourism was a growing and important industry in Singapore. Hawai'i is a premier vacation destination so it's naturally one of the best places to be immersed in travel industry management studies."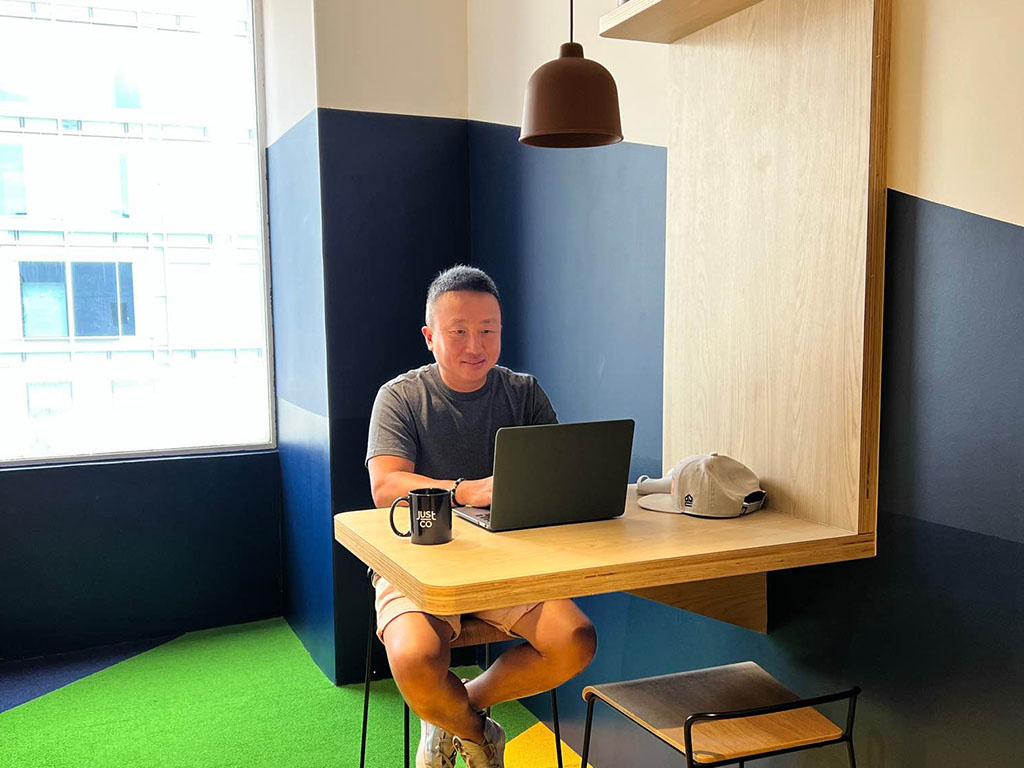 CEO of Xctuality Warren Woon in Singapore..
Woon choose HPU because he was seeking the continuation to the strong educational background he received in Singapore; and he was also looking for an international university with a diverse student body.
"It was an easy decision to choose HPU," said Woon. "I applied to University of Hawai'i and HPU at the same time, and HPU responded first. Professor Wendy Lam was the dean of travel industry management at the time, and she contacted me to do an interview in Singapore during her visit to the city. I was amazed at how personal the entire process was.
"Professor Lam was always pleasant and inspirational. She always had a positive response to our many challenges during classwork and planning processes, and she gave a lot of latitude to do our work, and more importantly, to not worry about making mistakes."
Woon graduated from HPU with his MBA and BScBA in 2001. He moved back to Singapore and hit the ground running, working in finance, as a business consultant, and eventually co-founding his own company in 2020 called Xctuality. He also introduced motorized surfing in Singapore in 2014.
Xctuality's mission is to develop the next evolution of social networking that connects people with immersive experiences. Xctuality launched Asia's first interactive 360-degree digital theatre experience, that immerse audiences into an augmented theatrical experience, from the moment a person enters the 360-degree environment, to the interactive elements like live messaging, performances, and virtual gameplay. A recent product that Xctuality launched was Xctualyfe, a metaverse as a service platform that will enable creators and brands to accelerate into the metaverse. 
"Looking back, my time at HPU provided a real, hands-on, personalized education that was critical in my formative years," said Woon. "The diverse and international environment that the university provides cannot be replicated anywhere in the world. HPU showed me that anyway was possible. By trying, taking that first step."