Serving Hawai'i's Kūpuna One Meal at a Time
Category: Spotlights
October 15, 2021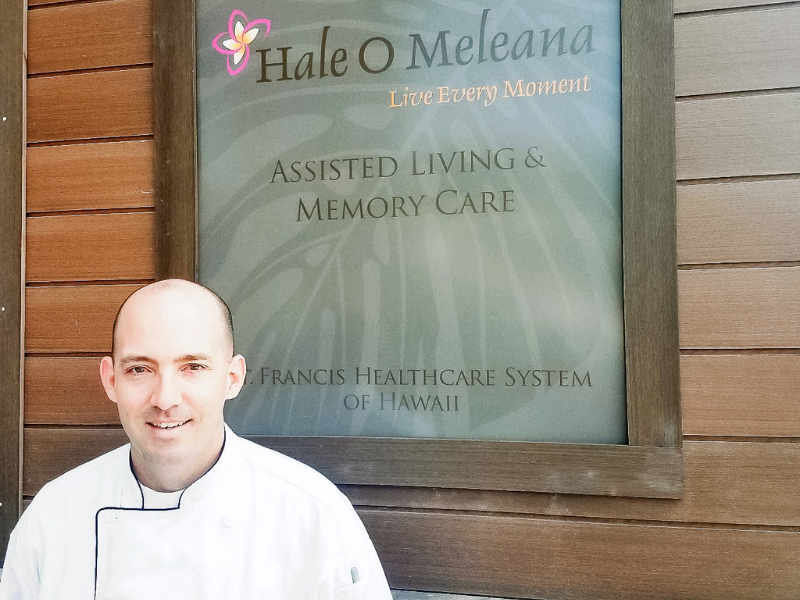 For over 20 years, Courtney Barry has been involved in nearly every facet of the hospitality industry. He's held positions with Hilton Hawaiian Village, Outrigger Canoe Club, Hy's Steak House, and Whole Foods Market. But his deepest passion lies in preparing meals for Hawai'i's kūpuna. 
"To work in senior living is where my heart is," said Courtney. "I remember spending summers in Chicago with my grandparents. And really, that's where my passion comes from when caring for our seniors with dementia and Alzheimer's. My grandmother had dementia, so it's become my drive to ensure our kūpuna have nutritious meals every day."
Courtney was born and raised on Oahu. He graduated from Kaiser High School in Hawai'i Kai and knew early on he wanted to become a professional chef. Courtney enrolled to earn his associate degree at the esteemed Kapi'olani  Culinary Arts Program, and in 2005, he graduated from HPU with a bachelor's degree in entrepreneurial business administration.
"I chose HPU because of the opportunity to study business with great access to international students and teachers," said Courtney. "I was taught a global perspective on cultures and how other parts of the world do business and communicate. My favorite part was when we built a full business plan and managed that plan from beginning to end. Speaking with students and professors about my plan, really getting to see what it's like to operate a business in Hawai'i was fantastic. I have awesome memories at HPU."
Courtney is currently the Culinary Service Director at Hale O Meleana with Ohana Pacific Health. Previously, he was Food Service Director at The Plaza Punchbowl Assisted Living; and when in Texas, his previous experience included Food Service Director, Executive Chef, Dining Services Director, and  Corporate Culinary Services Support. He met his wife Evelyn in Honolulu, and later they moved to Texas to be closer to their daughter and grandchildren. After six years in Texas, Courtney and Evelyn moved back to Honolulu to be with family in Hawai'i, and whenever possible, they visit their grandchildren in Texas.  
"My advice to high school students who are considering universities is really think about what you're interested in learning and what will guide you in life and your career," said Courtney. "Think big! Go for your aspirations. HPU has many different paths and programs. Take advantage of the many possibilities at HPU. You'll meet and befriend many people from around the world."
To learn more about HPU's College of Business and the undergraduate and graduate degree programs at the university click here.