Visiting Semester at HPU
Hawai'i Pacific University is the state's largest private, non-profit university with a student population from all 50 states and over 65 countries from around the world. HPU prides itself on small class sizes, personalized attention for students, and a diverse faculty and student population. 
The Visiting Student Program is created for students who want to spend one or two semesters at HPU. Visiting students will be able to enroll in a combination of classes from courses taught in either our undergraduate or graduate level programs. Undergraduate (Bachelor's level) visiting students typically take 12 – 17 credits per semester, and graduate (Master's level) visiting students typically take 9 credits per semester.
HPU admits students on a rolling admissions basis. There are no set deadlines. The recommended deadline for the fall entry term is July 1st. For spring entry term, the recommended deadline is December 1st. Study abroad in one of the most diverse private institutions of higher education in the United States - where warm beaches and relaxing waters anxiously await!
Application Steps
1. Send an online application on www.hpu.edu/apply
For instructions on how to fill out the online visiting student application, click here.
2. Send supporting documents to visiting@hpu.edu.
For a list of supporting documents, click here
Course Lists
Hawai'i Pacific University's course registration is now open for the Spring 2022 semester.

The attached course lists consist of pre-approved course options for the Spring 2022 semester.
Graduate course list / Graduate College of Business course list

Please be aware that course registration is done on a first-come, first-served basis, and is dependent on course and section availability.  Contact registrar@hpu.edu with any questions.
Frequently Asked Questions (FAQs)
Our Team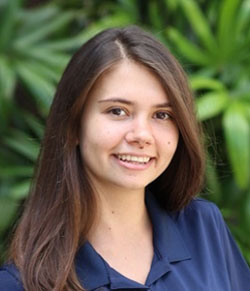 MIHAELA PANAYOTOVA
European Regional Representative.
For questions about the Visiting Student Program, please contact Mihaela at europe@hpu.edu.