Visiting Students
Hawai'i Pacific University is the state's largest private, non-profit university with a student population from all 50 states and over 70 countries from around the world. HPU prides itself on small class sizes, personalized attention for students, and a diverse faculty and student population. 
The Visiting Student Program is created for students who want to spend one or two semesters at HPU. Visiting students will be able to enroll in a combination of classes from courses taught in either our undergraduate or graduate level programs. Undergraduate (Bachelor's level) visiting students typically take 12 – 17 credits per semester, and graduate (Master's level) visiting students typically take 9 – 12 credits per semester.
HPU admits students on a rolling admissions basis. There are no set deadlines. The recommended deadline for the fall entry term is July 1st. For spring entry term, the recommended deadline is December 1st. Study abroad in one of the most diverse private institutions of higher education in the United States - where warm beaches and relaxing waters anxiously await!
Registration
Visiting students do not register for classes themselves on MyHPU. Visiting students are block-registered meaning the Academic Advising Office will register visiting students for the courses manually, once the Course Request Form has been submitted.
UNDERGRADUATES
GRADUATES
To see which courses are available for the Fall 2021 term, click here.
To see the Online Course Search, please

 

click here

To see Course Syllabi, 

click here
Frequently Asked Questions (FAQs)
Can visiting students work on campus? Is volunteering permitted on a visiting (F-1) student visa?
Visiting students can work on-campus on a part-time basis, but it is recommended to reach out to the Office of International Students & Scholars for more information on the regulations involved. Volunteering is permitted, as long as it is unpaid, without monetary compensation.
Can international students open a bank account in the U.S.?
International students are able to open bank accounts in the U.S. Please be sure to check with the bank in regards to the required documents prior to initiating the application process. Services provided by U.S. banks are similar to those in other countries, but the terms used may differ from international banking institutions in your home country. One of the most common confusions are the difference between a savings and a checking account. Bank services and costs vary considerably.
Click here to read more Frequently Asked Questions (FAQs).
Our Team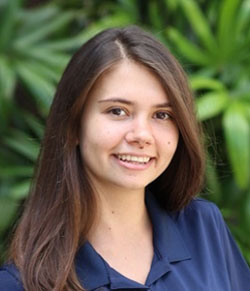 MIHAELA PANAYOTOVA
European Regional Representative.
For questions about the Visiting Student Program, please contact Mihaela at europe@hpu.edu.