Share Your Shaka
#shareyourshaka FEED
To show the aloha spirit while we are practicing social distancing, the HPU brand channels are launching a social media campaign with the hashtag #ShareYourShaka. The contest is open to current HPU students - but we hope all HPU 'ohana will spread aloha with the hashtag.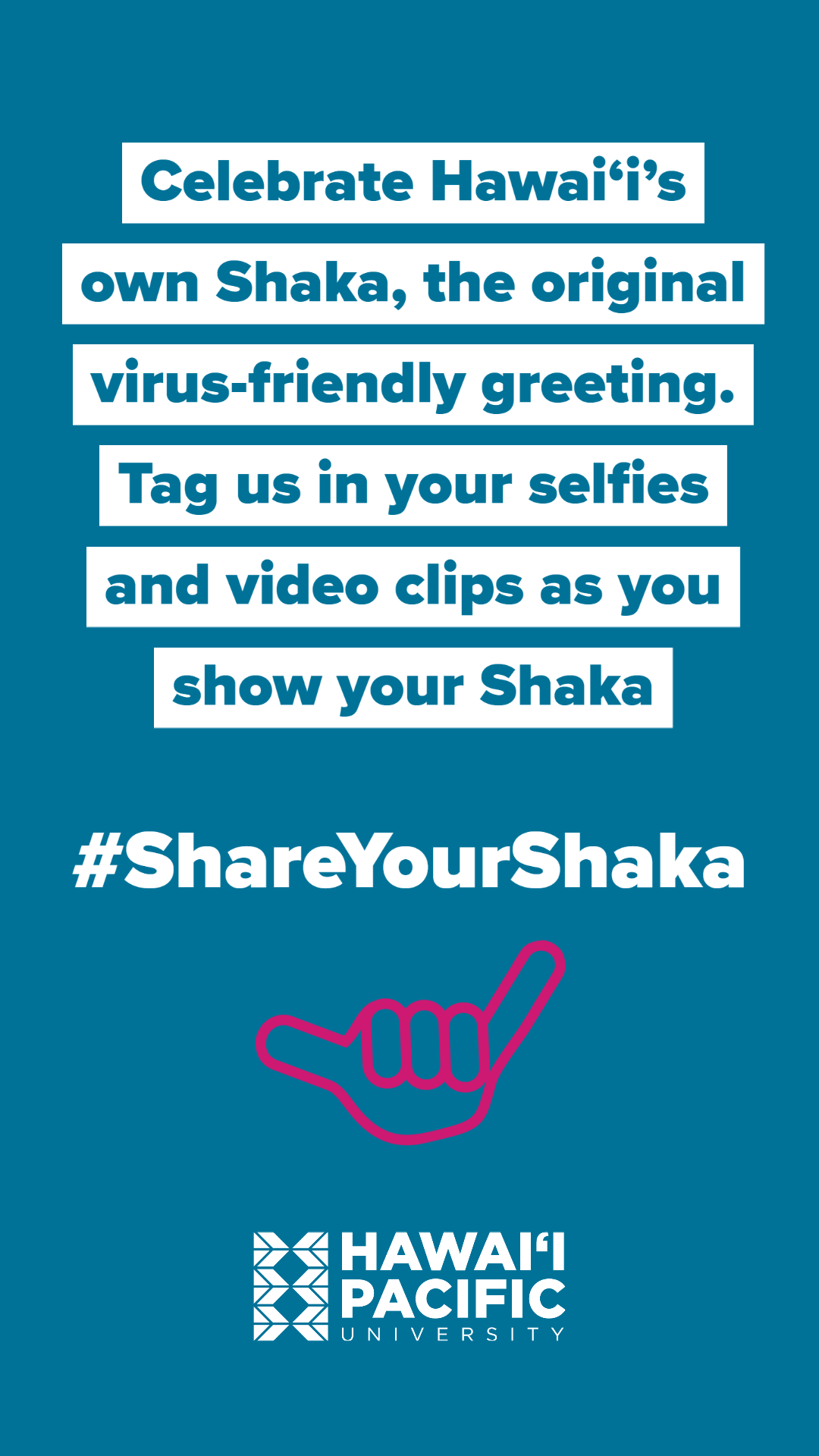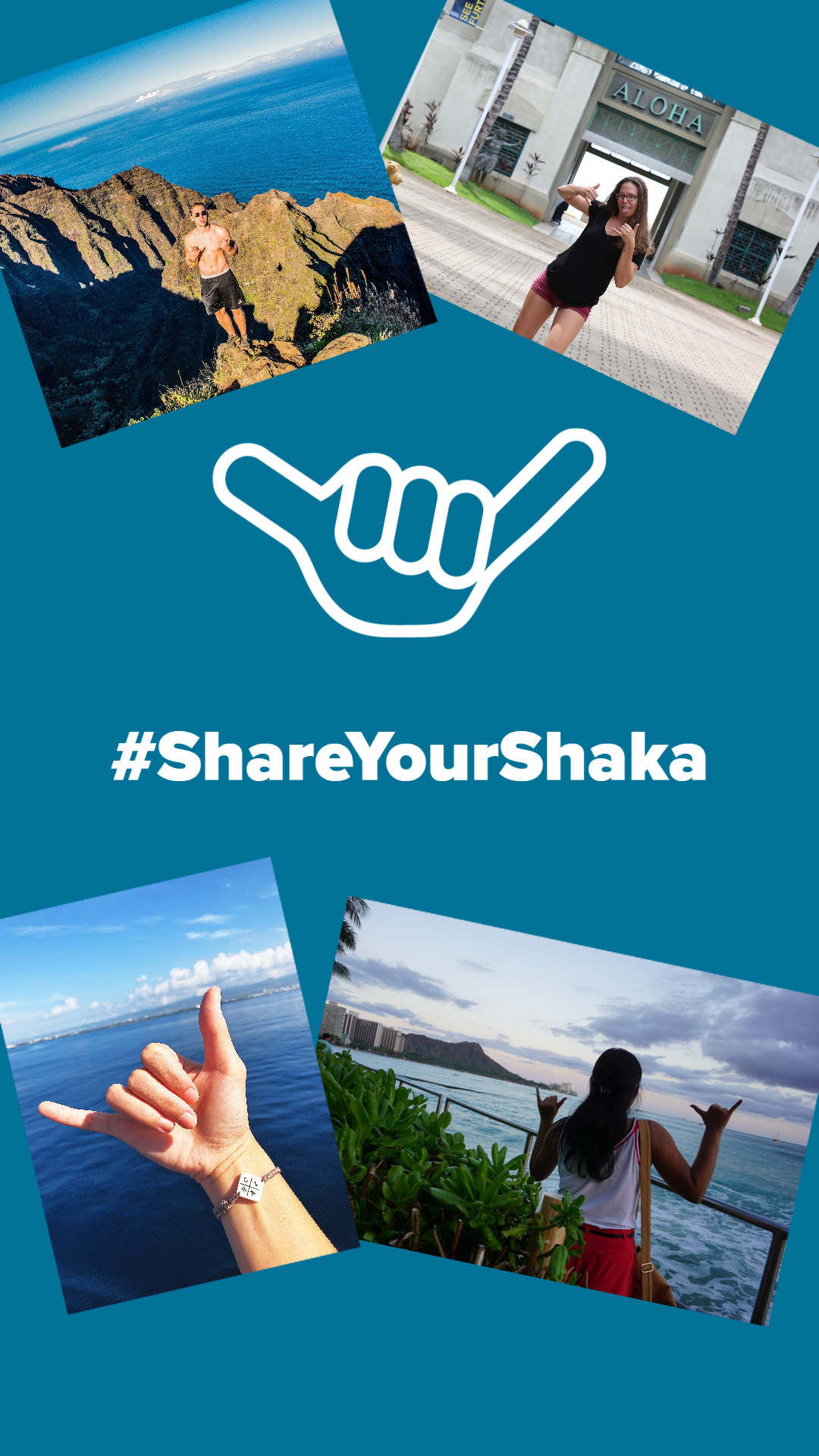 How you can participate.
Take photos of yourself, your friends and other HPU students showing your shaka in your dorm rooms, while you are participating in your online classes, or even screenshots of face-timing a friend. Feel free to get creative!

Then spread the word by sharing a photo or video on Instagram, Facebook, or Twitter with the hashtag #shareyourshaka

Watch the #shareyourshaka community grow and encourage your friends to participate. 
Why participate?
Prospective Students, Current Students, Alumni, Faculty & Staff: Because you will help unite the HPU 'ohana. 

Current students: You will be entered to win a DJI Osmo Pocket video camera, gift cards, swag, and more!
Tell me more. 
The contest ends April 18, 2020 at midnight HST.

To enter the contest, post to Instagram, Facebook, or Twitter as a post with the hashtag #shareyourshaka

Post lots, but keep in mind, extra posts do not mean an extra chance of winning. Each student will be entered once. We want everyone to have an equal chance of winning. 
Winners will be drawn at random and announced on social media by April 23, 2020. Only current HPU students are eligible to win prizes.

If you have questions, reach out to ucomm@hpu.edu
The Fine Print Details
The contest is open to current students. To enter to win, post a photo or video showcasing how you "Share Your Shaka" and upload your photo or video to Facebook, Twitter, or Instagram using the hashtag #ShareYourShaka by April 18, 2020, midnight HST. Please ensure your profile is public.
HPU photo campaigns are open to all HPU students. By submitting a photo for consideration, the entrant certifies that the photo is their original work and does not violate any laws.
HPU reserves the right to reject any entry at its discretion if it is deemed inappropriate, or endorses illegal or questionable activities. HPU values the safety of our students, paramount to anything else and does not condone dangerous activity that may be harmful to the entrant or others. Any such submissions will not be reviewed for consideration of any prizes.
By submitting a photo, the entrant acknowledges and agrees that their work may be shared via HPU's main Facebook, Twitter, and Instagram channels, website, or via other HPU communications, including electronic and written and other means.
The entrant understands that there will be no financial compensation for their submission or HPU's use of their work, other than the available prizes listed above which shall be awarded as set forth below. By submitting any work or materials, the entrant is authorizing HPU to repost and share their content, if so selected, with the understanding that content will be attributed to the person that submitted the work or materials.
If a prize is offered, HPU will contact the person who submitted the winning work via direct message on Facebook, Twitter, or Instagram. Winner must supply their mailing address for receipt of the prize within two weeks of notification. Questions can be directed to HPU's Communications and Marketing Office (ucomm@hpu.edu).
All winners are responsible for complying with applicable law regarding income tax reporting for all prizes. The value of any prize may be reported to the IRS as required by law.

Prizes with a value of $75 or more AND any gift card or gift certificate prizes with an express cash value will be included in income and reported on the employee's Form W-2 for the year, where applicable.