The Edward and Virginia Klein Scholarship for International Students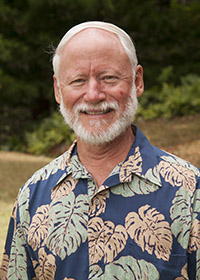 HPU enjoys a reputation for its diverse, international student body and commitment to global education. Dr. Edward Klein—known to generations of students, faculty, and staff as Ed—played a key role in building this reputation with his tireless efforts on behalf of international students at HPU for over 40 years, from the first arrivals in 1973—soon after the University was founded—until his retirement in 2017. Today, his students are successful HPU alumni, particularly language teachers, all over the world. This scholarship would recognizes his legacy and perpetuates his lifelong work. It would be HPU's first endowed scholarship  designated for international students.
Ed has been a student of language and mentor to language learners and teachers all of his adult life.  However,  as a young man, he:
* trained for a career as a French teacher
* became disillusioned by the time he graduated in 1966
* attempted to shift direction by joining the Peace Corps
* was sent with the first cohort of volunteers to Korea, and
* was assigned (ironically) to teach English
Although he was on a new continent, learning a new language, coping in a new culture, and wrestling with the usual new teacher challenges, his experiences in Korea were, overall, extremely positive and set him on a path toward graduate school and his future career.  In 1973, Ed was hired to teach a developmental writing course called COM 90 at HPU. At the time, he was still a graduate student, but by 1998, he had:
* completed his Ph.D. in linguistics
* managed phenomenal growth in HPU's international student population
* hired and mentored many English language teachers, and
* spearheaded the launch of HPU's BA, Certificate, and MA programs in TESOL
Volunteerism and language study are central to Ed's personal as well as his professional life. He:
* is an avid hiker and gardener
* has studied both Hawaiian and Latin names for many indigenous and invasive species
* shares his knowledge of the environment with student groups of all ages
* is a lector and cantor in his church, musically comfortable in Hawaiian and Latin
* had the privilege of singing in Flemish during the canonization of St. Damien in Rome
Ed and his wife Virginia (Ginny) reside in Kailua, O'ahu. They have four children and seven grandchildren.