Jo Wakayama MSN, APRN, FNP-BC
School of Nursing - Department of Nursing
FNP Program Coordinator and Lecturer
Education:
Family Nurse Practitioner, Nursing, University of California at San Diego
M.S.N., Nursing, San Diego State University
B.S.N., Nursing, Hawaii Pacific University


Areas of expertise: Advanced practice, medical-surgical, emergency, intensive care, & community nursing


Professional Interest: Innovations in nursing education; smoking cessation training for nurses; nursing/first-aid at community events


Personal Interests/BIOGRAPHY: Grew up in San Diego, lived in Hawaii 40+ years. Have been a nurse since 1978, working in a variety of areas/expertise. Blessed to be in this profession.
I enjoy cultural diversity in food, customs, language, etc. Love to travel when time permits. All about being open-minded, learning every day, and paying kindness forward.  Pets/animals are a necessary part of life, but not to eat. Ocean & exercise keep me healthy.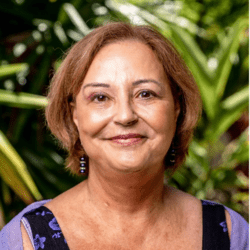 Lecturer
MSN, APRN, FNP-BC
  Send email
  808-236-7923
  WP 1-429