Michelle Alarcon J.D., M.B.A.
College of Business - Department of Business
Associate Professor of Management
GRADUATE:
Loyola Law School
Pepperdine University
Biography:
Michelle has a Bachelor of Science degree in Mathematics, MBA from Pepperdine University and Juris Doctor degree from Loyola Law School, Los Angeles, with concentration in employment and immigration law. She is a licensed attorney in the State of Hawaii and comes to HPU with over 12 years of solid business management and operations background in senior executive positions for large for-profit, private and public companies based in Los Angeles, California. She also has over 8 years of management consulting in Hawaii.
 
Michelle Alarcon served as an Executive Officer and Senior Vice President of Human Resources for ARV, Inc., a publicly traded company operating in 30 states and over 40 properties. Prior to ARV, she served as Vice-President of HR and Organizational Development for Pallotta Teamworks, the largest fundraising organization in the U.S. operating in 20 states.
Michelle worked in senior HR management positions for major Hollywood and hospitality organizations based in Beverly Hills, California, including Metro-Goldwyn-Mayer and Pathe Communications Corp. where she headed the H.R. Department for this parent company and its multiple subsidiaries, Canon Pictures, Pathe Films, Pathe International, Renta Corp., Interfly, and Roma Trastevere. Pathe eventually acquired Metro-Goldwyn-Mayer. Thereafter, she served as Director and senior executive of HR for Imperial Hotels Corp., one of MGM's major subsidiaries with over 10,000 employees nationwide.
 
Michelle also consulted for 20th Century Fox where she helped establish SESLA, Fox, Inc, its first division in Miami, Florida, in collaboration with British Broadcasting Company executives.
 
Michelle also taught for other universities including Chapman University, Cornell University online division, and Concord Law School.
---
Teaching Interests
Employment and Labor Law
Business Law and Ethics / Advanced Business Law
National Origin Discrimination
Employee Rights in the U.S. / Hawaii
Human Resource Management: Basic/ Advanced/ International
Workers' Compensation and Safety Programs
Services
MBA Director, Spring 2010 - Fall 2012
Program Chair of Management, 2007-2008
Program Review Chair, MBA, Spring 2010 -
Program Review Chair: Management Program Review, present 2005-2010 cycle
Chair, 2005-2006, University Planning Committee
Program Chair, 2003-2004, HPU Weekend MBA
Lead, Program Review: Human Resource Management
Member: Human Resource Development Review Committee
Advisor, SHRM-Lokahi HPU RIO student association
Guest speaker - Filipino Chamber of Commerce
Keynote speaker - Philippine INCAT association
Presentations & Publications
Deceptive Practices,  The Clute Institue Conference, London, England, 2015
Regulation Of Advertising Practices To Eradicate Psychological Conditioning, The Clute Institue Conference, Munich, Germany, 2014
Residents Perception Of The Development On The North Shore Of Oahu, APTA, Ho Chi Minh, Vietnam 2014
HRM Ethics: Strong Culture or Scular Business Cult? The Darkside of a Strong Organizational Culture, CASA, NY, USA, 2012
Child Pornography on the Internet, IBP Law Journal
Contributing guest writer, AICPA and Pacific Business News
Contributing guest writer, Honolulu Star Bulletin, 2002 to 2004
Columnist: The Employment Scene, Lifestyle Magazine, LA, 2001
Personal
Michelle Alarcon Serves as Judge at Loyola's 2009 Moot Court Competition for High Schools in Hawaii
Michelle has recieved the "Best Paper" Award for her two-part publication, "Framework For Change In The Federal Trade Commission Act, Section 5", as well.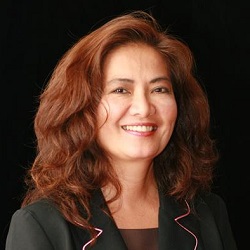 Associate Professor
J.D., M.B.A.
  Send email
  (808) 687-7049
  Downtown Campus, PL 10