Chelsie Counsell PH.D.
College of Natural and Computational Sciences - Department of Natural Science
ASSISTANT PROFESSOR OF MARINE SCIENCE
EDUCATION
Post-doctoral Fellowship, Hawai'i Institute of Marine Biology 
Ph.D. Marine Biology, University of Hawai'i at Mānoa 
M.S. Ecology & Evolution, Florida State University 
B.S. Biology with Chemistry Minor, Elon University  
COURSES TAUGHT
MARS 4050 Marine Ecology 
MARS 4120 Coral Reef Ecology & Conservation 
MARS 4910 Research Seminar in Marine Biology 
MARS 4911 Research Experience in Marine Biology 
MARS 4930 Research Seminar in Oceanography 
MARS 4931 Research Experience in Oceanography 
MARS 6120 Coral Reef Ecology & Conservation 
MARS 6300 Multivariate Applications in Marine Science 
TEACHING INTERESTS/RESEARCH
Research:
Dr. Counsell is a quantitative marine ecologist. Her research investigates how environmental and anthropogenic parameters impact the structure of coral reef communities. As part of this work, she conducts spatially and temporally extensive field surveys of nearshore coral reef communities to evaluate patterns in species composition relative to environmental conditions. Dr. Counsell also utilizes in situ and mesocosm experiments to directly study specific dynamics within coral reef communities.  
In addition to her field research, Dr. Counsell has worked closely with monitoring agencies across the state of Hawai'i to provide state managers with data-based evidence of how habitat characteristics, oceanographic dynamics, and human inputs impact reef ecosystem health across the main Hawaiian Islands. 
Teaching:
Dr. Counsell's approach to teaching emphasizes experiential learning and authentic assignments that reflect the types of output expected from professional marine scientists. Her primary teaching goal is to help students scientifically explore the marine environment, while fostering a sense of wonder for marine life and building transferable career skills.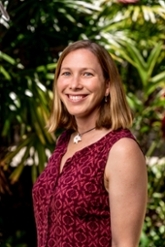 Assistant Professor
PH.D.
  Send email
  (808) 544-0865
  Hawaii Loa Campus, AC 240