Hanh Thi Nguyen, PH.D.
College of Liberal Arts - Department of English and Applied Linguistics
Professor
GRADUATE:
University of Wisconsin-Madison
UNDERGRADUATE:
University of Hue, Vietnam   
EDUCATION:
Ph.D. in English Language and Linguistics, University of Wisconsin-Madison; M.A. in Applied Linguistics, University of Wisconsin-Madison; B.A. in English and TEFL, University of Hue, Vietnam
RESEARCH AND TEACHING INTERESTS:
The development of interactional competence
Conversation analysis, discourse analysis, pragmatics
Classroom interaction, interaction at the workplace
Learner identity
Vietnamese applied linguistics
Second language acquisition
Computer-assisted language learning
Corpus linguistics
Language assessment  
Dr. Hanh Nguyen, Professor of Applied Linguistics, is the author of Developing Interactional Competence: A Conversation Analytic Study of Patient Consultations in Pharmacy (2012, Palgrave-MacMillan). She is the co-editor of Conversation Analytic Perspectives on English Language Learning, Teaching and Testing in Global Contexts (2019, Multilingual Matters), Talk-in-Interaction: Multilingual Perspectives (2009, University of Hawaii Press) and Pragmatics & Language Learning, Vol. 12 (2010, University of Hawaii Press). Her articles appear in several edited volumes and journals such as Applied Linguistics, Text and Talk, Journal of Pragmatics, The Modern Language Journal, The Canadian Modern Language Review, Language and Education, Classroom Discourse, Learning, Culture and Social Interaction, JALT, and Communication and Medicine.
At HPU, Dr. Nguyen teaches AL 6320 Language and Society/AL 3320 Sociolinguistics, AL 6140 Discourse Analysis for Language Teachers/AL 3140 Introduction to Discourse Analysis, AL 6150 Using Corpora in the Language Classroom/ AL 3150 Introduction to Using Corpora, AL 6740 Research in Computer-Assisted Language Learning/AL 3740 Technology and Language Teaching, AL 6710 Second Language Listening and Speaking/AL 4710 Teaching Listening and Speaking Skills, and AL 6730 Assessment in TESOL, among other courses. Her goal is to help students become language teachers who not only can teach effectively but also are reflective of the teaching and learning processes.
 See more at Hanh Nguyen's website.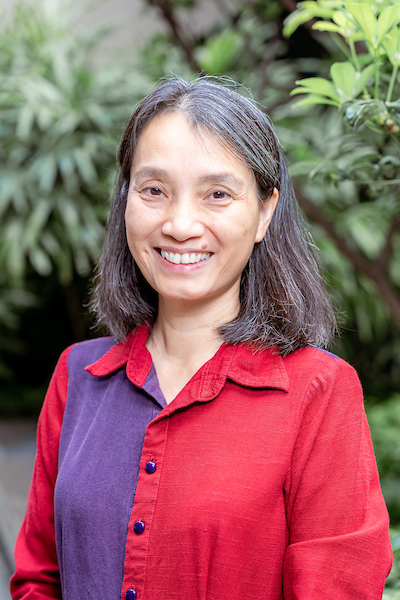 Professor
PH.D.
  Send email
  (808) 687-7050
  500 Ala Moana Blvd. WP 5-360-M