Alec Schumacker DMA
College of Liberal Arts - Department of Arts, Humanities, and Languages
Director of Choral Activities
Assistant Professor of Music
Alec Schumacker is the Director of Choral Activities at Hawai'i Pacific University where he conducts the International Vocal Ensemble and the International Chorale. He presently serves as the president of the Hawai'i Chapter of the American Choral Directors Association. He completed his DMA in Choral Conducting at the University of Miami, where he studied with Joshua Habermann and Karen Kennedy. His master's degree in Choral Conducting is also from the University of Miami. He graduated cum laude with honors in music from Williams College.
An award-winning composer and arranger, Alec's choral music is published by Alliance Music Publications and Earthsongs. His works have been performed around the country by prestigious ensembles such as the Santa Fe Desert Chorale, the New World Symphony, the University of Delaware Chorale, the Frost Chorale, the Voices of Aloha, all-state choruses across the country and even at the NFL's Pro Bowl in 2016.
An active educator and sought-after presenter, Alec delivered lectures at the 2017 National ACDA conference in Minneapolis, the 2016 Asia Kodály Symposium in Taiwan, the 2015 and 2016 Hawai'i ACDA Professional Development Days, and at the 2013 and 2016 HMEA Conferences. He is also the past chair of Nā Leo Hou: Hawai'i's All-State Choral Festival, a festival that brings together several hundred high school students from across Hawai'i for a weekend of mass choral singing with a nationally-renowned clinician. He serves as a national board member of National Collegiate Choral Organization.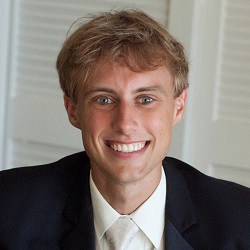 Assistant Professor
DMA
  Send email
  (808) 544-1127
  Aloha Tower Marketplace ATM