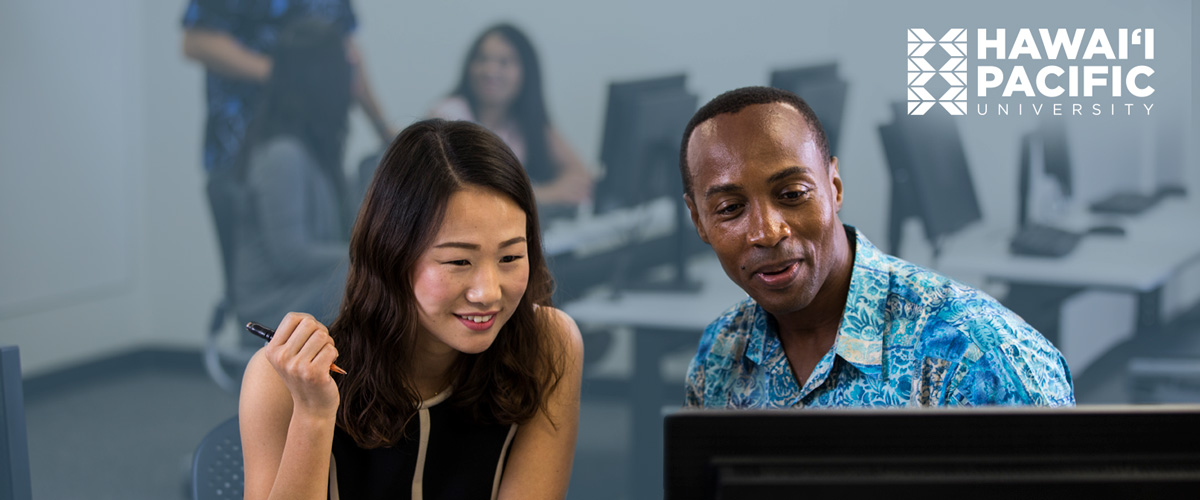 Master of Business Administration (MBA)
What does the HPU MBA degree look like?
Hawai'i's location at the center of the Pacific Rim makes it one of the most dynamic and globally important regions in the world. The HPU College of Business connects students directly to the region through Honolulu, a hub of industry and a key recruiting destination for Fortune 500 companies. HPU's faculty come to us from countries across the world and are educated at top-rated universities in their countries.
Students who complete the Master of Business Administration meet these program learning outcomes:
Engage in problem-based learning in each course
Use effective teamwork skills
Produce persuasive oral and written communication to business audiences
Develop solutions to problems using business principles
The HPU MBA is a 32-credit program. This schedule runs fall, spring, and summer terms. 
Complete your degree in two ways
MBA Accelerated
Our MBA Accelerated program is a 32-credit program, with flexible course options offered in accelerated 8-week terms. Students can mix and match based on interests or work schedules.
MBA+ 
Our MBA+ program allows you to add an HPU Graduate Certificate to get a deep dive in an area of emphasis. After completing your first semester, specialize your degree in courses ranging from Business Analytics to Nonprofit Management.
Diversity at HPU
More MBA Resources
Individuals wishing to apply to the MBA program at HPU are required to submit the following:

Graduate Admissions Requirements
Application

Final Official Transcripts showing conferred Bachelor's Degree, Master's if applicable

Personal Statement of Purpose
Resume 
Application Fee


International Applicants:  the minimum English Proficiency Requirements for the MBA program is a TOEFL (IBT) overall score of 80 with a writing Score of 25, or IELTS overall score of 6.0 with a Writing Score of 6.5.  See here for additional requirements for International students.

The bottom line at Hawaii Pacific University's College of Business is the successful outcomes for its students. We understand the importance of balancing family, career and your education, and are dedicated to providing a flexible course of study for our graduate students, with:
Program study that is only 10 (three-credit) courses and just 2 courses per term can be completed in 16-20 months. We have face-to-face and online courses available and you can take just one course per term.
Students are required to participate in two (one-credit, zero tuition) courses that each require the completion of a Coursera Career Academy Certificate.s
HPU provides an affordable MBA in convenient and centrally located downtown Honolulu, and with our business partnerships throughout the state, you may be eligible for a discounted tuition. Here's a list of some of our business partners: https://www.hpu.edu/partnerships
Ricardo Losada Revol, '02
VP, Corporate Finance
World Fuel Services, Miami, Florida
Applying and earning an advanced degree will help you to differentiate among your peers. Earning an MBA at HPU will certainly be a life experience that will shape your business skills and expand your view of the world. I still remember all my professors and the meaningful discussions that we had with my classmates. The professors encouraged every student to participate and, given the multicultural environment, it was always fascinating to hear the different points of view. Honolulu is a very cosmopolitan city that allowed me to interact with people from different cultures, and HPU represents the same diversity. This was very appealing and helped me to develop a global-citizen mindset that hopefully any student can achieve, either online or in person.
I had three years of working experience when I went to graduate school. The MBA was useful in several ways: 1) It helped me to do a career transition from operations as an engineer to a career in business and finance. 2) It provided me with the right tools to analyze with a different perspective the challenges that I had to face when I was working. 3) This, combined with the case analysis approach during the MBA, creates a learning experience that you will take with you anywhere you go.
You will study alongside veteran colleagues in the College of Business at HPU, which is ranked 41st in the Military Times' Best for Vets: Business Schools, and the only Hawai'i school to make the list.
From our home base in downtown Honolulu, we bring HPU to you, anywhere in the world, with our online MBA.
Make the most of our compact, 8-week courses. Interact with our excellent faculty and get to know your fellow students as you come together at HPU, ranked Best Online University in Hawai'i and among the tops in the U.S. (guidetoonlineschools.com)
If you're a veteran, take advantage of our online/on-base hybrid program on O'ahu that lets you take full advantage of your GI benefits.
Questions? Contact Jasmine Kauhane, Assistant Director of Graduate Admission, 808-544-0232 jkauhane@hpu.edu
Erik Burian '13
Submarine Tactical Greybeard
Naval Submarine Training Command Pacific
The world runs on business, finance, and economics. Without an understanding of these principles, even someone leaving the military is going to be limited in their ability to step into the professional world and operate credibly. My bottom line had always been operational readiness and tactical proficiency, and although I certainly had some significant financial responsibilities commanding a $2 billion submarine, I had no practical experience running a business. What I found in the HPU MBA program was a curriculum that accurately matched what I lacked in my own resume, in a format that allowed me to work full time as a Navy Captain and attend classes in person and virtually. I completed the degree over two years, during which I lived in Oahu, D.C., and Seattle. The latter half of the degree I completed entirely online, and several of the classes were created and scheduled exclusively for me so that I could complete a concentration and certificate in Organizational Change and Development. I cannot imagine a job where some element of an MBA doesn't immediately apply. Be a committed life-long learner. Use that tuition assistance (TA) to make good on the military's promise to pay for your education. You never know where an opportunity or connection will lead.
Lauren Matsumoto,
'15 valedictorian MBA
Earning an MBA from Hawai'i Pacific University is so much more than a degree, whether you're from the Mainland, Hawai'i, or anywhere else in the world. It provided me the opportunity to learn alongside students from over 60 countries with an array of culturally diverse backgrounds, which enriched all of my classes. For the in-person program, the campus is located in the heart of downtown Honolulu where something as simple as an elevator ride could mean connecting with C-suite executives from your dream company. These same advantages come through in the online degree, as well, as you will immediately become plugged into a network that's centered in the heart of the Pacific's extended business community. I cannot speak highly enough about the relationships I established with HPU's knowledgeable professors who integrated practical life applications in all their teachings. My HPU MBA broadened my horizons and has given me the unique skills and perspectives to be an effective legislator serving the people of Hawai'i.
Frank Piao, '02
Chief Executive Officer, Co-founder
Changhe Stem Cell Co., Ltd.
Shanghai City, China
My experience of studying and living in Hawai'i was a preview of my business partnership with more than 20 countries. Hawai'i Pacific University not only has unique advantages in geographic location but also embodies the American values and the model of American melting pot in culture. My MBA program at HPU opened my eyes to Western perspectives, enabling me to graft on to my Chinese roots American values and ideals. I became a true "bridge person," one whose life and education spans two cultures yet unites them in my person and commitment to globalization, cross-cultural understanding and service to the larger community. The world is changing rapidly, if you cannot change and upgrade yourself, then you will be obsolete. There is no end to learning and there is no time node to acquire higher education. The most effective starting point when one is eager to change is to return to campus and continue higher education. After accumulating some practical experience in real-world society, people have the qualification and ability to sort out and verify the past decision-making power in MBA courses and deepen the comprehensive quality of entrepreneurs systematically.
Brad Harrison
Senior VP, First Hawaiian Bank 
Honolulu, HI

 
Brad Harrison is the senior vice president of First Hawaiian Bank's wealth management division. He will manage the investment of personal trust account assets. Harrison brings to the position more than 32 years of wealth management experience and joined First Hawaiian Bank in 1991 as an investment officer.