Visual Language
University Logo

Colors Used
Teal Blue
Pantone 7468
C: 100 M: 0 Y: 6 K: 40
R: 0 G: 114 B: 153
#007298
Blue-Gray
Pantone 5405
C: 73 M: 47 Y: 33 K: 7
R: 80 G: 116 B: 138
#50748Aa
The Hawai'i Pacific University LOGO SIGNATURE is collectively defined as the sum of its two parts: the LOGO MARK and the LOGO TYPE. The Hawai'i Pacific University identity reflects the values of the University's dedication to excellence in education and its standing as one of the most globally diverse educational institutions in the United States. Inspired by the meaning "Kōīau Pono Ka 'Ike," or "Knowledge Is within the Flowing Currents," the logo visually represents faculty and students in the two diamond figures in the center of the logo. The HPU values of aloha, pono and kuleana are represented as three horizontal lines evenly spaced across the logo as equally important values running throughout the institution and imparting knowledge and enlightenment. Our location in the Nu'uanu valley is shown as the flowing vertical lines representing the 'auwai or waters of the valley: Waipuilani, Alekoki, and Waikahalulu. The confluence of water, of energy, and of flow that we have here are at the bottom of the valley provides all that is good from the land—grounding us firmly in Hawai'i.
University Logo Variations
Logo Signature
The University logo's primary format


Word Mark
Used when horizontal space is limited


Lock-up with slogan logo
Used primarily for advertising


Lock-up with slogan copy
Used primarily for event programs


University Seal
The University Seal
The seal is used for administrative purposes only – such as diplomas and certificates.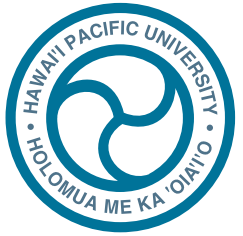 Athletics logo
Inspired by the impact of the Pacific on our culture and lifestyle and by the traditional Hawaiian 'aumakua (family god), the shark symbolizes HPU's focus and purpose, strength and balance. The Athletics Logo demonstrates the university's sense of Hawai'i pride and its place in the Pacific.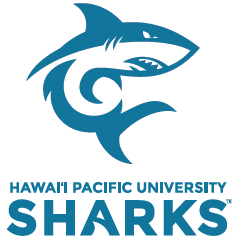 Color Palette
We possess a unique and comprehensive collection of colors for visually expressing our brand. This chart provides a complete list of approved primary and secondary colors, along with each color's specific numeric values.
Print colors (process/CMYK and Pantone/PMS)
On-screen color modes (RGB and Hexidecimal)
For Adobe Swatch Exchange files containing numeric values in CMYK, PMS, and RGB, please contact marcomm@hpu.edu.
Primary Colors
HPU Teal Blue
C: 100 M: 0 Y: 6 K: 40
R: 0 G: 114 B: 153
#007298
HPU Blue-Gray
C: 73 M: 47 Y: 33 K: 7
R: 80 G: 116 B: 138
#50748a
C: 75 M: 100 Y: 11 K: 2
R: 101 G: 43 B: 130
#642b81
C: 100 M: 82 Y: 39 K: 32
R: 20 G: 42 B: 80
#132a4f
C: 17 M: 100 Y: 26 K: 0
R: 205 G: 26 B: 115
#cd1972
C: 75 M: 53 Y: 0 K: 0
R: 76 G: 117 B: 186
#4b74b9
C: 19 M: 0 Y: 85 K: 0
R: 216 G: 225 B: 77
#d7e04c
Typography
Our typography is how we visualize the University's voice. Consistent use is absolutely critical in creating, maintaining, and expanding our brand's impact, relevance, and reach.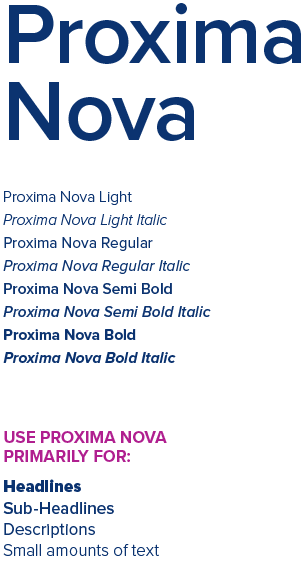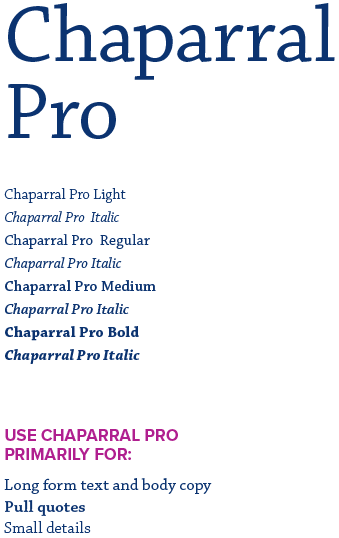 Tagline Lock-up
Despite its succinctness, our tagline goes a long way in communicating the HPU experience. Our lock-up takes it even further, but only when it is treated with the utmost respect.