Residential Honors
The HPU Honors program is designed to help exceptionally capable and motivated students get the most out of their college experience. Through a rich program of challenging coursework, meaningful research, creative endeavors, and study abroad and at home opportunities, the program gives students the tools and resources to excel intellectually and academically. 
Message from the Director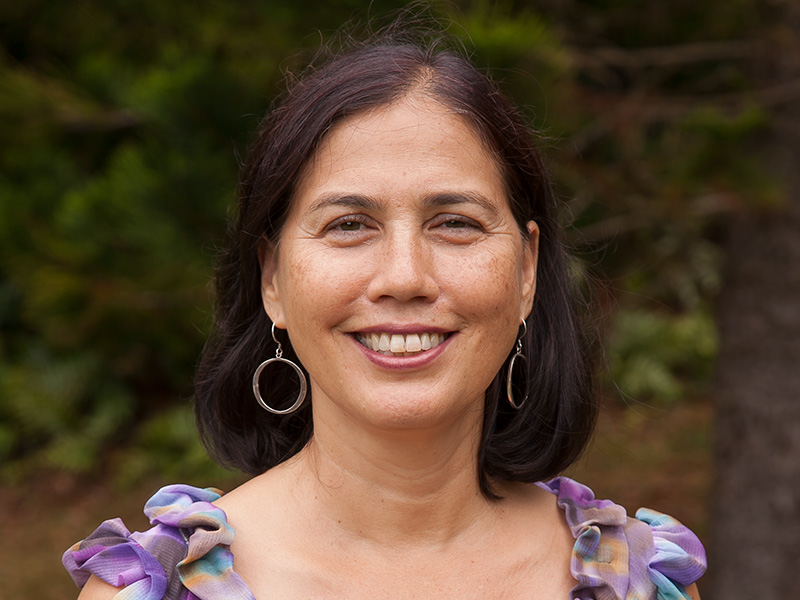 Now more than ever, true success depends on sustainability. The Residential Honors Program at Hawai'i Pacific University develops students' ability to live sustainable lives and create sustainable solutions. The UN World Commission on Environment and Development defined "sustainable development [as] development that meets the needs of the present without compromising the ability of future generations to meet their own needs" (Brundtland, 1987). The Residential Honors Program at Hawai'i Pacific University helps students learn to take an interdisciplinary approach to sustainability that emphasizes resilience in global natural systems, social systems, and human systems. Our curriculum immerses students in natural, social, and computational sciences, the humanities and arts, and professional disciplines such as health sciences, nursing, psychology, and business. All of this takes place in one of the most culturally diverse cities in the United States. Residential Honors students are drawn from all majors across the University but are part of a distinctive living and learning community centered at the historic Aloha Tower Marketplace in the heart of Honolulu. Through its core of small, interdisciplinary seminars, our program encourages students to innovate and address the world's perennial and most pressing issues as members of committed and engaged teams. The program addresses sustainability across the disciplines with a special focus on Hawai'i, the Pacific, and the surrounding region. More than a classroom experience, the honors program incorporates community engagement projects designed to deepen student understanding of the Pacific world. Our outstanding honors faculty offer students individualized mentorship and opportunities for advanced academic and creative research and work alongside other students on projects within their majors and within the honors program. Students in the program are invited to become more than recipients of learning as they become self-directed learners and mentors, and help to build and preserve our exceptional program for future generations. We look forward to working with you in helping to shape our shared future.

Director of Honors Programs,
Linda Lierheimer, Ph.D
Academics
Exclusive Seminar Style Classes

One-on-one Mentoring by Leading Scholars

Small Class Sizes

Interdisciplinary and Team Taught Courses
Priority Registration for All Courses
Experiential Learning
Community connections
Study at Home and Abroad Opportunities
International and Hawai'i Based Internship Opportunities
Global Marketplace Readiness
Community Extra-Curricular Experiences
Competitive Advantage
research
Work With HPU Faculty on Interdisciplinary Projects
One-on-one Mentoring by Distinguished Faculty
Real World Experience Internship Opportunities
celebrate diversity
Multicultural Environment Unique to Hawai'i
HPU is #1 in Diversity
Live and Study at the Crossroads of East Meets West
Living and learning COMMUNITY
Live at Historic Aloha Tower
Residential Learning Community
Hi-Tech Classrooms
interdisciplinary seminars (samples):
"Damn It Jim! I'm a Writer not a Scientist:" Science Fiction or Science Fact?
Sinners and Sociopaths: Understanding Evil
Big Data, Nudges, Gamification and Societal Change
"This Is the End:" The Literature of Environmental, Economic, and Personal End Times
Plastic Fantastic!
LEARN MORE
CURRICULUM
The Honors Program is a 4-year program, constituting 25-29 credits, approximately 20-25% of credits required for a major.  Residential Honors Students do not have to take General Education Requirements (36 credits) unless a General Education class is necessary for their major field of study.  Residential Honors students thus have the opportunity to develop minor fields or a double major
YEAR ONE
HON 1000: FRESHMAN HONORS SEMINAR I: BEGINNING HONORS
Through an investigation of specific topics, the course is designed to orient students to higher-level academic work and to examine the relationship of the life of the mind to the world outside college. All honors students must take this course in the fall of their freshman year.
4 credits.

HON 1100: FRESHMAN HONORS SEMINAR II: EXPLORING HAWAII'I AND THE PACIFIC
Through an interdisciplinary seminar students will deepen their understanding of Hawaii'i and the Pacific region. Emphasisin this course is on direct involvement with the Hawaii'i and Pacific community and environment, experiential learning, and the transfer of theory to problem solving outside of the classroom. All honors students must take this course in the spring of their freshman year.
4 credits.
YEAR TWO
HON 2000: SOPHOMORE HONORS SEMINAR I:
This interdisciplinary seminar is specifically targeted to develop important analytical skills through the practice of quantitative analysis and formal symbolic reasoning. Courses focus on the presentation and evaluation of evidence and argument and the understanding of the use and misuse of data. Topics will vary depending upon instructors. Students take this seminar in the fall of their sophomore year.
4 credits.

HON 2100 AND 2200: SOPHOMORE HONORS SEMINARS II AND III:
These interdisciplinary seminars are taken in the fall and spring semester of the sophomore year. The seminars take skills developed in freshman honors courses and apply them in an interdisciplinary analysis of critical and enduring issues. Students will grapple with important texts and ideas which require careful analysis and reflection. Courses are team taught by faculty from differing disciplines and topics will vary depending upon the instructors.
4 credits.
YEAR THREE
HON 3000: JUNIOR HONORS COLLOQUIUM:
This seminar helps students to build the skills necessary for the successful completion of their senior honors project.
3 credits.
YEAR FOUR
HON 4900 AND 4901: SENIOR HONORS PROJECT:
All Honors students are required to complete a senior honors project. This Honors project may take the form of a thesis, but in all cases the experience will be a mentored research or creative project. The project will span at least 2 academic semesters (HON 4900 and HON 4901) and display a high level of intellectual ability or creativity across at least 2 distinct disciplines. A product of the first semester will be a project proposal, and, as a culminating experience of the second semester, all thesis students will give an oral presentation and lead a discussion of their work at the HPU honors symposium. Students are also encouraged to present their work at other venues such as an honors or undergraduate research conference or a professional conference. Senior honors projects may be completed in the student's major or in the honors program but must contain an interdisciplinary element.
2-6 credits.
The Residential Honors Program is a four-year program.  Applicants must enter HPU as beginning freshman students.  Transfer students cannot be accepted into the program.
Application/REQUIREMENTS:   The application process is an holistic one.  We will look at ACT/SAT scores if they are available as well as high school GPAs but there are no official minimum scores.  We are looking for students, majoring in any discipline, who:
Are creative
Enjoy thinking outside the box
Are entrepreneurial
Want to develop leadership skills
Enjoy a multicultural, diverse environment
Want to be challenged academically
MAINTAINING ACADEMIC GOOD STANDING: Students must:
Have a cumulative GPA of 3.0 by the end of their freshman year at HPU
Maintain a cumulative GPA of 3.4 through their sophomore, junior and senior years
Complete all co- and extra-curricular requirements
First-year residence in the Waterfront Lofts at Aloha Tower Marketplace required for off-island students
Adhere to the Residential Honors Code
Our faculty are drawn from across the HPU community and are leading practictioners in their field.  Each seminar through the sophomore year is team taught by faculty from two differing disciplines.
 Linda Lierheimer, Ph.D., HON 1000
Professor of History and Humanities
Director of Honors Programs
(808) 544-0810. llierheimer@hpu.edu
Charles Boyer, Ph.D., HON 1000
Assistant Professor of Spanish
(808) 544-0834. cboyer@hpu.edu
Adam Burke, Ph.D., HON 2200
Assistant Professor of Anthropology
(808) 544-0815. aburke@hpu.edu
Christopher capaldo, ph.d, HON 1000
Associate Professor of Biology
(808) 236-3589. ccapaldo@hpu.edu
Stewart Crawford, Ph.D., HON 2000
Associate Professor of Computer Science and Engineering
(808) 544-0899. scrawford@hpu.edu
Andrew Dewald, Ph.D., HON 1000
Assistant Professor of Psychology
(808) 544-1473. adewald@hpu.edu
Jerome Feldman, Ph.D., HON 2000
Professor Emeritus of Art History
jfeldman@hpu.edu
Margo Kitts, Ph.D., HON 2100
Professor of Humanities/Religious Studies
(808) 687-7026. mkitts@hpu.edu
teresa mccreary, ph.d, HON 2100
Associate Professor of Music
Director of Performing Arts
(808) 54400887. tmccreary@hpu.edu
Andrea Malji, Ph.D., HON 2100
Assistant Professor of International Studies
(808) 544-0816. amalji@hpu.edu
regina ostergaard-klem, Ph.D., HON 2200
Associate Professor of Environmental Science
(808) 566-2492. rostergaardklem@hpu.edu
Ngoc Phan, Ph.D., HON 3000
Assistant Professor of Political Science
(808) 544-0821. ntphan@hpu.edu
THANK YOU FOR YOUR INTEREST IN THE RESIDENTIAL HONORS PROGRAM.
Consideration for our Residential Honors Program will be provided on a space-available basis to applicants who submit both their admission and Residential Honors Program application. You can expect a response to your application within three weeks of submission
TO APPLY PLEASE VISIT: HONORS APPLICATION
For more information regarding the Residential Honors Program please contact: Linda Lierheimer, Ph.D., Director of Honors Programs, 500 Ala Moana Blvd., WP6-312, Honolulu, HI 96813, 808-544-0810, llierheimer@hpu.edu or honors@hpu.edu.