.
HPU Assistant Professor and Program Chair of Business Analytics and Information Security Ghazwan Hassna, Ph.D., travelled to Minneapolis this year to present at the annual Americas Conference on Information Systems (AMCIS) held on August 10-14.
The AMCIS is one of the leading conferences for presenting the broadest variety of research done by and for IS/IT academicians. Each year at the conference, papers and panel presentations are selected from over 700 submissions through a peer review process; the AMCIS proceedings are in permanent collections of libraries throughout the world.
This year, the AMCIS acknowledged that developments in information processing and communication technologies have occasioned broad changes to organizations, as well as to research and the examination and studies of phenomena in organizations. These changes in the hardware, systems, and information processing have clearly occasioned complex transformations in how businesses operate and create value and require significant changes to the practice of academic research.
Hassna presented his latest research in-progress entitled, Big Data & Analytics in Higher Education: Value Focused Thinking Approach.
"During the last decade, Big Data & Analytics (BD&A) has demonstrated great potential in helping business organizations to improve their operations and customer experiences, deliver better products and services, and make breakthrough discoveries," said Hassna.
Given its business transformative potential Hassna demonstrated how several universities across the world realized the need to integrate BD&A education into their curriculum and programs. He highlighted how universities in the U.S., for example, started offering courses and degrees with a focus on providing prospective students with the required skills for the new data-driven economy.
Hassna explained that while the adoption rate of BD&A education has increased significantly by universities worldwide (especially in business schools), it is not the case for the real adoption and utilization of BD&A to improve the core business functions and operating models of many higher education institutions. Hassna stated that many universities are now teaching their students how to utilize BD&A to transform business functions, but only very few are tapping into their potential to improve their own business and operating models. He stressed that universities should not only teach BD&A, but they should go beyond that into utilizing their potential to transform their own business functions and processes.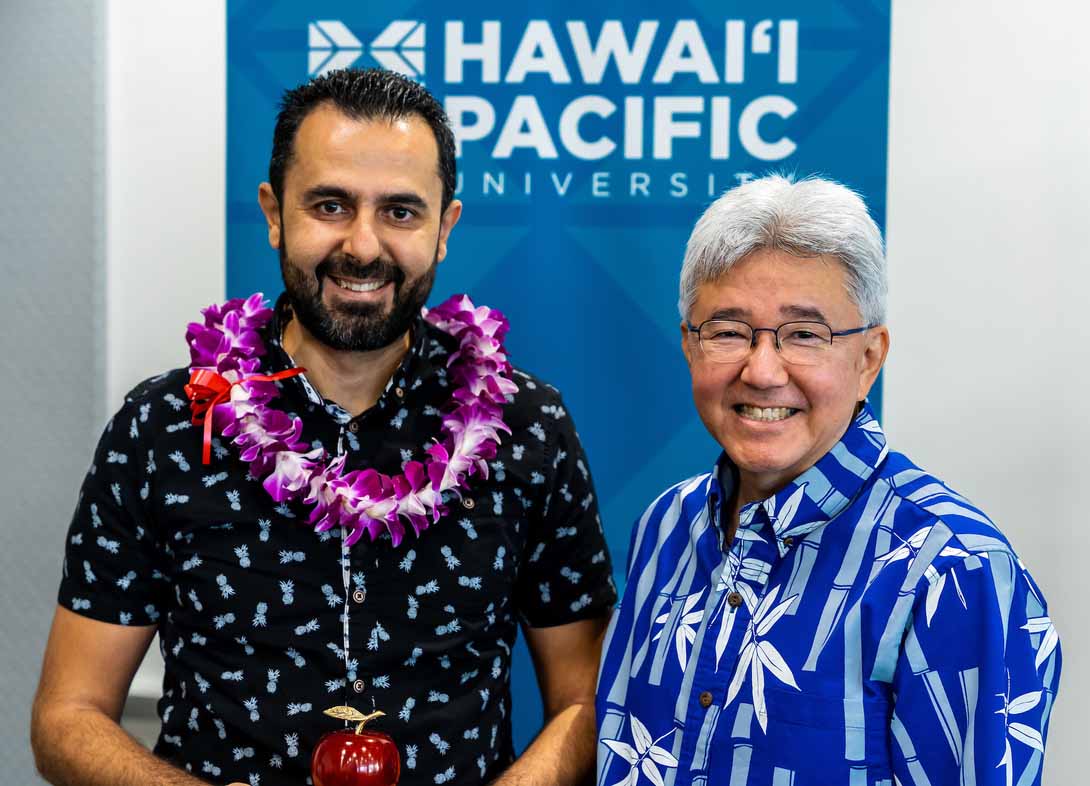 Ghazwan Hassna receives third Golden Apple Award in 2022..
"My new study aims to deploy the value focused thinking (VFT) approach to enhance our understanding of the strategic and organizational objectives for adopting and utilizing BD&A by higher education institutions," said Hassna. He demonstrated that the results of this study can be very important not only for the academic audience, but also for higher education leaders, administrators, and senior managers who are involved in setting the strategic direction of their academic institutions. The results can also provide a framework for them to understand their fundamental values and plan the relevant BD&A initiatives that support their goals and objectives.
Hassna joined the faculty of HPU in 2017 and has recently won the University's 2021 Golden Apple Award for Innovative Graduate Programs and Curriculum Design. This is his third Golden Apple Award at HPU.