HPU student and filmmaker Ian Bressel.

Abby Wilson seen on a cliff in the short film 'Ascent'.

Rock climbers ascend in the short film 'Ascent'.

Micah gazes at the mountains in Hawai'i in the short film 'Ascent'.
When HPU student Ian Bressel packed his bags at the end of his freshman year he set his sights due west. He had learned the art of 35mm photography in high school and had just bought a new video camera. Bressel had a travel itinerary sketched in his notebook, but he preferred to follow the weather and the wind.
He and three friends hit the road that summer, traveling the Western half of the U.S. towards Canada and then due south near the border of Mexico. Bressel had filmed dozens of hours of footage when the indelible summer came to an end. Over 4,000 miles on the road, and he was headed back home to Hawaiʻi.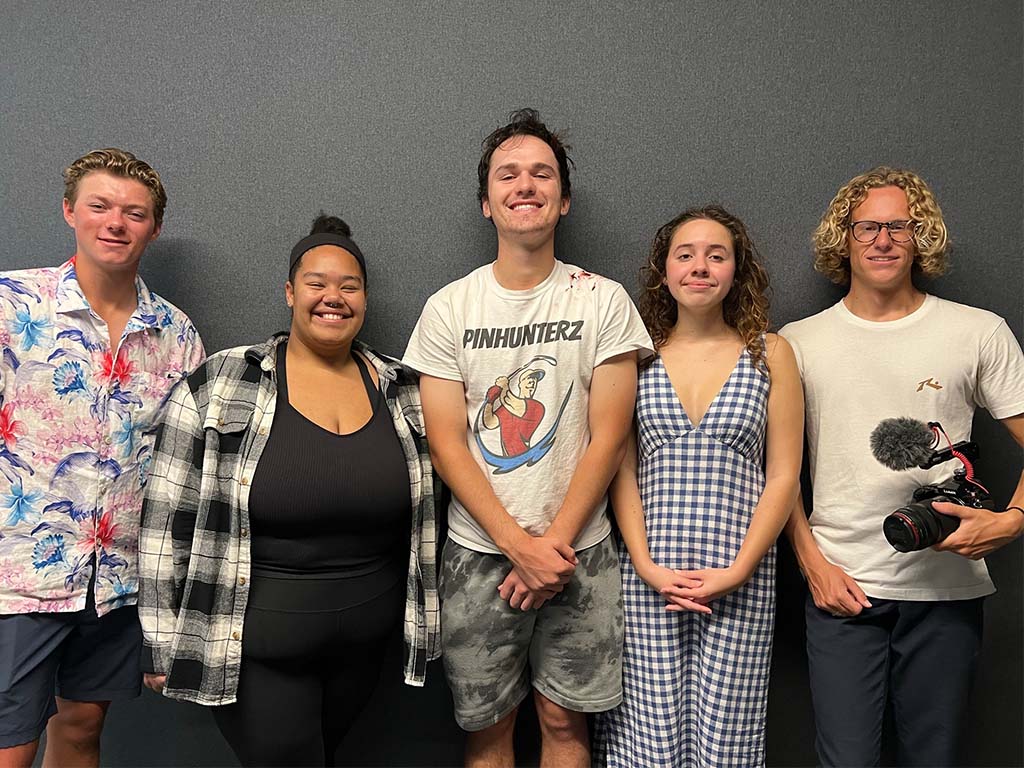 HPU students during a film shoot (Ian Bressel seen far-right).
Five months passed before he began to edit the footage for a film project. The process of seeing his summer unravel before him reaffirmed his decision to major in multimedia cinematic production. Initially, Bressel was considering a business major, but film production inspired his true convictions to become an artist.
"Professor Britos went the extra mile by actively helping me to get real-world work experience with the PGA Tour and Sight and Sound Productions," said Bressel. "He also helped as a guide on my creative narrative projects. He's come to several of my film shoots, and he went to other student's film shoots too; he even acted in a short film I produced and directed last fall.
"In general, HPU professors have a more active role in your studies and in your learning, which I believe is the University's greatest strength."
Born and raised in the small town of Logan, Utah, Bressel grew up in an active household that embraces the outdoors. Mountain ranges surround Logan on all sides, encouraging residents to spend time embracing nature. Bressel's father pioneered various extreme sports in his youth before switching over to the more traditional sports like running and cycling. His mother, a perfect match for his adventurous father.
"In their 20s, my mom asked my dad if he wanted to go on a bike ride with her, and well, the rest is history," said Bressel. "My grandfather, my 92-year-old Opa, recently showed me a photo of my grandmother, my Oma, touching heads with a massive brown bear on their porch in California. That pretty much sums up my grandparents."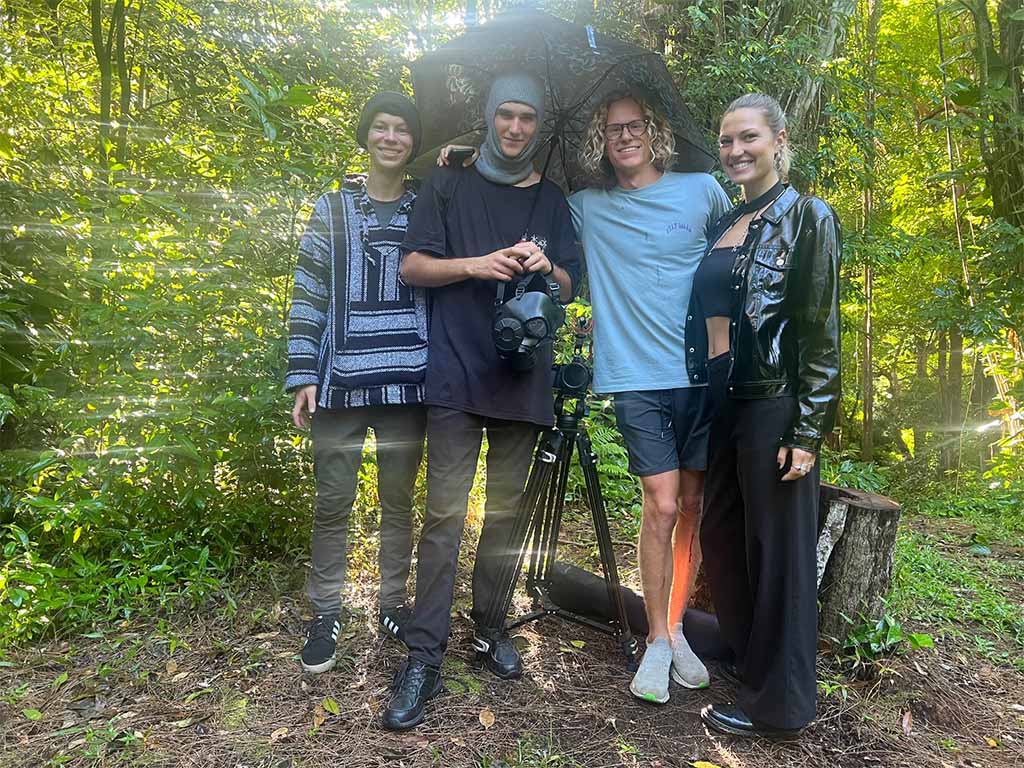 Bressel and actors pose while filming on location.
Associate Professor and Program Chair for Cinematic Multimedia Arts Peter Britos, Ph.D., describes Bressel as a great collaborator, a student with wonderful promise in the film industry. "I've known Ian a few years now," said Britos. "He is incredibly motivated to learn everything he can about audio-video production. From the beginning of his academic career, he had his own camera gear, Steadicam and editing software, so he's working on this stuff all the time. He's nice and respectful, ambitious."
Bressel's first film project, Ascent debuted at the Hawaiʻi International Film Festival (HIFF) in November 2022 to a warm reception. The film is a look into the mindset and perspective of rock climber Abby Wilson.
"The film focuses on the emotional benefits of climbing, its incredible community, and the power of travel, set to backdrop of climbing in both Utah and various locations around Oahu," said Bressel. "I created this project to encourage others to try rock climbing and overcome fear, just as I had a couple years ago."
Now in his junior year and set to graduate in 2024, Bressel is hard at work on his current film project, a short film inspired by the Greek myth of the Sirens, set to the familiar backdrop of modern-day Honolulu. 
"The film has strong undertones of a broken relationship, conveyed through evocative, nonlinear scenes that fit together like pieces in the puzzle, and only in the final five seconds of the film does the whole thing come together. I'm working with a great team to make it happen, and I would like to enter it into HIFF or Sundance." 
HPU has a long tradition in opening doors to the various opportunities a bourgeoning filmmaker needs when looking to excel in the competitive world of film production. Internships, and the various opportunities to work on feature films, commercials, short films, public service announcements have all been beneficial in the maturation of film directors, writers, and producers.
Describing perfect happiness may be difficult for some, but Bressel has a clear cinematic vision to describe the sensation of such bliss.
"A four-to-six-foot glassy right-point wave that I can surf every day," says Bressel, "in a picturesque beach town with my beautiful wife. We raise our kids who play in the mud, not with iPhones."
Bressel's short firm "Ascent" can be viewed on YouTube.