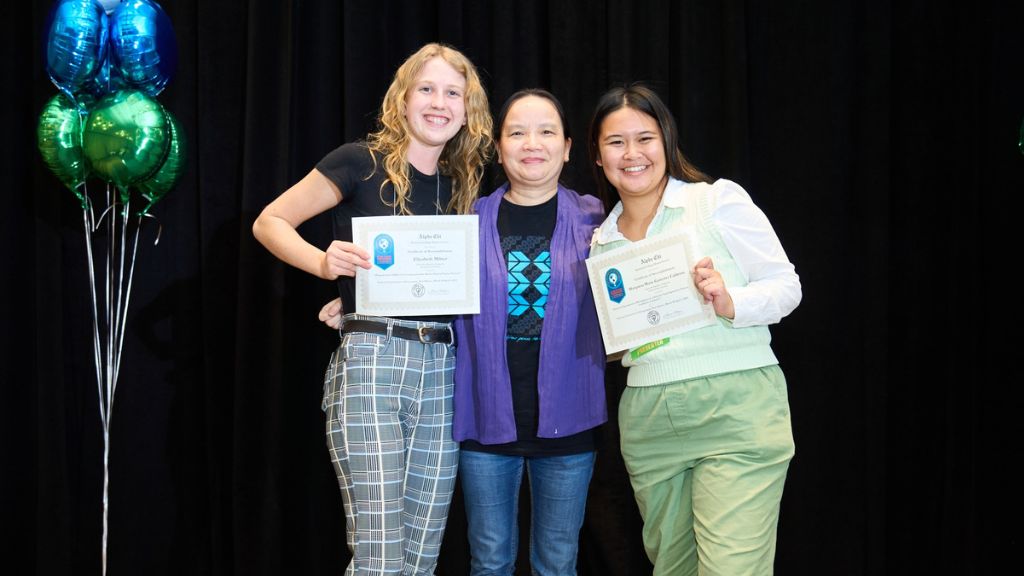 Pictured from left to right: Elizabeth Milner, Dr. Yongli Chen, and Marquesa Calderon .
Members of HPU's Alpha Chi Honor Society, Hawaii Beta Chapter, presented their scholarship at the Alpha Chi National Convention in Albuquerque, New Mexico, from March 30 to April 1, 2023. HPU biochemistry major Elizabeth Milner (Class of 2024) won the Joseph E. Bessie Mae Pryor prize in Chemistry for her presentation titled, "Identifying Potential Anti-SARS-CoV-2 Compounds from Hawaiian Marine Natural Product Extracts." In addition, chemistry major Blaise Babineck (Class of 2023) presented his research titled "Determining the Effects of Weathering on Environmental Microplastic Interactions: Estrogenic Compound Release and Persistent Organic Pollutant Retention," and environmental science major, Marquesa Calderon, presented research she is participating in as a part of HPU's Center for Marine Debris Research titled, "Chemical degradation of polyolefins in a seawater tank exposed to natural conditions in Hawai'i." Marquesa was also elected the region's student representative at the Alpha Chi National Council. Finally, Alpha Chi sponsor, Yongli Chen, Ph.D., received an award for Distinguished Service.  
 
The Alpha Chi Honor Society is co-sponsored by Associate Professor of Chemistry Yongli Chen, Ph.D., and Associate Professor of Communication Lisa Chuang, Ph.D. The society invites the top ten percent of juniors and seniors every fall and spring.