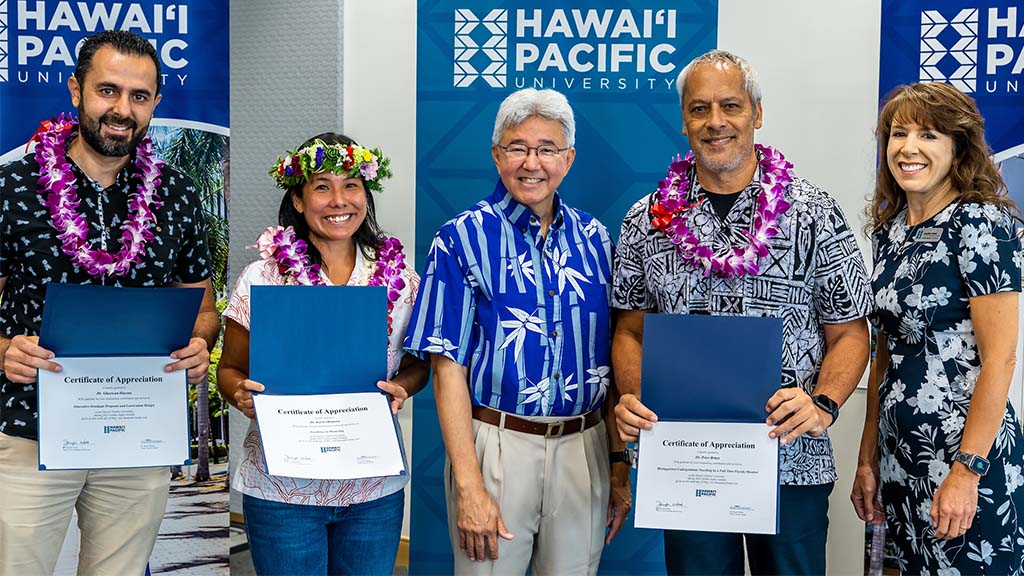 The 2021 HPU Golden Apple Winners. Image By Michael Matsushita.
The Scholarship and Learning Resources Committee of the Faculty Assembly presented the 2021 Golden Apple Awards at the Tuesday, August 16, 2022, fall kick-off meeting hosted by Provost Jennifer Walsh, Ph.D. The Awards recognize and commend colleagues' contributions toward advancing teaching, scholarship, and service to the University.  
The Award recipients were nominated by faculty, staff, and students. This year, the Golden Apple Awards went to: 
EXCELLENCE IN SCHOLARSHIP 
Assistant Professor Andrea Malji, Ph.D.
Andrea Malji has had an unparalleled level of academic output among HPU faculty over the past year. In 2021 alone, she published six scholarly articles in top rated academic journals in addition to a monograph entitled, Religious Nationalism in Contemporary South Asiathat Cambridge University Press Elements will publish later this year.  
Most scholars struggle to publish one or two articles every few years, so this is a remarkable achievement. Malji also co-authored an article in the Washington Post that dealt with the Red Hill fuel leak on Oahu, which is a great example of Malji's public scholarship. Finally, in 2022, Malji was also awarded a prestigious Fulbright Scholarship to conduct research in India.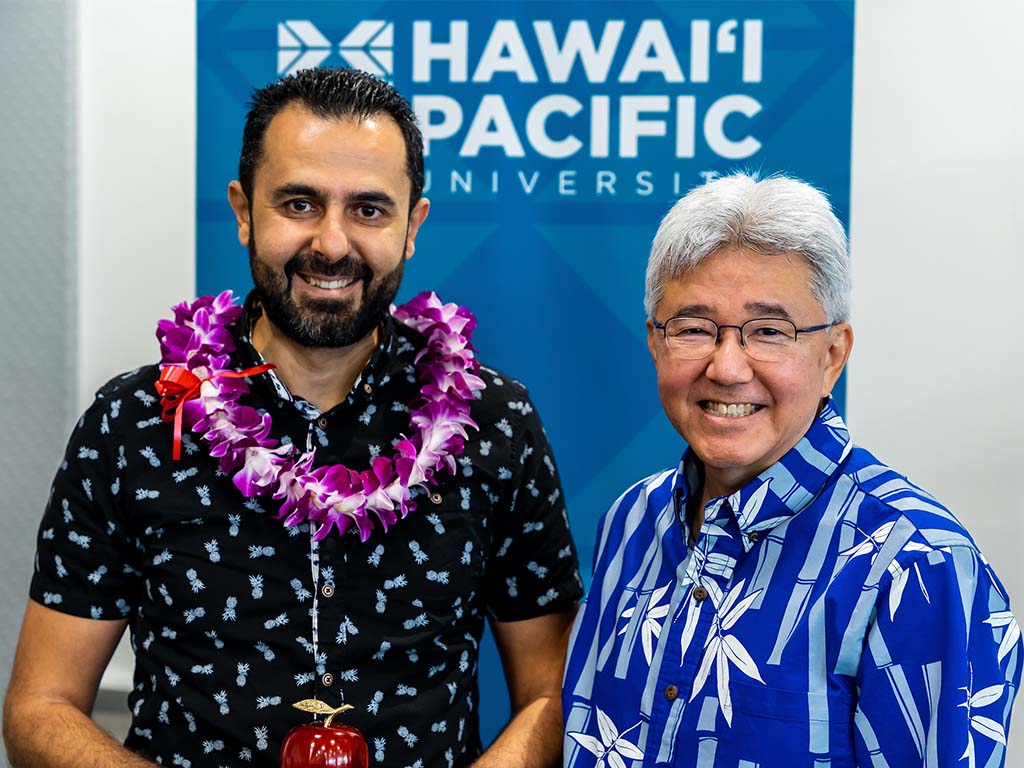 Ghazwan Hassna. Image By Michael Matsushita.
INNOVATIVE GRADUATE PROGRAM AND CURRICULUM DESIGN 
Assistant Professor Ghazwan Hassna, Ph.D. 
Ghazwan Hassna serves as the program chair for the Master of Science in Business Analytics and Information Security (MSBAIS). The nominator was impressed by the amount of innovation and creativity that Hassna brought to the graduate programs and curriculum design at the College of Business. Since joining the faculty at HPU in 2017, Hassna deserves credit for the instrumental transformation of the graduate programs and curriculum at the College of Business through leading several initiatives.  
Hassna created the new Graduate Certificate in Business Analytics GCBA. This certificate was creatively established and linked to the MSBAIS program so that the College of Business can serve different segments of students without the need to schedule more sessions. Hassna not only worked on modernizing the graduate MSBAIS program and created the GCBA, but he also worked on updating the underlying graduate courses. He built IS6281 Data Mining for Big Data Analytics from scratch, while radically revamping IS6041 Business Analytics for Big Data Revolution & IS6006 Information Systems Management. 
Hassna innovatively aligned his graduate programs and underlying courses with the most reputable professional certificates from the industry to increase the employability of his students. He is an extraordinary member of our faculty who has built a fine record of achievement and continually strives to bring the latest innovation to the graduate programs and curriculum design at the College of Business.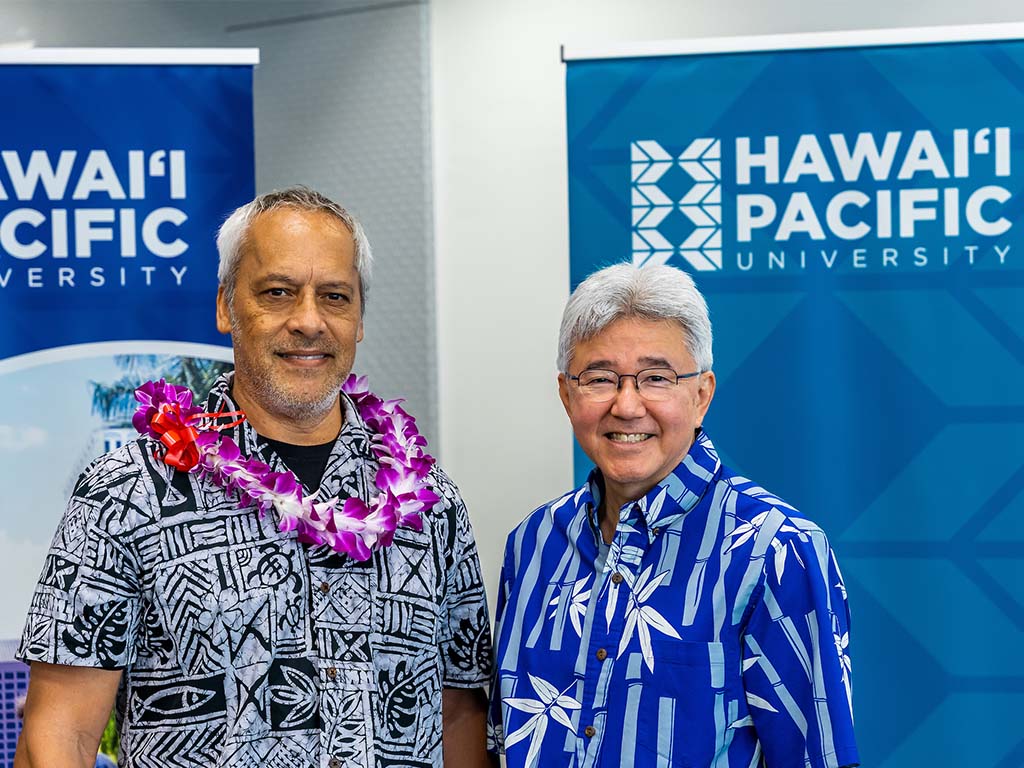 Peter Britos. Image By Michael Matsushita.
DISTINGUISHED UNDERGRADUATE TEACHING BY A FULL-TIME FACULTY MEMBER 
Associate Professor Peter Britos, Ph.D. 
Peter Britos is an extremely experienced and talented teacher in many fields, including cinematography, critical studies, producing, directing, illustration, painting, photography, and screenwriting. He has taught and mentored thousands of students and worked on thousands of student short films and scripts since the 1990s. Britos is also a transdisciplinary artist and academic, engaged in original creative production and scholarship.
Over the past two years of the pandemic, Britos has taught over 20 courses, at a rate of approximately six classes per semester. He has also advised most of the Cinematic Multimedia Arts baccalaureate students. Britos has built the HPU Cinematic Multimedia Arts Program from the ground-up and has authored most of its syllabi.   
Britos is an excellent advisor and mentor who listens to students and offers sage advice. He has helped students create various sorts of digital narratives, including short films, music videos, and animation films.
Under Britos' tutelage students have gained internships and employment on multiple feature films, television series, commercials, PSAs, and other local, national, and international level productions. They have also gained access and experience on independent feature film, and other projects, including his own, which Britos uses as a laboratory and creative and critical workspace for his students. For some students, such experiences will be the only time they ever work on a feature film, documentary, or television show; for others it is the start of a robust engagement in the creative media, information technology, and entertainment industries. 
Britos is a kind and caring person and professor. He genuinely cares about each 
student, understands where they excel, and does everything he can to encourage and support them to succeed in their areas of interest.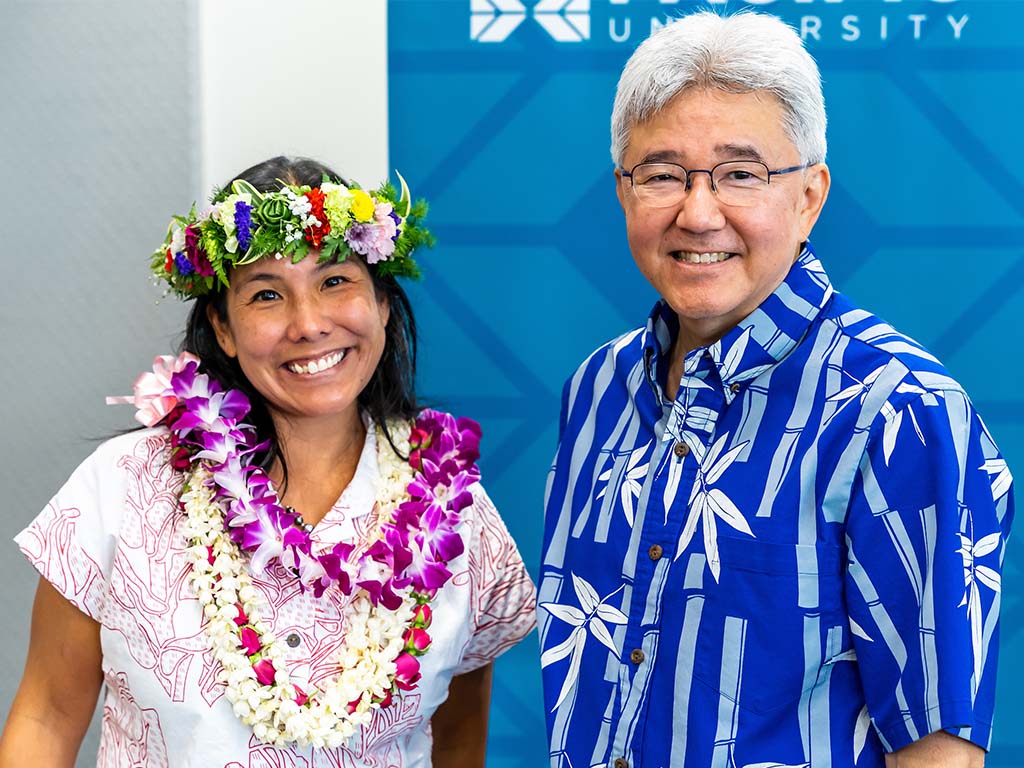 Kelsie Okamura. Image By Michael Matsushita.
EXCELLENCE IN MENTORING 

Kelsie Okamura, Ph.D.
Kelsie Okamura is a leader in the community of public mental health implementation of evidence-based practice. Her work with the Hawai'i State Department of Child and Adolescent Mental Health Division has increased awareness and led to implementation of best practices around Hawai'i. Bringing this expertise to HPU, Okamura set up the BRIDGE Research Lab with the goal to improve the delivery of mental health evidence-based practice in community settings. This not only has benefitted the students – graduate and undergraduate – involved in the lab by gaining meaningful research experience and providing some students with grant funded research assistantships, but also for the larger local population here in Hawai'i for whom the research benefits.  
In the brief amount of time at HPU, Okamura played an active role in mentoring numerous undergraduate and graduate students in social and behavioral research. She has served as the primary mentor to nearly a dozen HPU students as part of her BRIDGE Lab, which is focused on building dissemination and implementation research to support the adoption and sustainability of evidence-based interventions. Due in part to the outstanding research infrastructure of the Lab, some of her students have received competitive funding through the Hawai'i Pacific University Undergraduate Infrastructure Student Research Center (HUI SRC) to further their own research. Okamura leads meaningful discussions in the classroom; she is fair in her assessments/grading, and values constructive feedback from anyone willing to share, encouraging any improvement that students may have. Her teaching methods point students in the right direction for self-learning without spoon feeding information. She teaches how to learn and not just what to learn. She has gone above and beyond her scope of necessity by miles. There is no one better suited to exemplify what "Excellence in Mentoring" means. 
EXCEPTIONAL SERVICE TO THE UNIVERSITY BY A FACULTY MEMBER 
Bryan Gibson, Ph.D.
Faculty Senate Chair Bryan Gibson chaired multiple shared governance committees, including the Faculty Assembly, Senate, and the CFO-Faculty Working Group. He played a pivotal role in working with the administration to advocate for faculty and their concerns about the COVID Delta and Omicron waves that hit the island just as classes were returning from break. In particular, he decided to change the Faculty Assembly to split modality in fall and online in winter terms. More recently, he led a team of faculty to rewrite the University's guiding documents, established a senate subcommittee to investigate how to increase the representation of Native Hawaiians, advocated for a more inclusive budgetary process, and worked with the senior administration to conduct a salary study.  
Gibson also served as the Faculty Advisor for the Phi Alpha Theta History Honors Society. His role on the Faculty Senate Chair was an enormous amount of work that required diplomatic skills to act as a liaison between the faculty and administration.
DISTINGUISHED TEACHING BY AN ADJUNCT FACULTY MEMBER 
Jessica Garlock, MSW
Jessica Garlock has a wealth of knowledge about the world, with connections around the globe. She has the positive characteristics needed to empower students, colleagues, and friends.  
Garlock has an educational approach that is holistic, innovative, and creative. She is on the cutting edge of social work education. Social work is more than a profession to her. Garlock believes in social justice, dignity, the worth of the person, the importance of human relationships, and integrity. She exemplifies competence and creates learning opportunities for students to develop their skills in social work services, all of which are critical in the social work profession. She lives with those core values and continues professional relationships with former students as colleagues. Garlock's students often comment that she impacts them because she encourages them to have authenticity, diverse perspectives, and passion.