58 Nursing Students Celebrate in Fall Graduation Ceremony
Category: News
December 16, 2021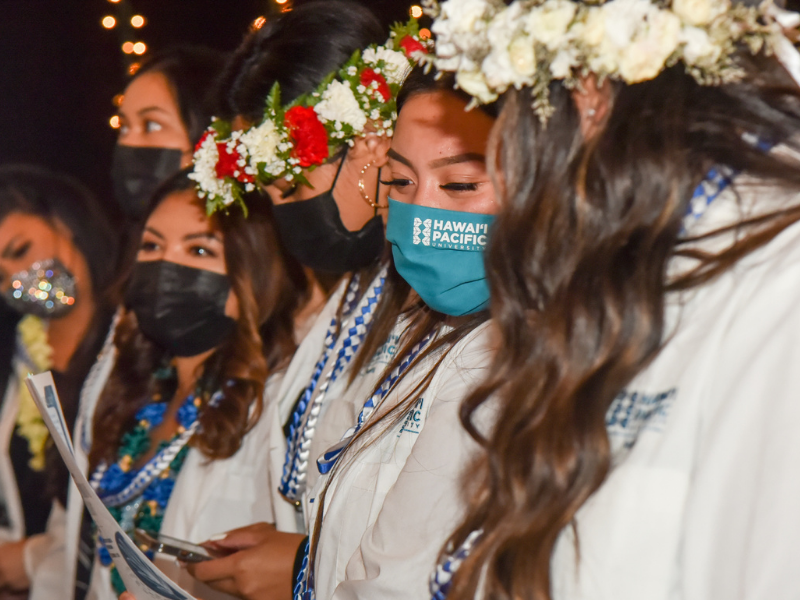 HPU celebrated the achievements of its Bachelor of Science in Nursing (BSN) students on December 9, 2021, at the Sunset Ballroom at Aloha Tower Marketplace. A total of 58 BSN graduates received a ceremonial nursing pin. The pinning ceremony is an event to welcome new nursing students into the nursing community. 
After the Nursing Pinning Ceremony concluded, the new graduates joined their fall 2021 graduating class and celebrated their accomplishments at a graduation ceremony held on December 11 at Aloha Tower Marketplace.  
HPU nursing faculty and Queens Medical Center nurse Donna Bernhard received a Doctor of Nursing Practice degree and her son Bennet Bernhard received a BSN degree. Donna pinned her son at the Nursing Pinning Ceremony. 
HPU is the leading university in Hawai'i to educate nursing students who go on to be employed in the state of Hawai'i, and is also ranked in U.S. News and World  Report's 2021 Best Colleges Rankings as having the best undergraduate and graduate nursing programs for all private universities in the state of Hawai'i.   
For additional information on earning a BSN degree at HPU click here.