Mother and Son Graduate with Nursing Degrees in HPU's Fall 2021 Graduation Ceremony
Category: Spotlights
December 13, 2021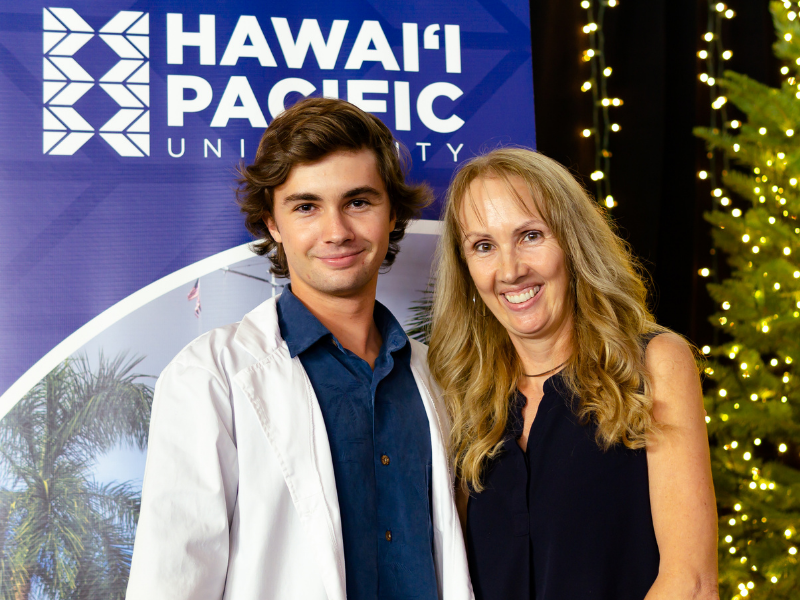 At the HPU Fall 2021 Graduation Ceremony held at Aloha Tower Marketplace on December 11, HPU nursing student Bennet Bernhard graduated with honors, earning his Bachelor of Science in Nursing (BSN) degree, and his mother, HPU nursing faculty Donna Bernhard, received her Doctor of Nursing (DNP) degree. HPU's Nursing Pinning Ceremony was held on December 9; Donna pinned Bennet at the ceremony, marking a noteworthy achievement of both Bernhards graduating from HPU with degrees in nursing. 
"I was inspired by my mom and my dad to become a nurse. They're both nurses," said Bennet. "When I was 16, I volunteered at Queens Medical Center and have been there for just under nine years. I was very interested in patient care so I started in the ICU; I began in summer and continued to work in the ICU through high school and college. I find direct patientcare to be the most interesting – that connection, advocating for patients' health." 
Donna began her nursing career in Germany. She was motivated to become a nurse after she had spinal surgery as a teenager. "That was my initial thought at 17," said Donna. "I wanted to be an OR nurse and be part of the team doing the spinal surgery." She went on to earn her bachelor's degree in Germany and eventually rotated through the OR. The ironic part is that she did not enjoy working in the OR as much as she initially thought she would, so she has worked in ICU for most of her adult life. "I am faculty at HPU and work in the ICU at Queens. I do both," said Donna.  
Bennet is interested in working in Hawai'i as a nurse, but he is open to working anywhere that he can get experience. His focus is on specialty, rather than location, preferring to work in the ICU rather than worrying where a position is located.  
"Hawai'i has a shortage of nurses, that's true, but the state has a shortage of experienced nurses," said Bennet. "Hawai'i does not have a shortage of new graduate nursing students. The second you have that experience you can get a job easily. I do want to travel as a nurse to get experience, and eventually come back to Hawaiʻi. It's a great place to work as a nurse." 
Donna went into the nursing field because she wanted to make a difference. "There are not many fields where you can go in and make such a tremendous change and difference in a person's life," said Donna. "Being a nurse is incredible." 
Bennet believes that HPU was the ideal university for him to attend and earn his BSN. He knew that he could complete his degree, obtain extensive experience, and receive a holistic education where other universities fall behind in teaching the whole person.  
"I love the HPU nursing program," said Bennet. "I enjoy HPU because I fit in a lot with the entire community here. I feel more natural and at ease here than I would have been at another university in Hawai'i."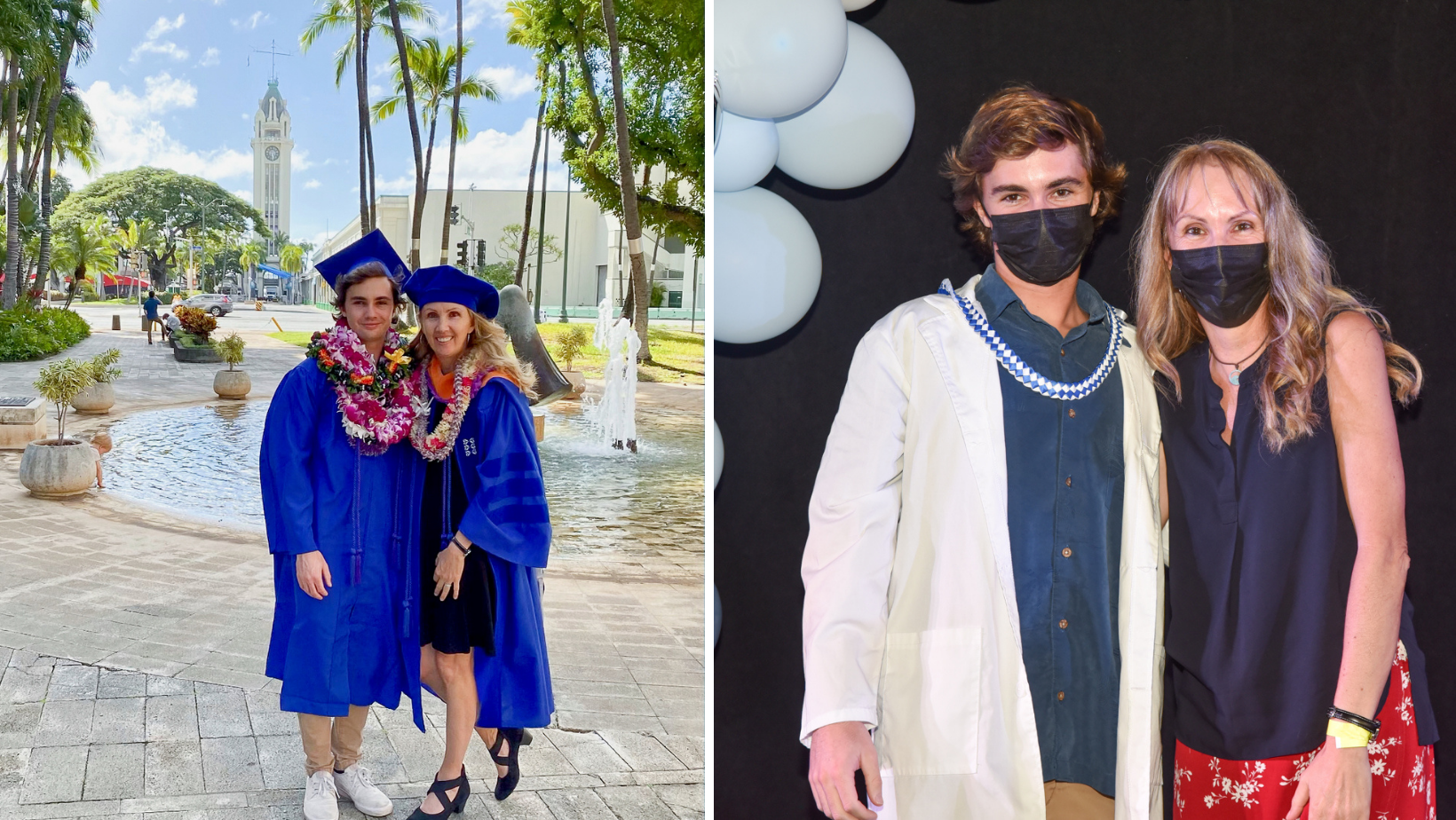 The long-term goal for Bennet is to earn his DNP degree and have his own clinic. He would also like to try flight nursing where he would save people that are stranded and need transportation to a major hospital. "I've always been interested in travel and in being a nurse, so combining the two interests would be incredible," said Bennet.   
"He's got it all figured out," said Donna, with a smile. "My goal is to finish my research on long-COVID, which is the longer effects of contracting COVID-19. Once that study is finished, I plan to relax a little, spend more time with my family, and enjoy a little time off before I pick up my study again on long-COVID. Maybe there is more to publish. I'd very much like to publish my paper in a journal on long-term COVID effects and their implications on health-related quality of life."   
To learn more about HPU's nursing programs click here.